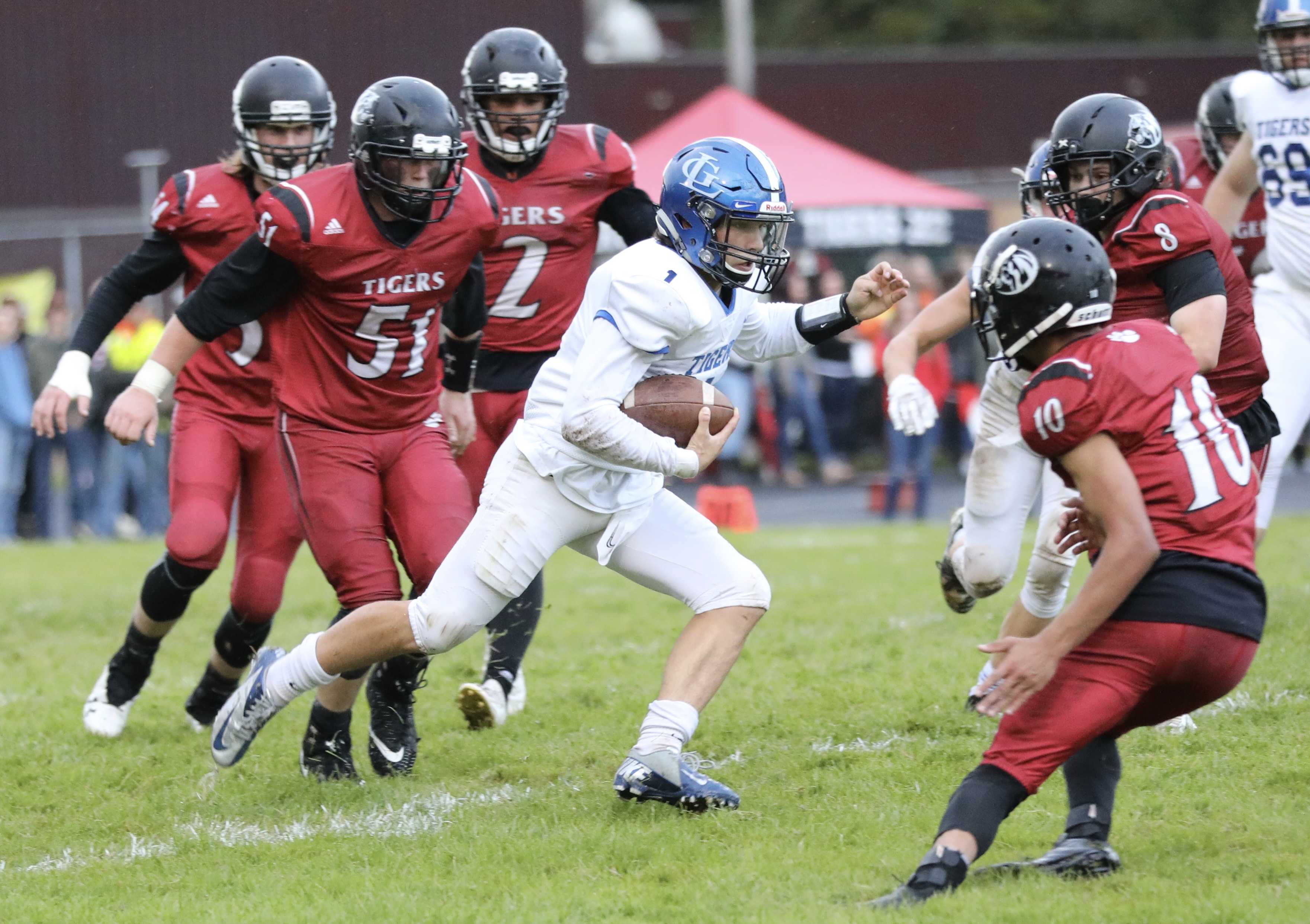 CLATSKANIE — If life is about the journey and not the destination, then high school football can be, too.
It certainly was for La Grande, third-ranked in the Oregon high school 4A polls, in the 20-hour stretch that started at the school at 7 a.m. Friday and ended back in the same place at an estimated 3 a.m. the next morning.
In between, the Tigers stopped along the Columbia River to stretch their legs, held a practice session in Camas, at the Chick-Fil-A in the same town, proceeded to 3A Clatskanie — and dropped an expectable 43-0 anvil on the home team on a rain-slickened grass field.
Eastern Oregon teams are used to long bus rides, but this one was a 315-mile lulu.
How come?
"Well," said second-year Tigers coach Rich McIlmoil, "Milton-Freewater dropped out of our league (the struggling Pioneers went independent), and it was kind of on short notice. So (Clatskanie) was willing to play us."
The loss of Milton-Freewater did all sorts of goofy things to the already tiny 4A league in Eastern Oregon. There are only three 4A schools in the general area now — Baker and Ontario are the others — and scheduling can be iffy. Baker has already been to Homedale, Idaho, and is scheduled to to play Emira at Summit in Bend (huh?) and Pe Ell, Wash. Ontario picked up Vale, Burns, Mazama — and a 500-mile whopper to Coos Bay to play Marshfield.
La Grande already put the hat to 5A semifinalist Pendleton, 36-14, in its opener then hammered The Dalles on the road and rocked Ontario 56-6 last week. The victory over Clatskanie (they're the Tigers, too) makes them 4-0.
As gracious as McIlmoil was about Clatskanie ("They're really well coached and a heck of a team."), the game was a mismatch. The Tigers aren't huge, but they're 11-man fast on either side of the ball (often with the same two-way players) and always have a blue helmet in the right place at the right time.
It showed right away. After the Tigers got used to the field — a grass field made slippery by intermittent showers — they were off and running. Literally. They punted once, coughed up a fumble, got it right back on the next play, then sent Nathan Reed around the left side on a simple sweep for a 54-yard touchdown with 5:46 left in the first period.
La Grande scored once more in each of the first and second quarters for a 21-0 halftime lead, then tacked on two more touchdowns in the third period before pulling its starters for the fourth.
Reed's touchdown was one of only two that didn't come from senior quarterback Parker Robinson. Robinson threw for three touchdowns — twice to Blaine Shaw and another time to Justin Frederick. All three were deep passes against overmatched Clatskanie defensive backs in single coverage.
His finale for the night came with 2:32 left in the third period. He took the shotgun snap, tucked the ball under his arm and headed right up the middle. When Clatskanie tacklers lost him in the middle somewhere, he cut back to the left and fled 56 yards to score.
Robinson seems like the trigger point in the La Grande offense, but McIlmoil insists that he's one of several.
"He can be," the coach said. "But we've got other guys who have a lot of speed and athleticism. Our line isn't big, but it's awfully strong.
"We have a lot of weapons."
McIlmoil knows them all. He was the coach at the middle school in La Grande for 16 years before taking over as the high school varsity dude, so he's aware of what they all can do.
The elements got in La Grande's way sometimes. The Tigers fumbled five times and lost two of them, and Robinson threw a rare interception. And another time Frederick kneeled to pick up a bad snap in punt formation and gave Clatskanie delicious field position.
But …
"We did a lot of things right tonight," said Robinson, who then explained the deep passes. "I just read the defense, and our wideouts are super tough. I can throw it up there and they'll go get it."
So was the trip worth it?
"We hate to travel six hours on a bus," Robinson confessed, "but it's a great bonding experience. It's fun."
And they'll get to sleep in on Saturday.