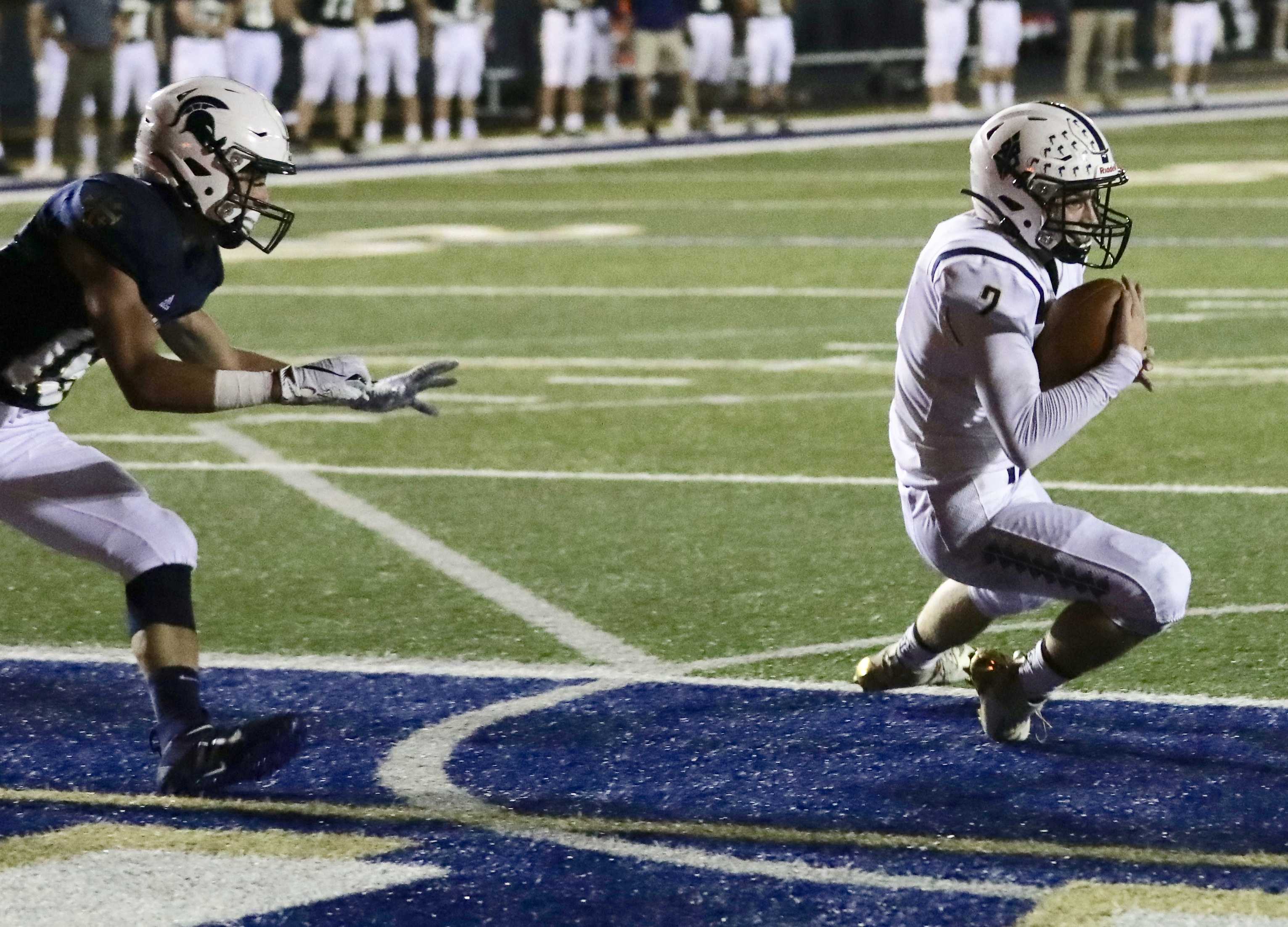 EUGENE — Any Oregon 4A football team that wants to find out how good it really is can do it at scheduling time.
Just book a road game at Marist Catholic. How you do against the Spartans on their own field will tell you all you need to know.
Defending state champion and No. 1 Banks, then, knows enough after a 19-14 victory over Marist at one of the state's toughest venues.
It shouldn't have been that close. The reloaded Braves smothered third-ranked Marist's sophisticated offense, neutralized the Spartans' punishing running attack and rolled out to a 19-0 lead.
Two lightning bolts in the last three minutes got the Spartans within miracle range, but they ran out of ammunition and time and the Braves (3-0) were still firmly on top of the state.
Was Banks coach Cole Linehan eyeballing this week as a measurement of this club — which lost heavily at graduation in June — as a way to learn about his team?
After all, last year's Braves bopped the Frank Geske's Spartans twice, but both of those were at Banks.
Not really.
"We have such tough preseason," Linehan said. "We played Gladstone (and beat the only team that got them last year). It seems like every week we're preparing for good teams.
"We were lucky enough to beat them last year when they were young. They've grown up now. They have more size and more speed.
"We knew what we were getting into. I'm glad our guys stepped up. We had a good game plan — until the last three minutes."
Getting a lead was critical in this one. The two teams probed each other fruitlessly for most of the first half before the Braves struck twice in the last minute for a 10-0 halftime lead.
The first scoring drive went 68 yards in 10 plays and featured a brand new quarterback. Senior Tanner Shook, who had few quality snaps, took over for Jarred Evans, who quarterbacked the first two victories before the Banks staff decided that they needed him to augment their biggest threat, 6-foot-5 split end Jacob Slifka.
Shook scrambled for 29 yards to get the drive started, scrambled three more times for yardage when the Spartans dropped back into coverage, then finally hit Evans with a three-yard slant-in scoring pass with 31.5 seconds left in the first half.
Slifka's line-drive kickoff ricocheted off one of the front men on the Spartans' return unit, and the Braves had 25 more seconds to make something happen. Shook hit Slifka for 12 yards, got 15 more on a pass interference call to the Spartan's 19. With only 5.1 seconds left, Linehan sent Slifka out for a 36-yard field goal as time expired.
Banks defense took over the rest of the game. They had a white helmet — often more than one — at the ball whenever it was necessary, and had enough of a speed advantage that nothing the Spartans tried worked.
Slifka scored on a short pass and a 37-yard field goal in the third quarter and the game looked over.
But the Braves almost blew their own foot off late in the game. As the clock swooped under four minutes, they lined up for a punt on fourth and two at their own 24.
Marist looked outnumbered at the line of scrimmage, so a Braves up man called an audible to a fake punt. Bryson Cook took the direct snap — and made only one yard.
The turn of events charged the Spartans up. They drove the 25 yards in just four plays. Lucas Tuski got them on the board with a two-yard run with 3:24 left.
Of course the Spartans went for the onside kick. Of course they recovered the ball when Nick Haskins dived on it at the Banks 46.
Marist quarterback Max Campbell hit two passes, then the Spartans got the advantage of a pass interference call against Banks, and finally Campbell hit Joey Laing for another score with 2:15 to go.
Uh-oh.
But that's as far as it went. The Braves punted one more time and kept the Spartans on their own half to the field to secure the win.