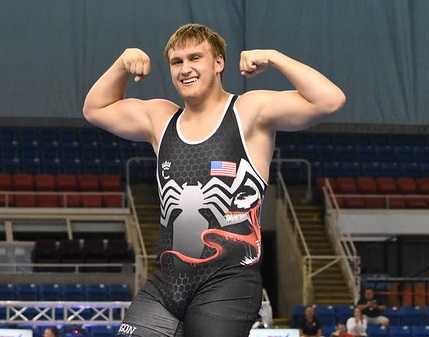 A disappointing performance in the 6A wrestling tournament in February helped propel McMinnville's Jacob Barnes to a national title last week.
Barnes, who will be a junior this year, won the heavyweight title in the Greco-Roman division of the U. S. Marine Corps/USA Wrestling Cadet National Championships in Fargo, N.D. He was the only Oregon boy to win a title at the tournament.
The feat comes after Barnes entered the 6A tournament as the top seed but lost in the semifinals for the second year in a row.
"At state, I felt like I came in a little bit too cocky," Barnes said. "I really kind of underestimated some of the kids at the state tournament, and it really bit me. So going into Fargo, I was thinking all these kids could beat me, so I have to go out there and wrestle the best I can."
Barnes placed fifth in the freestyle tournament at Fargo and rebounded to win all six of his matches in the Greco-Roman bracket. In the final, he needed only 31 seconds to pin Hayden Copass of Illinois, the same wrestler that beat him 10-0 in the freestyle semifinals.
Copass is the No. 2 ranked heavyweight in the nation, according to FloWrestling. By defeating Copass, Barnes denied him the triple crown.
"I knew that in Greco I could beat him," Barnes said. "In freestyle, I think I didn't believe in myself as much. I felt like I settled a lot in freestyle, because I won in the quarterfinals and lost my next two matches. When I got into Greco, I told myself that I wasn't going to settle at all during the tournament."
Since the state tournament, Barnes has been working out with his brother, Brian, a former McMinnville standout who has left the team at Northern Colorado for Oregon State.
"His improvement over the spring and summer has been amazing," McMinnville coach Jordan Barich said. "It was fortunate that his brother transferred. It's hard to find 285-pound guys that can go like that. Having a workout partner, and the training camps he went to, has paid off for him. It's the best freestyle and Greco I've seen out of him."
Barnes said that training with his brother "helps so much. He's such a good wrestler. He pushes the pace a lot, and he really pushes me to take opportunities and get my technique going really good."
Add Fargo: Crescent Valley's Gabe Whisenhunt, who won the 5A title at 106 as a freshman this year, was the only other Oregon boy to reach the finals at Fargo.
In the 113-pound Cadet freestyle championship match, Whisenhunt lost by fall to Wilfried Tanefeu of North Dakota. Whisenhunt also placed fifth in the Greco-Roman tournament.
"He's been wrestling really good this summer," Crescent Valley coach Chad Lamer said of Whisenhunt, who was dominant in winning the Cadet National Duals in Spokane last month. "We were expecting him to do really well."
Also in the Cadet division at Fargo, Crescent Valley's DJ Gillett, an incoming freshman, placed third at 94 pounds in Greco-Roman and Roseburg's Nash Singleton, who will be a sophomore this year, finished third in freestyle.
Two recent Oregon high school graduates finished sixth in the Junior freestyle division, Crescent Valley's Legend Lamer (152) and McKay's David Rubio (160).
Crescent Valley's Chance Lamer, a two-time 5A champion who finished fifth in the Cadet World Championships last year, made it to the quarterfinals in the 120-pound Junior freestyle bracket but did not place.
"He's a first-year Junior, so some of these kids are just older," Chad Lamer said. "He's just kind of starting to grow, and he just doesn't have that maturity strength. That's been holding him back some and making it tougher."
Girls nationals: Destiny Rodriguez, who is headed into her freshman year at West Linn, rolled to the 144-pound Cadet freestyle title at Fargo. She made quick work of all four of her opponents, pinning Kayley Rada of Michigan in 50 seconds in the final.
Rodriguez won a world title at the U15 World School Combat Games in Budapest, Hungary, in June. Last September, she won gold at the Pan American Games in Mexico.
Rodriguez was one of four Oregon girls to place in the Cadet freestyle tournament in Fargo. The others were Cottage Grove's Raina Herzog (second at 200), Milwaukie's Fiona McConnell (fourth at 180) and Scappoose's Isabella Amaro (fifth at 127).
Hillsboro's Olivia Robinson placed fourth at 154 in the Junior freestyle bracket. Last month, Robinson was the 164-pound champion in the Western States Championships.