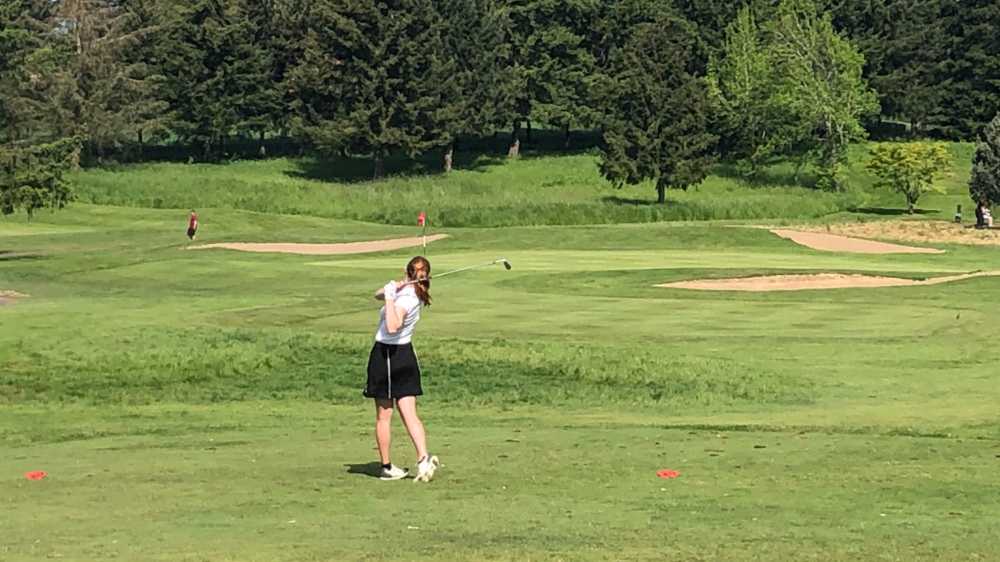 BANKS – Ida B. Wells senior Helen Brodahl drove the ball routinely 30 yards past her playing competitors. She made five birdies. She largely stayed out of trouble when trouble was all around at Quail Valley Golf Club on a sun-soaked Monday in Banks at the OSAA / OnPoint Community Credit Union Girls Golf State Championships.
She couldn't avoid that bee on the eighth green, however.
"I tried to brush it off and couldn't find it," Brodahl explained. "I went to move and it got me."
"I'm not allergic to bees. It's not my first time I've been stung. It happens. Gotta walk it off."
Brodahl said that the bee sting did not affect her that much.
"I had a bogey the next hole but I wouldn't call it the bee's fault," she explained. "It was my fault for having a bad chip."
Brodahl had very few bid chips. Or bad putts. Or loose shots, frankly.
On a course that can be a monster if you cannot avoid the heavy rough, land the ball on the postage stamp greens and make every putt count, Brodahl brought the course to its knees, firing a one-under par 71. Indeed, you could argue that the Stonehill College signee's "bee" game lasted one hole, but that she was the "bee's knees" for 18.
"I'm pretty happy with it," said the senior, who finished second overall (+2) in the 6A tournament a year ago at Emerald Valley Golf Club. "I had a lot of birdies. I felt like I had a lot of opportunities. I had a couple of six footers that I definitely could have made."
Brodahl missed a birdie putt from close range on the short par 4 second, but got her round started on the par 5 third, when she blasted a drive 270 yards, then hit an iron 170 yards to within 10 feet.
Brodahl missed the eagle putt but tapped in for her first birdie of the day.
She added another on the par 3 sixth, helping her turn in even par 36, a nine that could have been much, much lower.
Brodahl got back in red figures on the short par 5 10th hole. After a long drive, she had only 140 yards in and two-putted from about 20 feet.
"I went in thinking this isn't a par 72; this is a par 70 because there are a couple of par 5s that are about 400," Brodahl explained. "I need to think of them as par 4s."
After that birdie on 10, Brodahl had good looks for birdie on the next three holes, but couldn't get any putts to drop. That became an issue when a chunked chip and short putt miss resulted in a double bogey on 14 and put Brodahl over par for the first time all day. She responded well, recording back-to-back birdies on 15 and 16, then parring in for the 71, which put her four strokes ahead of three pursuers, Anna Poulin of Jesuit, Erika Kobayashi of Sunset and Maya Promwongsa of Tualatin, all of whom placed fifth or better a year ago.
Brodahl, the PIL individual medalist this spring, said that she was happy to be leading, but knows that she is only halfway towards the goal she set for herself after finishing second at State last year. She planned on drinking lots of water, eating good food and sleeping, then another trip around Quail Valley to see how she does.
"I'm trying not to get ahead of myself," she said. "I don't care where I stand. It's a par 70 and I'm tied with everyone else."
***
Brodahl's group was awfully impressive at making birdies. In addition to the leader's five, Campbell O'Connell of Sherwood had three and Hailey Lim of Lake Oswego and Emily Keel of Sprague had two apiece.
Keel was the highest finisher of the four. The junior shot a career-best 77 after turning in even par. She had a few loose chips on the back nine, else she might have finished under par herself. Lim's putter let her down in a 10-over 82. O'Connell had too many blow up holes and shot 87 to tie for 18th.
Poulin, in a threesome first off at 7:30 a.m., recovered from an indifferent start to shoot 75. Grants Pass senior Brooke Alderson, playing with an injured shoulder, was one shot further back at 76. She made a miracle par at 2 when she drove left into the rough, hacked out to the front bunker, blasted out to within 20 feet then rammed home the par putt.
Alderson made an even better bogey on the par five third. She drove right into an unplayable mound – that mound was a problem all day long – and had to go back to the tee for her third. She then played her fourth left of the green into a lateral hazard and was able to chop an amazing shot out of there to within 10 feet and drain the bogey putt. Amazing!
A total of seven 6A golfers broke 80 on Day 1. The seventh was freshman Kate Ly of Cleveland. Ly is the sister of Kyra Lee, who shot 65-65 last year to win 6A by 16 strokes. Kate Ly had nine pars and two birdies on her way to a 5-over 77.
6A team competition
Last year, Jesuit won another team competition – the Crusaders have won every OSAA-staged state 6A event since 2018 – but the 'Saders are in the thick of a four-team chase that could produce big drama tomorrow. Sunset, Jesuit's Metro League rival, leads the field by four strokes. The Apollos placed ninth a year ago. Jesuit and Grants Pass are tied for second, with Lake Oswego two shots further back.
Any of the four squads could take it tomorrow.
5A individuals
North Eugene sophomore Francie Tomp, last year's champion, had an up and down day for a three-over 75. She made five birdies, but had just six pars. It could have been worse, however. She barely avoided the lateral hazard, and disaster, on her drive at the par five 17th. But she couldn't take advantage of a great second shot and settled for par.
Mercedes Marriott of Crescent Valley, last year's 5A runner up, had an even tougher day. She shot eight-over 80 despite being the only player on the course with an eagle. Marriott had a tough Day 1 last year, too, before recovering to give Tomp a run for her money.
This year's 5A front runner after one is Zoe Garcia of Summit. Garcia shot 81-86 last year, good for T-21 in the 6A field, but appeared in complete control today in a two-over round of 74. She might have been one better still but bogeyed 15 after her chip was a little too strong.
Others shooting in the 70s included freshman Evie Dunn of Wilsonville, who shot 76; and junior Anna Latimer of Caldera, who shot 79.
5A team competition
The 5A team competition is as riveting as 6A.
Wilsonville, last year's champion; and Summit, which is back at 5A this year after playing at 6A for a few years; are tied at +49. No one else is really close.
Summit is a senior-led group, with four 12th graders among the five on the course. Wilsonville had freshmen score 76 and 80 today.
4A/3A/2A/1A individuals
Esha Reddy of Marist Catholic shot a spectacular 1-under 70 today at Trysting Tree in Corvallis, but she has lots of company. Dufur senior Tora Timinsky shot 71, Maddie Dustin of Cascade fired a 72 and the Catlin Gabel duo of freshman Vishaka Priyan and junior Ava Austria shot 73 and 75, respectively.
4A/3A/2A/1A team competition
On the team side, it would appear that the reign of St. Mary's of Medford will come to an end. The state champs every year since 2016 are 46 strokes back of Crook County after Day 1, with seven other teams in between them. Dufur is currently in second, four shots back, while Banks and La Grande are 19 and 20 shots behind, respectively, neither too far back to make a run.