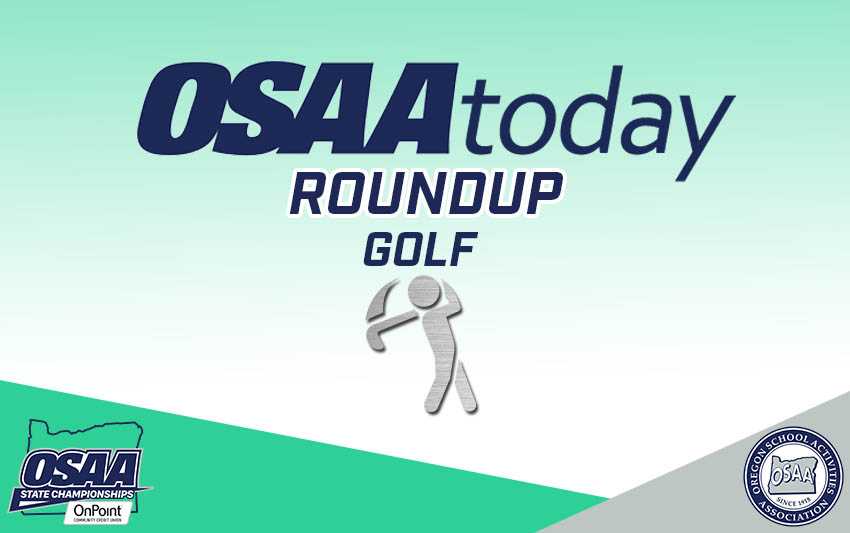 Three Rivers League rivals Lake Oswego and Tigard are tied for first place after the first round of the OSAA/OnPoint Community Credit Union 6A boys golf tournament Monday at Emerald Valley Golf Club in Creswell.
The Lakers and Tigers both shot a 16-over-par 304 to lead Lincoln (312), Sunset (315), Westview (317) and Grants Pass (322).
Tigard, the state runner-up last year, was led by senior Douglas Bailey, who fired a 69 to take the fist-round lead in the tournament. The Tigers' other scorers were sophomore Jenning Oelke (73), senior Aiden Lopez (78) and senior Matthew Bennett (84).
Lake Oswego's score came from freshman Drew Woolworth (74), senior Tanner Frinell (76) and juniors Adam Wrenn (77) and Adam Blackmore ((77).
Bailey, who tied for 10th in the tournament last year, made six birdies on the front nine and had three bogeys on the back nine. He holds a one-shot lead over McNary senior Colby Sullivan (70).
Forest Grove senior Ka'ena Kaulia (71) is third, followed by Lincoln sophomore Quinn Hefele (72), Westview junior Andy Yang (73), Sunset senior Charlie Tran (73) and Oelke.
The second and final round of the state tournaments are Tuesday.
5A
Wilsonville holds a two-stroke lead over Summit, last year's 6A champion, after the first round of the 5A tournament at Emerald Valley.
The Wildcats, who haven't won a state title since 1998, shot 322 to lead Summit (324), La Salle Prep (336), Mountain View (339) and Thurston (340).
Wilsonville sophomore Michael Flaherty, the tournament's co-leader, paced his team with a 76. Freshman Luke Sidhu (79), sophomore Evan Hoobler (81) and freshman Lu Nguyen (86) rounded out the Wildcats' scoring.
Flaherty, who placed 25th at state last year, is tied for the lead with Bend freshman Silas Waller. Bend senior Kyle Garrity (77), La Salle Prep sophomore Jonas Caddell (79) and Sidhu are next.
Summit senior Brody Grieb, the 6A champion last year, is among four tied at 80. La Salle Prep senior William Koch, the reigning 5A champion, is tied with three others at 81.
4A
Baker/Powder Valley surged to a 15-stroke lead in the first round of the 4A tournament at Trysting Tree Golf Club in Corvallis.
The Bulldogs shot 25-over 309 to lead Molalla (324), Crook County (325) and Cascade (336). The Bulldogs – who tied for second place last year, three strokes behind Banks – have never won a title.
Sophomore Isaiah Jones and freshman Elias Long each shot 2-over 74 to lead Baker, which also got scoring rounds from sophomore Jaxon Logsdon (79) and junior Kaden Conklin (82).
North Bend sophomore Owen Bascom, who tied for 14th in the 5A tournament last year, leads the pack with a 1-under 70. Close behind are Molalla sophomore Massimo Cereghino (71) and Ontario senior Tyce Helmick (73).
Jones, Long and Tillamook senior Elliot Lee, the reigning champion, are next at 74.
3A/2A/1A
Two-time reigning champion Oregon Episcopal is in position for a three-peat after one round of the 3A/2A/1A tournament at Tokatee Golf Course.
The Aardvarks shot 16-over 304 to lead St. Mary's (309), Valley Catholic (319) and Bandon (328). Oregon Episcopal beat St. Mary's by 14 strokes to win the tournament last year.
Junior Benjamin Tieu (74), senior Mathew Chan (74), junior Alex Tseng (75) and senior Sean Murphy (81) accounted for the Aardvarks' scoring.
Siuslaw sophomore Ryan Klampe, who tied for sixth in the 4A tournament a year ago, leads with a 1-under 71. St. Mary's senior Brock Drury, the reigning champion, is tied for second with Tieu and Chan at 74. Catlin Gabel senior Harrison Bell and Tseng, last year's runner-up, are next at 75.