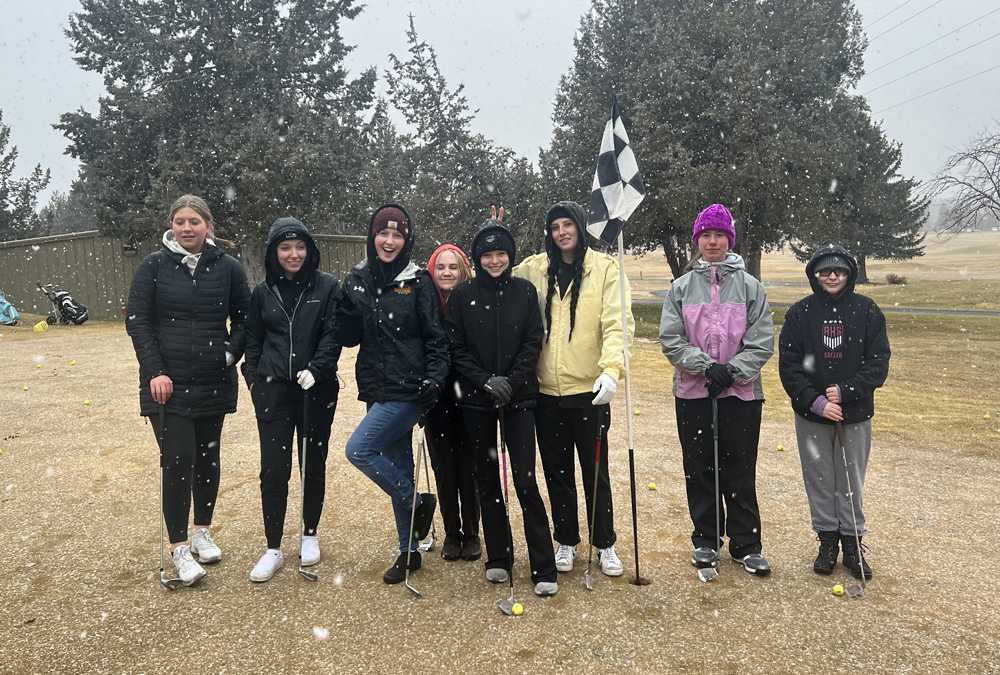 The weather forecast calls for sunny and very warm conditions for the 2023 OSAA / OnPoint Community Credit Union Girls Golf State Championships on Monday and Tuesday.
That's good.
Individual and team titles will be determined not by weather but by golf.
The 6A and 5A competitions this year will be held at Quail Valley Golf Course in Banks. Quail Valley is a flat, wide-open, links-style course with true greens, all of which should help the best golfers go low, if they can avoid the water and wetlands, which are present on most holes.
The 4A/3A/2A/1A championship is at Trysting Tree in Corvallis. It is a links-inspired course with interesting approaches to raised greens. It should be a risk/reward course for the longest hitters on some of the shorter par fours, Water on holes, 10, 11 and 17 could affect the outcome if not avoided.
Let's look at some team and individual storylines we'll be following:
6A
Can Jesuit win again?
Jesuit has won every 6A competition held since 2018. Last year, the Crusaders won by 14 strokes over Mountainside, led by Anna Poulin, who tied for fifth individually. Poulin, a Cal Lutheran commit, is a senior and one of the top 6A golfers in the state. She and sophomore Katie Lee should have Jesuit at or near the top once again. The Crusaders showed their strength by placing second to Camas of Washington at the State Preview played recently on the Quail Valley course.
Jesuit's stiffest challenge will likely come from Lake Oswego, which finished fourth at state a year ago, 31 strokes behind the Crusaders. LO was young last year and got even younger with the addition of freshmen Hailey Lim and Alexis Zou. Lake Oswego's roster is deeper. In a state championship tournament, where you play five and count the scores of four, that fourth score could be the difference between winning and coming in second.
Other teams that could make the top five include Sunset, Ida B. Wells, Tualatin, Nelson and Westview. Many teams are very young, with several freshmen and sophomores in key roles. Their best finishes may be in the years to come.
Who will succeed Kyra Ly?
In 2022, Cleveland senior Kyra Ly brought Emerald Valley Golf Club to its knees. With the length to drive many of the par fours, Ly shot 65-65 for a 14-under total that was 16 strokes better than runner up Helen Brodahl of Ida B. Wells. It wasn't a competitive championship individually but was breathtaking to watch.
This year's 6A quest for individual glory should be much more intense, with upwards of 10-12 golfers who could wind up on top. One of them is freshman Kate Ly of Cleveland – yes, the last name should sound familiar – who's been shooting low scores all season.
Ly isn't even the only freshman who could contend, however. Lim of Lake Oswego also is a true talent and one of the favorites.
Brodahl, last year's runner up; is one of four seniors to watch, along with Poulin, Brooke Alderson of Grants Pass, who shot a 75 at the State Preview; and Emily Lackershire of Nelson. Lackershire, who placed 10th a year ago, comes to State hot and on the verge of doing something special.
Tualatin's Maya Promwongsa is a junior to watch. She tied for fifth at the state tournament a year ago.
Lee of Jesuit, who shot 76 at the State Preview; leads a sophomore group that also includes Erica Kobayashi of Sunset, who has been the top player in the Metro this year; and much-improved Ansley Kang of Lake Oswego.
Dark horses to contend include Sherwood junior Campbell O'Connell, Westview senior Inoo Jo, Sunset junior Hannah Kim and LO freshman Zou.
5A
Glory for Summit in return to 5A?
Wilsonville won the 5A title last year by a whopping 31 strokes and will be in the mix again this year thanks to terrific freshmen Evie Dunn and Layla Reyes-Sidhu, who could contend individually.
The favorite, however, has to be Summit in its first year back in 5A. The Storm placed sixth in 6A last year, but its team total, on the same Emerald Valley course as Wilsonville, was 62 strokes lower! Summit returns its top three scorers from last year's team and placed fourth overall at the State Preview.
In addition, Summit has history on its side. Summit won every 5A state title from 2009 through 2016. Wilsonville may be the defending champion, but Summit is the team wearing the bull's eye.
Other teams that should finish high include La Salle Prep, which is a veteran group this year after placing third in 2022 as a young team; and Redmond. Redmond, which won the unofficial state tournament in 2021, has sisters Elizabeth Richardson (12) and Payton Richardson (9), who could contend individually. Four of the five golfers on the team are seniors.
Will we see Tomp/Marriott II?
In 2022, then-freshman Francesca Tomp of North Eugene edged then-junior Mercedes Marriott of Crescent Valley by three strokes to win the title. The third-place finisher was another 14 strokes behind.
Will we see another match-play-type situation again this year? Tomp and Mercedes are at the top of their games and, collectively, shot four rounds of 75 or better in District qualifying. They WILL contend. It's just that the field has gotten stronger, making for a larger group of talented contenders.
Players to watch coming down from 6A include Zoe Garcia of Summit, Caldera's Anna Latimer, Makai Kalberg of Bend.
Richardson, the Redmond senior who placed fourth at 5A a year ago; Silverton sophomore Ellie Traeger, who tied for fifth; as well as the Wilsonville freshmen plus senior Mia Combs, all could figure into the mix. Others who could factor in include Thurston junior Olivia Grandberry, who is playing well; sophomore Toscane Tessier of Crescent Valley, who can get hot; Summit junior Saylor Gillet and the Redmond freshman Richardson.
I can't wait!
4A/3A/2A/1A
Strength in numbers
Only eight teams participated in the championships a year ago, with St. Mary's of Medford winning, as it has every year championships have been contested since 2016. The Crusaders won by eight strokes over Marist Catholic and by 100 strokes over the third-place team.
The team race should be more competitive this year, not just because St. Mary's graduated individual state champion Riley Hammerickson. Crook County's move to 4A – the Cowgirls fifth last year in 5A as a young team – should add to the competition for the team title. As should a field that has expanded to 12 teams.
Indeed, St. Mary's might not even be the favorite this year. Marist, led by titleist Esha Reddy and fellow junior Ashlyn Thomas, won the District title over the Crusaders. And La Pine and Banks have both proved capable.
Tora, Tora, Tora
The individual crown appears to be wide open this year, with Hammerickson having graduated and second-place Challin Kim of Valley Catholic not in the field.
There are some definite contenders, however, starting with Dufur senior Tora Timinsky. Timinsky tied for third last year and is a threat to take the title back to Dufur, but so if her freshman sister, Tygh Timinsky. The Catlin Gabel duo of Ava Austria and Vishaka Priyan also figure prominently. Austria tied for fourth last year, along with Reddy of Marist; while Priyan, a freshman, went two-under at the State Preview to win.
You should also keep an eye on senior Cayton Smith of Oregon Episcopal School, senior Brigit O'Connell and junior Chelsea Horn of St. Mary's, as well as Cascade junior Maddie Dustin, a transfer from South Salem who placed 14th in the 6A state tournament a year ago.