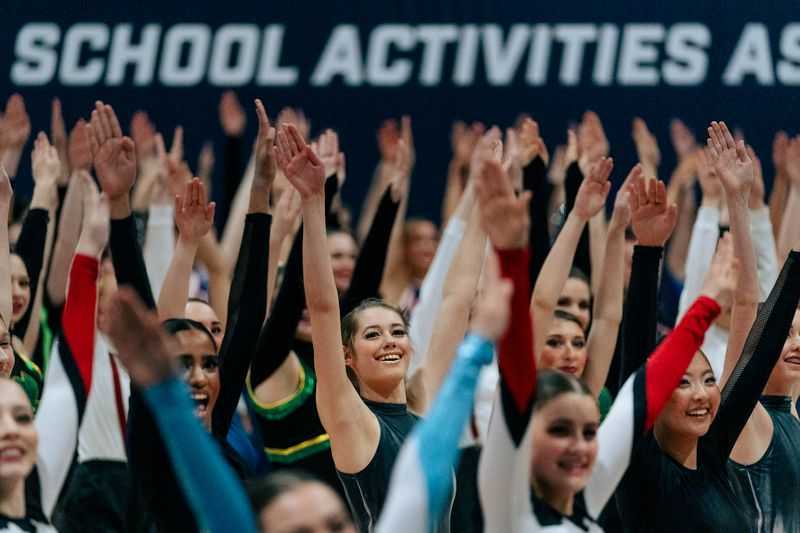 The OSAA/OnPoint Community Credit Union dance and drill state championships were March 17 and 18 at The Pavilion at the Oregon State Fair and Exposition Center in Salem.
This season was a year of change for Oregon dance teams. For the first time, categories within divisions were offered at the state championships. Teams were able to compete up to two routines with the opportunity to qualify those routines throughout the entire season.
Day 1
Friday saw a total of 42 performances in the 1A-4A Jazz , 1A-4A Traditional, 1A-5A Pom, 5A Jazz, 5A Traditional and Show divisions.
Canby Cougar dance team received first place in the show division with their performance titled "Madness." They last took home the Show title in 2019.
Clackamas took home second place with their performance titled "Wild is the Wind" followed by Sprague in third place with their performance titled "Spellbound". Fourth place went to Grant, Cleveland in fifth, Putnam in sixth, West Linn in seventh and Gladstone in eighth place for the show division.
The first place trophy in the 5A Jazz division was taken home by Silverton for their routine titled "Higher Ground." Silverton was last the champions of the 5A Small division in 2014.Lebanon took home the second place trophy in the 5A Jazz division, followed by Parkrose in third place, Centennial in fourth, Rex Putnam in fifth, North Eugene in sixth, Thurston in seventh, Wilsonville in eighth, Milwaukie in ninth, Corvallis in 10th and Bend in 11th place. 5A Jazz was the largest division of the night.
Canby took home their second first place trophy of the evening in the 5A Traditional division with their routine titled, "Annie's Song."
Silverton followed behind in second place, West Albany taking home third place, North Eugene in fourth and South Albany finishing in fifth place.
The first place trophy in the 1A-5A Pom was awarded to the Explosion dance team from Lebanon high school. Second place was awarded to Parkrose, Wilsonville taking home third, Centennial in fourth, South Albany in fifth, Stayton in sixth, Gladstone in seventh place.
1A-4A Jazz division awarded the first place trophy to the Charisma dance team from Valley Catholic high school.
To follow them in second place was Pendleton, Astoria in third, Marshfield in fourth and Philomath finishing in fifth place.
Valley Catholic claimed their second first place trophy of the competition in the 1A-4A Traditional division. They joined Canby in winning two divisions that evening.
Second place was awarded to Scappoose, Pendleton taking home third, Astoria fourth, Marshfield fifth, and Amity finishing in sixth place.
Drill Down on the first night crowned six dancers in the 1A-4A division and 6 dancers from the 5A division. Scappoose members claimed the first three placements, two being sisters in the 1A-4A Drill Down.
1A-4A Drill Down winners are: 1. Addison Schrotzberger (Scappoose), 2. Kaylie Schrotzberger (Scappoose), 3. Princess Fraire (Scappoose), 4. Stella Neville (Philomath), 5. Taylor Anderson (Astoria), 6. Kealy Carpenter (Marshfield).
5A Drill Down winners are: 1. Colleen Lovdokken (Thurston), 2. Alivia Siscaretti (Centennial), 3. Alexis Lewis (Rex Putnam), 4. Kylie Crawford (Parkrose), 5. Lacie Wheeler (Wilsonville), 6. Trinity Lazarus (Centennial).
"State was phenomenal. I had an amazing time and I will always remember it. The community that is created is so beautiful. Thank you, OSAA," Parkrose freshman Avery Smith said.
Day 2
Saturday saw a total of 36 performances in the 1A-6A Hip Hop, 6A Traditional, 6A Jazz, 6A Pom and 1A-6A Kick divisions.
The Kick division crowned Sheldon in the first place position. Their last first place placement at the OSAA championships was in the 6A division in 2017.
Sprague came home in second place followed by Forest Grove in third place.
Hip Hop saw a collapse of teams from the 1A through 6A classifications having Lake Oswego take home first place.
"Hip Hop division -- our fiercest competition all year. We found out a week before state that our 4A school would be collapsed with the 6A big dogs in dance for hip hop. Despite the initial feelings of frustration and defeat, we quickly turned it around to see this as an opportunity to show that Scappoose has the talent and perseverance to compete with the best in the state." - Pam Didier, coach of Scappoose
Second place was taken home by Scappoose, Lakeridge to follow in third place, Westview in fourth, West Albany in fifth, Oregon City in sixth, Philomath in seventh, Southridge in eighth, and Milwaukie in ninth.
Sheldon claimed their second first place trophy of the evening in the 6A Jazz division making them next to be a "Double Champion".
Tualatin received the second place spot, Nelson claiming the third place trophy, followed by Lincoln in fourth place, Gresham in fifth, Sam Barlow in sixth, and Century in seventh.
The 6A Pom division was where the next "Double Champion" was to be crowned by the Laker Dancers of Lake Oswego.
Sherwood followed in second place, Mountainside taking home third place, Nelson in fourth, and West Linn in fifth place.
Sherwood took home the first place trophy in the largest division of the competition, 6A Traditional. They were first out of 12 teams with their routine titled "What A Wonderful World."
Tualatin was right behind in second place, Westview taking home third, Mountainside in fourth, Clackamas in fifth, Sunset in sixth, Lakeridge in seventh, Lincoln in eighth, Forest Grove in ninth, Barlow 10th, Reynolds 11th and Willamette in 12th.
Cleveland sophomore Xitlali Ramirez said: "I was so grateful to show off what my team spent so long working on, and that I could feel such pride and joy with my teammates on the drill down floor."
The second night of Drill Down saw six crowned dancers, with Cleveland Tenacity claiming 5 of those placements. 6A Drill Down Winners are: 1. Tenaya McLeith (Cleveland), 2. Madison Middleton (Cleveland), 3. Pannonica Maruna (Cleveland), 4. Sadie Nichols (Cleveland), 5. Xitlali Ramirez (Cleveland), 6. Hannah Yang (Sunset).
"Winning alongside my team in drill was unbelievable and memorable. Once it was my teammates and I remaining, it was just like a practice in our own gym. It felt so special as a final send off for this incredible year." -- Tenaya McLeith, 6A Drill Down champion.
Celebrations continued with awarding the scholarship recipients in the Dance, Academic and Diversity Excellence opportunities provided by the board of directors of the Dance and Drill Coaches Association.
The Academic recipients are: Natafira Suryanata (Sheldon), Kayla Kumm (Tigard), Colleen Lovdokken (Thurston), and Isabella Frias (Valley Catholic).
The Diversity Excellence scholarships were received by: Jonathan Ibanez-Mercado (Tualatin), Natafira Suryanata (Sheldon), and Alexandria DeVaul (South Albany).
There were 8 dance scholarships awarded this year. The recipients are: Kaylie Schrotzberger (Scappoose), Alyssa Rich (West Albany), Brittney Burt (West Albany), Ainsley Lemuz (Canby), Henna Holden (Sunset), Summer James (Lake Oswego), Delaney Hawksford (Nelson), and Kate Davis (Lake Oswego).
"There are many things to celebrate about this year's state dance championship: returning to a large venue, competing multiple routines, a packed floor for grand finale, celebrating together, and so much more! It was fun and inspiring to see all the different types of routines at this year's championship. Congratulations to our dancers and coaches on an incredible season. You all made the 22-23 season one for the record books."-- Danielle Schneider, DDCA Board Chair.