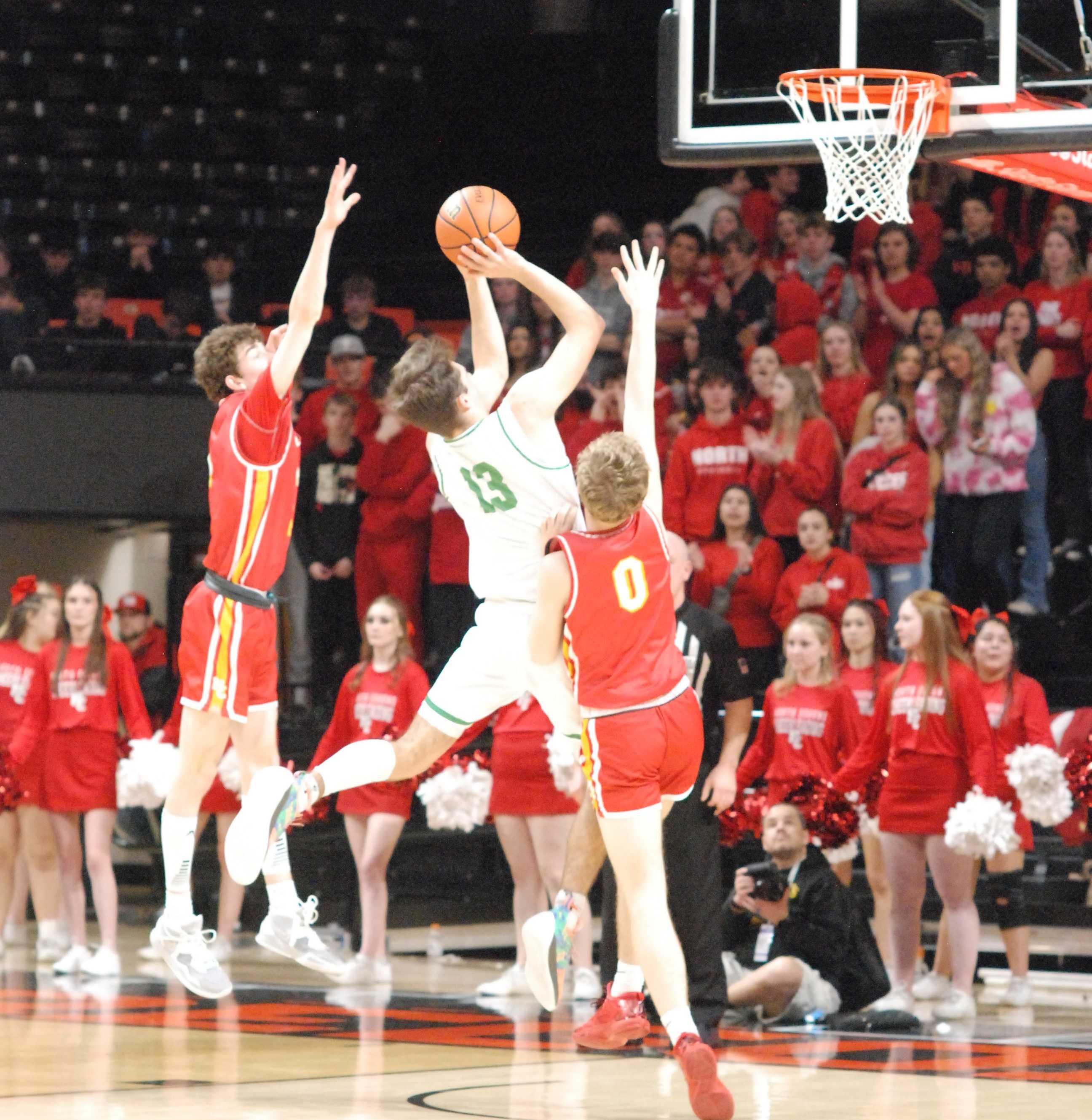 Summit defended its No. 1 seed on Wednesday afternoon with a convincing 75-53 opening-round win over feisty North Eugene at the 2023 OSAA / OnPoint Community Credit Union 5A Boys Basketball State Championship at Gill Coliseum in Corvallis.
The Storm, with seven players standing 6-4 or taller, used their length to get into passing lanes, alter shots, throw the ball over the top of North Eugene's full-court pressure and score consistently in the paint.
"Having multiple 6-5 to 6-7 kids on the wings make us dynamic," said Summit coach Jon Frazier. "Certainly, in the open court, we can finish and get out and run defensively. Our length made it difficult to run their action. I think that definitely helped us today."
Summit (20-5) played in the 6A championship game last year, but the move to 5A this year did not mean that the Storm would see immediate success. All five Summit starters from last season graduated, leaving the Storm with a talented, but inexperienced squad. A team like that might not appreciate the pressure that comes with the No. 1 seed, but Frazier said that's not a topic of discussion in the team's locker room.
"We're competing against the vision of how good we can be," he said. "We haven't talked about it a whole lot. We didn't worry about being the underdog last year and this year, being the No. 1 seed, it's kind of the same mentality. We want to block out the noise and focus on us."
North Eugene, which improved from 10-14 a year ago to 16-9 after Saturday's first-round playoff win, started off strong, as Nolan Duke twice put three points on the board for the Highlanders, one of the "and-1" variety. North Eugene's 6-4 lead yielded to a 6-0 Summit run, sparked by defense in the passing lanes, and changed the trajectory of the game. Point guard Collin Moore had eight points over the first eight minutes for the Storm, who led 14-8 after one and never let North Eugene get closer than seven points the rest of the way.
Duke led North Eugene with 14 points, 11 in the first half. The 6-4 senior had a scintillating sequence in the second quarter that included two blocks on the defensive end and a long-range three on offense. Caiden Gould and Elias McKinnis each scored 12 off the bench for the Highlanders. Gould scored several times in deep, while McKinnis dialed long distance for his buckets.
Moore finished with a game-high 20 points for Summit, scoring both from distance and with fearless and acrobatic drives to the rim. Pearson Carmichael, a 6-7 junior wing, added 19 points for Summit, showing off a versatile skill set that allowed him to score from beyond the arc or in close. Miguel Taylor and Hogan Carmichael also scored in double figures for Summit, which also got a rousing steal and two-handed slam in the second quarter from Mac Bledsoe for two of his six points. Taylor and Bledsoe combined for 10 assists for Summit, which held a 37-20 rebounding advantage.
"At this point in the year you want to have a clear vision of what you're good at and what it is that helps you be successful," Frazier said. "I thought there were elements of today's game where we took what North gave us and did a good job of staying within ourselves and not trying to do too much. Having players that in those chaotic moments can make plays for us really helps. I thought our guys did a really good job of keeping their poise.
"By the time you get here, final eight, everyone can play. We all have a chance to be playing on Friday. For us it's survive and advance and hopefully keep this thing going."
In other quarterfinal games…
No. 4 Redmond d. No. 5 Mountain View, 62-49
Redmond scored nine first-quarter field goals, all layups, to build a nine-point lead after one, then added long distance shooting in the second quarter to pull away, defeating Intermountain Conference foe Mountain View for the fourth time in as many chances this season.
All credit to Mountain View for making the second half interesting after it trailed, 35-13, after two quarters. Down by as many as 26 points, 43-17, early in the third quarter, the Cougars used "go for broke" full court pressure and it worked! They forced countless Redmond turnovers and got relentless midrange offense from Quincy Townsend (28 points) to outscore Redmond, 32-19, the rest of the way. A corner triple from Brady Kenedy at the third quarter horn cut the margin to 14 and gave the Cougars hope. Twice in the fourth quarter, Mountain View cut Redmond's lead to single digits. Alas, time ran out on the courageous comeback.
For Redmond (19-7), there were standouts aplenty. Point guard Tanner Jones impressed with his headlong drives to the basket and long-range shooting, to the tune of 19 points. He added seven assists. Nathan Wachs showed off his athleticism with two two-handed stuffs and added three rainbow threes. Evan Otten, the 6-10 center who missed five weeks due to a broken write, scored only eight, but had 19 rebounds and fulfilled his role as rim protector well. Jack Snyder added 10 points, all in the first quarter.
No. 3 Wilsonville d. No. 6 Woodburn, 46-26
Woodburn, making its first final eight appearance, shot 8.5 percent from the field in the first quarter, when defending 5A champion Wilsonville moved to a 12-3 lead; had a better second quarter to get within four at halftime; then yielded the first eight points of the third quarter and was not competitive again.
Kyle Counts, grandson of Oregon State great Mel Counts, scored the game's first eight points, inside and out, as Wilsonville's leading scorer, junior Kallen Gutridge, started as slowly as Woodburn. Guttridge eventually heated up a little, and finished with 12 points, on 6-of-19 shooting, to complement Counts' game-high 16 points.
Woodburn (20-6), unfortunately, never heated up. The Bulldogs shot 17.8 percent from the field for the game, including just 15 percent from beyond the three-point arc. Though the team had fewer turnovers than Wilsonville (22-5), it wasn't nearly enough to compensate for the shooting struggles.
Point guard Cruz Veliz was Woodburn's leading scorer with nine points, but he had zero assists – the team finished with just four total – underscoring the lack of scoring that permeated the entire Bulldog team.
Wilsonville had a third player, point guard Maxim Wu, in double figures with 11. The Wildcats made up for a poor shooting first half by shooting nearly 60 percent from the field in the second half.
No. 16 Crescent Valley d. No. La Salle Prep, 46-42
Crescent Valley (16-11) did not attempt many shots – just 30 – but the Raiders made half of the ones they took; and they scored seven more points from the free throw line in taking down La Salle Prep, 46-42.
CV, which stunned Churchill in the first round to make the state tournament, jumped to a 15-3 first-quarter lead, and never trailed. The Raiders, who played only six, got 21 points from Rocco McClave and 12 from Adam Temesgen to hold off any Falcon comeback attempts.
LSP had to play from behind the entire game and trailed by as many as 14 points in the second quarter before rallying. Three times in the fourth quarter, the Falcons pulled within two points, the last on a Nick Robertson layup with two minutes remaining. But they were unable to tie or go ahead and McClave sealed the win with two free throws with 11 ticks remaining to produce the final score.
Finbar O'Brien had 11 points and 11 rebounds in the loss for La Salle Prep. The Falcons shot 50 percent more than Crescent Valley, and had more rebounds, assists and steals, and fewer turnovers, than the Raiders but were doomed by their slow start.