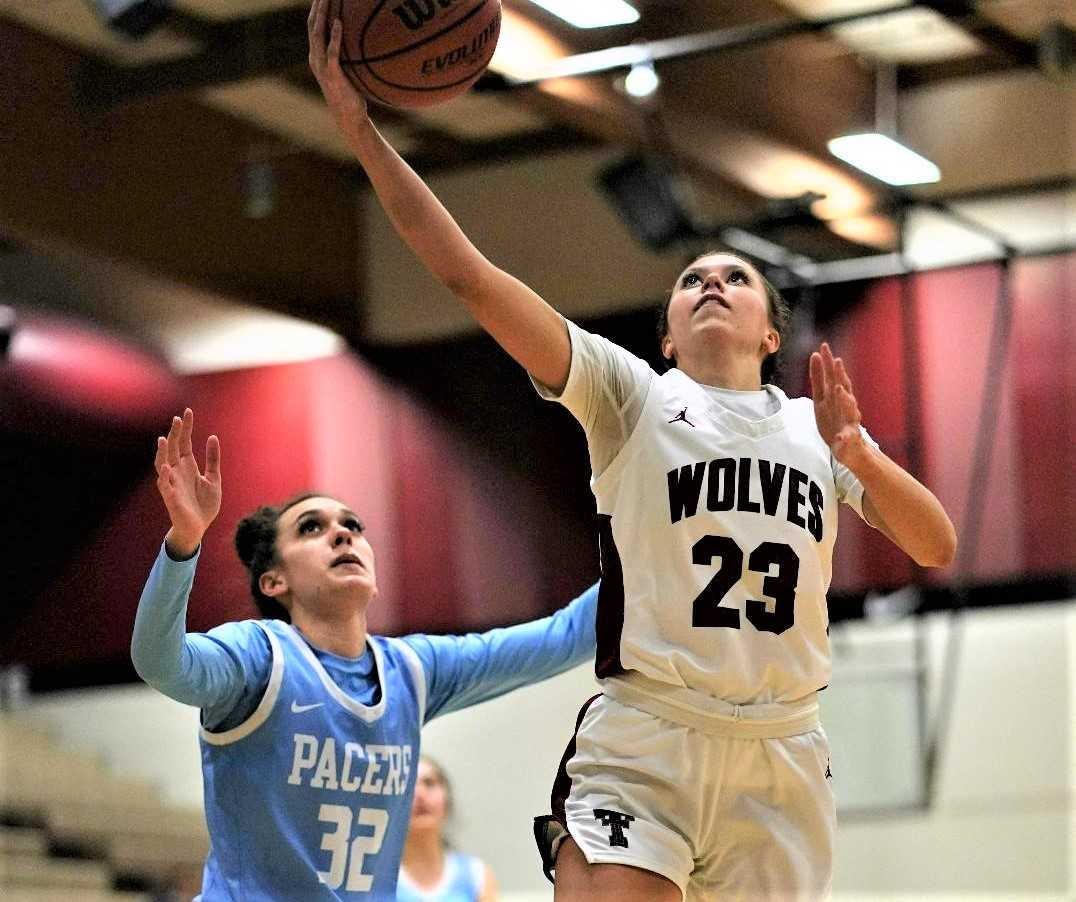 Maybe it's time to start taking Tualatin seriously as a championship contender in 6A girls basketball.
The Timberwolves (14-1, 3-0), who have played lock-down defense all season, took it to another level Tuesday when they stifled visiting Lakeridge 47-10 in a key Three Rivers League game.
Reigning league champion Lakeridge (10-5, 1-2), which entered the game averaging 53.1 points per game, couldn't do much against Tualatin's 2-3 zone. The Timberwolves held the Pacers to 4 for 28 from the field, including 0 for 8 from three-point range, and forced 24 turnovers.
"My teams have had great defense over the years, but this one is kind of memorable in terms of just how dialed in they were, to be able to do that against them," Tualatin coach Wes Pappas said. "This was our best defensive performance this season, by far."
Tualatin led 8-0 after one quarter, 20-4 at half and 43-7 after three quarters. It was the seventh consecutive win for the Timberwolves, who are No. 7 in the OSAAtoday 6A coaches poll.
"It was just awesome to see our defense work together," Pappas said. "Our players know they have some good players. It's been a really good rivalry. The girls were just so mentally focused and ready to go. They know this is one of the teams we have to beat to win a league title. We just played like we had a chip on our shoulder."
Lakeridge senior guard Keelie O'Hollaren, an Air Force commit who is averaging 18.5 points, finished with two points on 1-for-12 shooting as the Timberwolves kept close track of her.
Senior guard Tabi Searle had 11 points, five assists and six steals, senior post Olivia Poulivaati had 11 points and five steals and junior post Jaylyn Arosemena added nine points for Tualatin, which committed only six turnovers.
The Timberwolves are limiting opponents to a 6A-low 26.7 points per game. Foes are shooting 25.1 percent from the field (18.4 percent from three-point range) and committing 23.2 turnovers per game against Tualatin.
The scary part is Tualatin seems to be improving on defense with each game.
"We're getting better because we haven't had a ton of games where everybody's been healthy or present," Pappas said. "Now it's starting to gel."
The 6-foot Poulivaati, signed with Nevada, missed the team's three-game appearance in the POA Holiday Classic due to a family commitment. The 6-0 Arosemena sat out three games with an ankle injury, returning Jan. 13 against West Linn. And senior guard Anna Sherman and freshman guard Ries Miadich also missed games with injuries.
Tualatin is averaging 51.7 points per game, led by Searle (10.5 points, 4.1 assists) and Arosemena (10.3 points, 5.1 rebounds). The Timberwolves also are getting steady play from Miadich (7.5 points), Sherman (7.1 points) and Poulivaati (6.9 points, 5.3 rebounds).
"We can hit you from so many different angles," Pappas said. "You don't know who to take away from us."
Poulivaati missed her freshman and junior seasons due to ACL injuries, her only previous high school experience coming in the COVID-shortened season as a sophomore. Her improvement curve as the anchor of the 2-3 zone has been steep.
"She's still learning, but she's catching on so fast," Pappas said.
The 5-8 Miadich – whose father, Mike, was the state offensive player of the year in quarterbacking Lakeridge to the 1987 football state title – has made an impact in her first season.
"She's our point guard of the future," Pappas said. "She makes things happen. She's the real deal. She's the best guard I've ever had come in as a freshman."
The Timberwolves' only loss is a 42-37 defeat to Camas (Wash.) in the POA Holiday Classic, a game they played without Poulivaati. They have not played any of the teams ranked above them in the coaches poll.
"Any other year, there would be a lot of talk about us," Pappas said. "This team, in a lot of ways, is the most talented team I've had. But this year is the most talented year I've seen in the state. These are like super teams."
Tualatin is content to fly under the radar for now.
"Nobody has looked at us being in that top six," Pappas said. "If we're healthy at the end, and playing our top basketball, I think we've got a puncher's chance, because we're not easy to play against."
Molalla shoots down No. 2 Gladstone
Unranked Molalla made 12 three-pointers to upset No. 2 Gladstone in the 4A Tri-Valley Conference opener for both teams Tuesday.
Kylie Brownlee, a 6-0 senior forward, had 19 points and seven rebounds to lead the host Indians (9-3). Amy Willis added Yasmin Montiel had 13 and 12 points, respectively, for Molalla, which also got eight points and 13 rebounds from Anna Parker.
Montiel, a 5-2 freshman, made four three-pointers and Brownlee connected for three.
The Indians trailed by double digits before rallying to tie entering the fourth quarter. They built the lead as high as eight points and held on at the end.
"We never got discouraged," coach Whitnie Warren said. "We fought back, kept our energy up."
Molalla, which went 7-13 last season, extended its winning streak to five. Warren called it a "huge team win."
"We play a very unselfish game and trust in our teammates on both ends of the court," she said. "I am extremely proud of these girls' grit, tenacity, fire and coachability. It's a fun team to be a part of."
Gervais stops No. 1 SA
Junior Olivia Boyd had 14 points, 10 rebounds and three blocks as No. 3 Gervais dropped No. 1 Salem Academy 49-30 in a 2A Tri-River Conference game Tuesday.
Josie Schultz recorded 11 points and two blocks and Sofia Contreras added five assists for the host Cougars (13-2, 6-0), who strengthened their hold on first place ahead of No. 6 Western Christian (11-2, 4-0).
Haley Ferry scored 14 points for shorthanded Salem Academy (12-2, 2-2), which played without two starters in post Aly Herber (ankle) and guard Grace Hinkle (undisclosed). Herber and Hinkle also did not play in the team's 34-23 loss at Western Christian on Jan. 12.
Gervais led Salem Academy 25-21 at half and opened the advantage to 40-25 after three quarters. The Cougars repeatedly converted turnovers into points.
"It's what we do really well as a team," Schultz said. "I think that's been one of our main reasons why we win is because we grind and we don't stop working hard, we push with everything we got. ...
"They're a really good team and it felt really good to go out strong and be really competitive with them."
– Jeremy McDonald contributed to this report