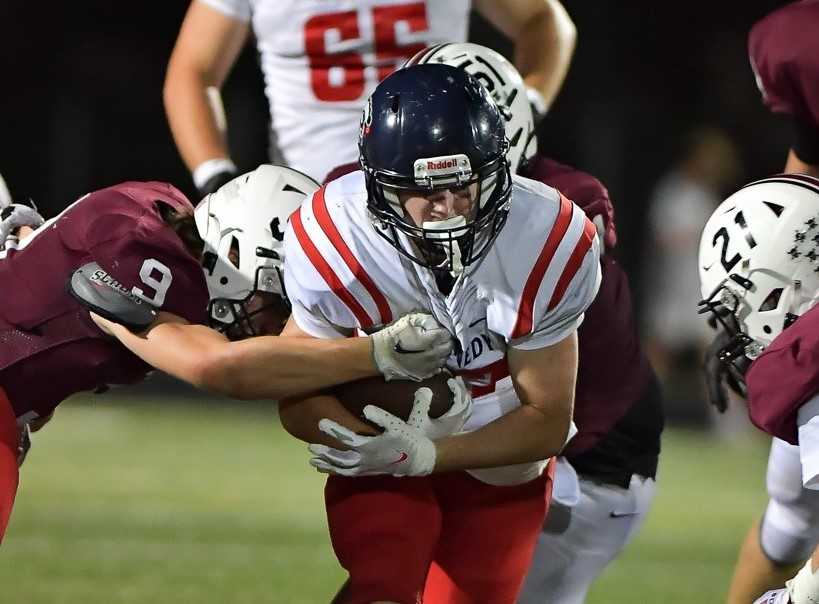 The move up to 3A hasn't slowed down Kennedy's football team.
The fifth-ranked Trojans, 2A champions in 2018 and runners-up in 2019 and 2021, made an emphatic statement Friday with a 21-0 win at No. 4 Dayton in a 3A Special District 2 showdown.
It is the third consecutive shutout for Kennedy (4-0, 2-0), which has outscored its foes 161-8 this season. And the Trojans did it against a surging Dayton team that was averaging 43.7 points.
The shutout means that Kennedy coach Joe Panuke will be making another run to the donut shop to reward his players, in keeping with a Sunday tradition.
"Coming into a 3A league is tough, and if you want to win a league title, you're going to have to go through Dayton," Panuke said. "So this was definitely a big one. But we have some tough games ahead – Scio, Santiam Christian – some real tough ones. It won't get any easier, but we're definitely going to enjoy this one."
The Trojans gave up size to Dayton (3-1, 1-1) but were able to stand up to the Pirates' power running game. They held Dayton junior Zach Smith, who was averaging 208.0 rushing yards per game, to 49 yards on 15 carries. The Pirates finished with 175 total yards, 115 on the ground.
"We knew it was going to be a tough one because they are big and strong," Kennedy senior receiver and defensive back Charlie Beyer said. "We just dug deeper and played harder.
"It just tells them how tough our defense is and that we can stop people. We'll keep working on our offense and keep improving that, too. And we all love donuts."
After a scoreless first half, Kennedy struck in the third quarter with a 63-yard touchdown pass from junior Elijah Traeger to senior Owen Bruner. An interception set up the next score, a 21-yard touchdown run by senior William Schaecher, to make it 14-0 in the fourth quarter. Traeger connected with senior Brett Boen for a 44-yard touchdown pass to extend the lead to 21-0.
Schaecher finished with 113 yards on 17 carries. Traeger began to find a passing rhythm in the second half after a choppy first half and finished 9 of 21 for 210 yards and two touchdowns with one interception. Bruner had three catches for 102 yards.
"We are a big passing team, and it really gets us going when we can make those big plays," Traeger said. "But it's tough. Sometimes we take a while to figure out what plays are going to break their defense and get us our yards."
– Andre Panse contributed to this report
Panthers prevail
In a matchup of two of the state's hottest quarterbacks, South Medford prevailed at No. 10 South Salem 48-35 on Friday night to maintain its share of first place in 6A Special District 1.
Senior Deacon Edgar passed for more than 300 yards and four touchdowns and ran for two scores to power the unranked Panthers (4-0, 2-0) past the Saxons (3-1, 1-1) and senior quarterback Daschel Smith, who entered the game leading the state in passing yards and touchdown passes.
"We needed him to show some good decision-making tonight, because they're a good blitzing team," South Medford coach Bill Singler told the Mail-Tribune about Edgar. "He made some good decisions tonight at the line of scrimmage that allowed us to make some big plays against their blitzing scheme."
Edgar threw for 271 yards in the first half, including three touchdown passes of 18, 13 and 47 yards to senior Andrew Walker, as South Medford led 27-21.
After Smith scored on one-yard run to tie 27-27, Edgar ran for a one-yard score, threw a 17-yard touchdown pass to senior Ty Henry, and ran for a 36-yard score as the Panthers opened a 48-27 lead.
Edgar has thrown 11 touchdown passes – nine in the last two games -- for South Medford, which is 4-0 for the first time since 2011, when it opened 8-0.
"All those practices we had over the summer, all those routes and 7-on-7s, it showed tonight in our passing attack," Edgar told the Mail-Tribune. "We executed well."
Walker and Henry accounted for more than 250 receiving yards. Walker, the reigning 6A champion in the 100 and 200 meters, leads the Panthers with six touchdown catches. Henry is next with three.
"South Salem's got a group of talented receivers, but we do, too," Singler said. "I told our guys that our receivers are as good as anybody's across the board — they just have to go out and play like it. And they did tonight."
On defense, the Panthers had three interceptions and did not allow a touchdown pass to Smith, who threw for 12 scores in the first three games. Smith had one of South Salem's five touchdown runs.
South Medford is tied for first place in Special District 1 with No. 1 Sheldon (4-0, 2-0) and North Medford (2-2, 2-0). The Panthers play at Sheldon on Oct. 7.
Mountainside 4-0
Mountainside coach John Mannion knew that opening the season against four teams that made the 6A playoffs last season was going to put his team to the test.
After beating Newberg 49-28 on Thursday, the Mavericks moved to 4-0 for the first time in the program's five-year history.
"I guess it's sort of what we hoped we could do," said Mannion, whose team begins Metro League play next week at Westview. "We certainly didn't expect it, given all the teams we've played. Coming out of those games 4-0, we're awfully proud of that.
"While we're definitely excited about our start, we're also very well grounded in the fact that each week there's an opponent that could beat us."
It's a dramatic turn from last season, when an inexperienced Mountainside team was outscored 119-36 in losing its first three games to Lake Oswego, Westview and Tigard. The Mavericks rebounded to finish 6-5, making the second round of the 6A playoffs.
"A lot of guys last year gained a lot of experience," Mannion said. "So coming into this year, we had a fair amount of guys that had played a lot of games."
In particular, the experience gained up front is paying dividends. Senior tackle Kevin Cassidy (6-6, 285) and senior center Reed Gerber (6-6, 250) are third-year starters, and senior guard Jackson Stiles (6-1, 250) started at center last year. Junior guard Drew McCarty (6-4, 225) also started some games in 2021.
"Our offensive line has been doing a heck of a job," Mannion said. "We've got three or four guys that have played a lot of high school football. They've really taken the next step. They work well together. It's a good unit for us."
The Mavericks opened by beating Roseburg 35-0, Barlow 21-20 and Lake Oswego 24-7. Last year, they lost at Lake Oswego 40-7 in the season opener.
"We were much more prepared to play Lake Oswego this year in terms of experience, and physically developed kids," Mannion said. "This year we were able to stand in with them."
In Thursday's win, junior Alex Ingalls completed 10 of 13 passes for 181 yards and two touchdowns and ran for a score as the Mavericks racked up 381 y ards. Brayden Boe, a 6-4 sophomore basketball standout, had three catches for 105 yards and one touchdown.
For the season, Ingalls has completed 62.3 percent of his passes for 551 yards and six touchdowns with two interceptions. Boe has 10 catches for 220 yards and four scores.
Mannion said that Ingalls has been "really efficient. He's made some nice, clutch throws on third down."
5A suits Southridge
Dropping from 6A to 5A this season has provided a jolt for Southridge, which is off to a 4-0 start.
For the second game in a row, the Skyhawks won on their final possession Thursday when sophomore Rowen Miner kicked a 20-yard field goal with 15 seconds left to beat host Mountain View 24-21 in a nonleague game.
The previous week, Southridge won at Hood River Valley 35-28 on a 26-yard touchdown pass from junior Jack Klee to senior Alisjah Tucker with 34 seconds left.
"It's been nice to play other schools that we're on a level playing field with," Skyhawks coach Kevin Bickler said. "They've all been competitive games, every single one of them. That's what you want in high school sports, competitive balance. It's allowed our kids the opportunity to learn how to compete in crucial situations. You want to have that opportunity, at least."
Southridge – which went a combined 5-20 the previous three seasons, including 1-8 in 2021 -- met OSAA criteria to drop down one classification this season. The Skyhawks were 1-13 in the 6A Metro League during that span.
"I miss our rivalry games, like with Beaverton and Mountainside," Bickler said. "There's tradition there, and the kids and fans enjoy it. But what's the overall goal of high school sports? It's to create safe and competitive balance. I feel like with our current enrollment, our numbers fit better at the 5A level."
Southridge finished 2021 with 65 players in the program and has about 60 this season.
"We don't have a lot of depth, even still," Bickler said. "I hope with the success we're having that more kids will come out. All six years I've been the head coach, we've had between 60 and 70 in the program. I'd like it to be more like 80."
If the Skyhawks win two more games, they will meet the threshold for moving back up to 6A next year. Bickler believes programs should be given two years to drop down one classification before having to go back up.
"You can't really build numbers back up in one year," he said.
Southridge is getting a breakout season from Klee, the brother of JC Klee, the starter the last two seasons. Klee has thrown 13 touchdown passes, including five against Hood River Valley and three against Mountain View.
Klee connected with Tucker and juniors Stone Fowler and Matthew Nichols for scores against Mountain View. Klee converted several third downs on the winning drive, which started at the Southridge 20-yard line with about five minutes left.
"He's got that swagger that a quarterback has," said Bickler, the quarterback for Glencoe's state title team in 1994. "He walks with confidence and he doesn't get flustered. He has a good arm, so we're able to stretch the field vertically, and he also can hit the underneath passes. To have a quarterback that can do that, it puts the defense a little bit on edge."
Brother's footsteps
With each game, Monroe junior Nate Young is looking more like his brother Zach, the state's No. 4 all-time rusher who now plays at Linfield College.
Young rushed for 283 yards and four touchdowns on nine carries in Friday's 58-6 win over Oakridge, giving him 964 yards in four games. He has rushed for 12 touchdowns and caught two scoring passes for the 2A No. 10 Dragons (3-1), who made the switch from 11-man to nine-man this season.
Nate's play is evoking images of Zach, the two-time 2A offensive player of the year who rushed for 7,253 yards at Monroe from 2016 to 2019, especially considering he wears the same No. 11 as his brother.
"A couple times, it's definitely a flashback to watching Zach play," Monroe coach Bill Crowson said. "His first couple years, he definitely had a different style, just a different build. He wasn't as aggressive as Zach was, but this year, he seems to have found that. It seems like he's realized what he's capable of doing."
The 5-10, 145-pound Nate even showed shades of Zach by scoring on his first touch in wins over Rogue River and Waldport.
"That was a trait of Zach's," Crowson said. "Over four years, it was probably 10 or 12 times where he would open the game and rip off a 65-yarder for a TD. It got to be a habit."
Thriving in the team's veer offense, Nate rushed for 302 yards and four touchdowns against Rogue River and 306 yards and four scores against Waldport. He and the team have made steady progress since opening the season with a 42-14 loss to No. 4 Oakland, when Nate was limited to 75 rushing yards but caught touchdown passes of 81 and 25 yards.
"I think a lot of it is just learning how to be a running back, how to be aggressive," Crowson said Nate, who played mostly at slot as a sophomore. "He's never been a really big kid. He's gotten bigger as a junior, so that's been helpful.
"Zach was football fast. He was fast in his pads, and he played really fearlessly. I think that's where Nate's getting to be."
Other highlights from Week 4:
6A
Grants Pass edged West Salem 27-25 behind Jace Blanchard, who completed 21 of 39 passes for 267 yards and three touchdowns, two to Jackson Tunick, who had 11 catches for 189 yards. … Ty Pugliano caught two touchdown passes from Caiden Lacey and rushed for 95 yards on 22 carries in a 27-13 win over North Salem. TC Manumaleuna threw two touchdown passes to Pierce Walker for North Salem. … Barlow came from behind to outlast Clackamas 21-14 in overtime. The Bruins got a one-yard touchdown run from Hunter MacDonald to start overtime and a clinching, fourth-down interception from Caleb Perry. Barlow forced overtime when Sentori Martino blocked a 19-yard field goal attempt with 28 seconds left. Clackamas' Cooper Beltz had 13 catches for 133 yards and one score. … Tualatin's Jack Wagner completed 19 of 26 passes for 209 yards and four touchdowns, two to AJ Noland, in a 36-15 win over Westview. Wildcats running back Jordan Fisher ran for 64 yards and two touchdowns on 20 carries. …
Century handled Aloha 39-0 as Jonny Ellis threw four touchdown passes, two each to Aydin Ellis and Avery Williams. Elijah Garcia ran for two scores. … Jesuit had a 401-120 edge in yards in defeating Sherwood 42-0. Noah Staley ran for 103 yards and two touchdowns and Jacob Hutchinson passed for two scores to Jace Burton. … Drew Rodriguez scored on a run, catch and kickoff return and threw a touchdown pass to lead Sprague past Roseburg 56-17. … Grafton Robinson had two touchdown catches and a scoring run in the first quarter and Joey Rubino and Hunter Lansdon added interception returns for touchdowns in Sheldon's 62-6 win over McNary. … Sandy got four touchdown runs from Garrett Willenberg to beat David Douglas 41-6. …
Cru Newman passed, ran and threw for touchdowns for Central Catholic, which dropped Nelson 35-7, holding the Hawks to 127 yards. … Ryan Oliver completed 40 of 54 passes for 351 yards and five touchdowns – three to Donald Stephens Jr. and two to Joey Olsen – as Lakeridge dominated Sunset 42-14. … West Linn rolled to a 42-0 halftime lead and won 45-6 over Lake Stevens, Washington's top-ranked big-school team. Sam Leavitt completed 17 of 18 passes for 310 yards and two touchdowns, both to Mark Hamper, who had five catches for 114 yards. … Lake Oswego quarterback Liam Davis came off the bench to run for two touchdowns and throw for a score in a 42-12 win over McMinnville. … Tigard coasted past Liberty 40-7 as Nate Duenas caught two touchdown passes and Reese Hare scored on an interception return. … Ben Schneider threw four touchdown passes to Marcus Jordan, who also ran for two scores, in Oregon City's 57-20 win over Beaverton.
5A
Hogan Carmichael threw three touchdown passes, two to Ethan Carlson, as Summit defeated Wilsonville 33-21. The Storm led 33-7. ... Noah Blair threw three touchdown passes, two to Walker Bonar, in Thurston's 42-21 win over Crater. Bonar had eight catches for 99 yards and Vaun Halstead ran for two touchdowns and caught a scoring pass for the Colts. … Eagle Point's David Brown had another big game, rushing for 251 yards and five touchdowns on 32 carries and catching a 55-yard scoring pass as the Eagles dropped North Eugene 42-21. … Churchill led 26-0 at half in beating Willamette 26-14. Noa Allison rushed for 166 yards on 24 carries and caught a touchdown pass from Tyler Mikel, who threw for two scores and ran for another. Danny Doan had two interceptions, returning one for a touchdown, for Churchill. … Bend rushed for 223 of its 320 yards in smothering Canby 35-0 in a battle of unbeaten teams. Malakai Nutter rushed for two touchdowns and Austin Baker ran for 94 yards and one score for the Lava Bears. Canby, which played without star running back Tyler Konold (ankle), had minus-19 yards rushing. …
Lebanon freshman Darius Freeman rushed for 163 yards and two touchdowns, including the go-ahead 14-yard score in the fourth quarter, to lead a 42-39 win over Corvallis. Spartans quarterback Axel Prechel threw for 442 yards and four touchdowns, two to Truman Brasfield, who had eight catches for 167 yards. … Emilio Miranda ran for two touchdowns as Dallas defeated West Albany 26-21. The Dragons held on after leading 26-7 with eight minutes left. … Silverton overcame a 14-point, fourth-quarter deficit to eclipse South Albany 39-35. Trailing 35-21, the Foxes pulled ahead behind Jackson Pfeifer, who ran for two touchdowns and caught a scoring pass in the fourth quarter. Silverton's Sawyer Teeney threw for 233 yards and three touchdowns and ran for a score. … Putnam improved to 4-0 by beating Parkrose 42-0. Tyler Creswick caught two touchdown passes from Konnor Bickford and James Bauman ran for two scores. … Hillsboro held Centennial to 77 yards and five first downs in a 35-0 win. Preston Echeverria ran for two touchdowns.
4A
Hidden Valley's Daniel Iwamizu broke a 20-20 tie with a 54-yard touchdown run with about two minutes left, leading the Mustangs past Ashland 27-20. Iwamizu rushed for 165 yards and three touchdowns on 20 carries and caught a scoring pass. … Marist Catholic handled Stayton 35-7 as Drew Prickel rushed for 106 yards and four touchdowns. … Kaden Harris threw a touchdown pass to Davyn Tuel with eight seconds left to give Milwaukie a 27-22 win over La Salle Prep. Harris passed for three scores. … Payton Lambert ran for 102 yards and two touchdowns and Lucas Bensching had an interception return for a score in Pendleton's 42-0 win over Ridgeview … Treyce Horton, Trevor Anderson and Brody Hubble each ran for two touchdowns as Mazama blanked North Bend 50-0. Anderson rushed for 178 yards and Hubble had 119. …
Cory James threw and ran for scores in the first half as Estacada built a 24-0 lead and put away Astoria 38-0. … Henley got three touchdown runs from Logan Whitlock and three scoring passes from Shaw Stork to defeat Cascade 40-22. … Scappoose beat Madras 53-6 as Max Nowlin threw three touchdown passes to Colby Campbell and Trey Dieringer ran for three scores. … John Lemmons and Mekhi Johnson had two touchdown runs each and Kavan Robinson returned a punt 89 yards for a score to spark Marshfield past Klamath Union 47-7. .. Baker took a 28-12 halftime lead and held on to defeat Ontario 41-40. Paul Hobson completed 13 of 20 passes for 276 yards and three touchdowns and had six carries for 87 yards and one score. Malaki Myer had four catches for 124 yards and two touchdowns and Jaxon Logsdon rushed for 80 yards and two scores on 11 carries.
3A
Banks handled Pleasant Hill 42-6 in a matchup of unbeaten teams. Christian Lyda completed 18 of 25 passes for 290 yards and two touchdowns, one to Jack Lyda, who had seven catches for 194 yards. Ashton Crossen ran for three touchdowns. ... Cascade Christian thumped Coquille 48-0, outgaining the Red Devils 440-22. Kameron Rague rushed for 194 yards and three touchdowns and Ashton Moody passed for two scores. … St. Mary's turned back Lakeview 19-18, surviving a two-point conversion attempt pass with 1:20 left. St. Mary's got a 55-yard interception return touchdown from Bradley Patten and a blocked punt for a safety. … Branson Willis returned a kickoff 72 yards for a touchdown and scored the two-point conversion to break a 20-20, fourth-quarter tie and give Douglas a 28-20 win over Phoenix. Willis also scored on a 20-yard run and 48-yard catch. … Jace Johnson completed 16 of 23 passes for 280 yards and four touchdowns, two to Isaac Simpson, to lead South Umpqua past North Valley 49-23. Isaac Real had a touchdown catch and returned an interception for a score for South Umpqua, which had 461 total yards.
2A
Ashton Hardy ran for a touchdown and recorded a safety and Hunter Vaughn had a scoring run as North Douglas/Yoncalla turned away Glide 30-8. … Gabe Williamson had three touchdown runs for Oakland, which opened a 40-6 halftime lead and stopped Rogue River 48-6. … Maddox King scored two touchdowns as Weston-McEwen dispatched Stanfield 38-6. … Irrigon held off Grant Union 32-28 as Lee Harrison rushed for 186 yards and two touchdowns and Antonio Lemus ran for 102 yards. … Lowell's JaMar Thurman rushed for 239 yards and two touchdowns on 23 carries, boosting the Red Devils to a 50-26 win over Taft. … Gold Beach rushed for 385 yards to subdue Bandon 44-20, behind Jake Westerman (186 yards, three touchdowns) and Nelson Wilstead (112 yards, two touchdowns). .. Orrin Reid's touchdown run and Austin Johnson's extra point lifted Willamina over Culver 54-53. Sophomore Jacob Hadley rushed for 437 yards and seven touchdowns on 31 carries for Willamina, giving him 994 yards and 16 scores for the season.
1A-8
George Pohlschneider completed 6 of 8 passes for 154 yards and three touchdowns and ran for a score to lead St. Paul past Cove 57-20. Ralph Pohlschneider rushed for two touchdowns and Carter Milroy scored on a catch and an interception return. ... Crosspoint Christian ran away from Chiloquin 50-22 as Chase Bacus rushed for 149 yards and two touchdowns in eight carries and caught a scoring pass. … Lost River ran for 329 yards in a 31-6 win over Heppner. Nathan Dalton rushed for 147 yards and one touchdown and had 12 tackles and Chase McAuliffe ran for 120 yards and one score. Joel DeJong had 14 tackles and an interception as the Raiders held Heppner to 110 yards. … Perrydale routed Ione/Artlington 54-22 as Wyatt Burg threw for 227 yards and four touchdowns, two to Eric Danka, who had five catches for 164 yards. Mason Crawford rushed for 173 yards and three scores. … Cole Martin had touchdown runs of 65, 45 and 15 and passed for a score as Powder Valley thumped Lyle/Wishram/Klickitat 46-8. … Enterprise's Tyler Knapp completed 13 of 19 passes for 340 yards and five touchdowns in a 48-6 win over Pilot Rock. Chase Duncan and Caden Fent each had three tackles for loss for the Badgers, who gained 423 yards. ... Myrtle Point's Andreas Villanueva had touchdown catches of 45, 7, 6 and 19 yards and three interceptions -- all in the first half -- in a 68-14 win over Bonanza. Troy Warner added two touchdown runs.
1A-6
Anthony Alimenti passed for three touchdowns and returned a fumble for a score for Elkton, which blanked Gilchrist 38-0. Christian Halstead ran for two touchdowns and Nathan Rausch rushed for 136 yards and one score for the Elks. … Spray/Mitchell/Wheeler turned back South Wasco County 43-20 as Carter Boise rushed for 220 yards and four touchdowns on 16 carries and had 14 tackles and one sack. Nate Clark added 218 yards and one touchdown on 13 carries and had 11.5 tackles. … Ivan Surcamp, Garrett Warren and Dakota McConnell each ran for two touchdowns and Mitch Dumford caught two scoring passes for Triangle Lake, which handled Jewell 60-19. Ben Wyse returned an interception for a touchdown and had four tackles for loss for Triangle Lake. … Trevor Williams and Blake Herinckx each ran for three touchdowns for North Lake, which built a 34-12 halftime lead and held on to defeat Days Creek 54-48. Days Creek's Wyatt Geiger completed 26 of 45 passes for 465 yards and seven touchdowns, five in the fourth quarter. He also rushed for 68 yards on 14 carries.