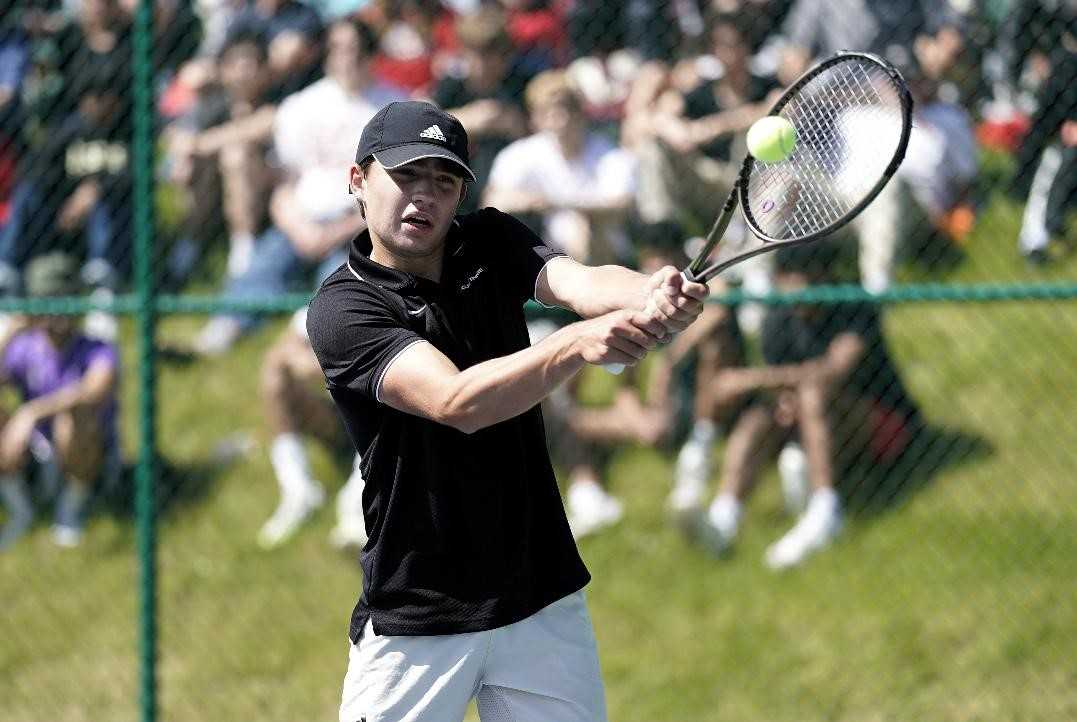 BEAVERTON -- Runner-up to Jesuit in the last three state tournaments, Lincoln finally got its title Saturday in the OSAA/OnPoint Community Credit Union 6A boys tennis tournament at Tualatin Hills Tennis Center.
Behind a singles title from sophomore Will Semler, a five-star college prospect, the Cardinals scored 21.5 points to hold off Jesuit (19) and West Linn (17).
It is Lincoln's third title and first since 1988. The Crusaders had won four consecutive championships and 11 of 12.
Semler, the No. 3 seed, defeated Beaverton junior Tannor Binder, the No. 2 seed, 6-4, 7-6 (5) in the final. Semler reached the championships match by beating senior teammate Alex Dinkov 6-2, 6-0 in the semifinals.
Dinkov, seeded seventh, knocked off the top seed, Central Catholic senior Gus Krauel, 7-6, 7-6 in the quarterfinals.
The Sunset team of juniors Parsa Nasri and Kei Watanabe, seeded second, won the doubles title by defeating the unseeded Lake Oswego team of junior Cooper Whittington and sophomore Alex Beechem 6-2, 6-0 in the final.
5A
La Salle Prep top-seeded sophomore Aidan McBride won a hard-fought singles final over fourth-seeded Churchill junior Carsen Luna 6-1, 4-6, 6-3 for the 5A title at Tualatin Hills.
The doubles title went to Crescent Valley junior Luke Forester and freshman Richard Wang, the No. 3 seed. They beat the No. 4 seed, Redmond junior Tanner Jones and senior Nico Afti, 6-1, 6-2 in the final.
Crescent Valley won a hotly contested team race, scoring 11 points to overcome La Salle Prep (10.5) and Wilsonville (10). The Raiders' only other titles were in 2013 and 2014.
4A/3A/2A/1A
Cascade junior Zach Moore lived up to his No. 1 seed by winning the small-school title, beating Catlin Gabel junior Tai Leong, the No. 2 seed, 6-2, 6-0 in the championship match at OSU Tennis Complex in Corvallis. Moore is Cascade's first boys singles champion.
Catlin Gabel's top-seeded doubles team of seniors Peter Ye and Will Silver gutted out a tough win over the No. 2 seed, Marist Catholic sophomore Peyton Tyner and junior Jack Kiefer, for the doubles title. Ye and Silver won 7-6, 5-7, 6-3.
Catlin Gabel, the 2019 champion, turned back Marist Catholic 20-18 for the team title. It is the 12th state championship for the Eagles.
Girls
6A
Clackamas sophomore Lauren Han, the No. 1 seed, claimed the 6A title at Tualatin Hills.
Han won a battle of five-star college prospects in the final, defeating Westview junior Neena Feldman, the second seed, 6-3, 6-4. Han becomes the first girls singles champion for the Cavaliers.
Westview's top-seeded doubles team of junior Amberly Au and senior Karolina Dobiecka won the title by beating the No. 2 seed, Jesuit junior Mishi Batinkova and senior Libby Day, 6-2, 6-1.
Westview, the runner-up in 2019, won its first team title. The Wildcats scored 25 points to pull away from Metro League rival Jesuit, which finished second with 16.
5A
Top-seeded Kennedy Harris of La Salle Prep handled second-seeded Sophie Katz of Crescent Valley 6-1, 6-0 in a duel of freshmen in the 5A final at Tualatin Hills. She is the first Falcon to win a singles title since Maureen Feliz in 1981.
North Bend seniors Adrianna Frank and Olivia Knutson, the No. 3 seed, knocked off Crescent Valley's top-seeded duo of sophomore Zoe Hughes and senior Kara Paterson 7-6 (5), 6-4 in the doubles final.
Crescent Valley dominated the team standings, scoring 16.5 points to win its first title since 1977. La Salle Prep and North Bend tied for second place with eight points.
4A/3A/2A/1A
Klamath Union sophomore Patricia Dougherty, the 4A Showcase champion last year, dropped only seven games in four matches to claim the singles title at OSU Tennis Complex.
The second-seeded Dougherty, a four-star college prospect, dispatched the top seed, Catlin Gabel senior Lola Diaz Gonzalez, 6-1, 6-2 in the championship match.
It marks the third consecutive state tournament that a Klamath Union player has won the singles title. Courtlyn Lam won the last two championships in 2018 and 2019.
Oregon Episcopal's doubles team of sophomore Marin Roseman and junior Sophia Dube, the No. 4 seed, defeated senior Hannah Poisson and sophomore Pratheeka Weerakoon of St. Mary's, the No. 2 seed, 6-3, 6-2 in the final.
Catlin Gabel outscored district rival Oregon Episcopal 17-11 for the team title. The Eagles, runners-up in 2019, won their sixth state championship.