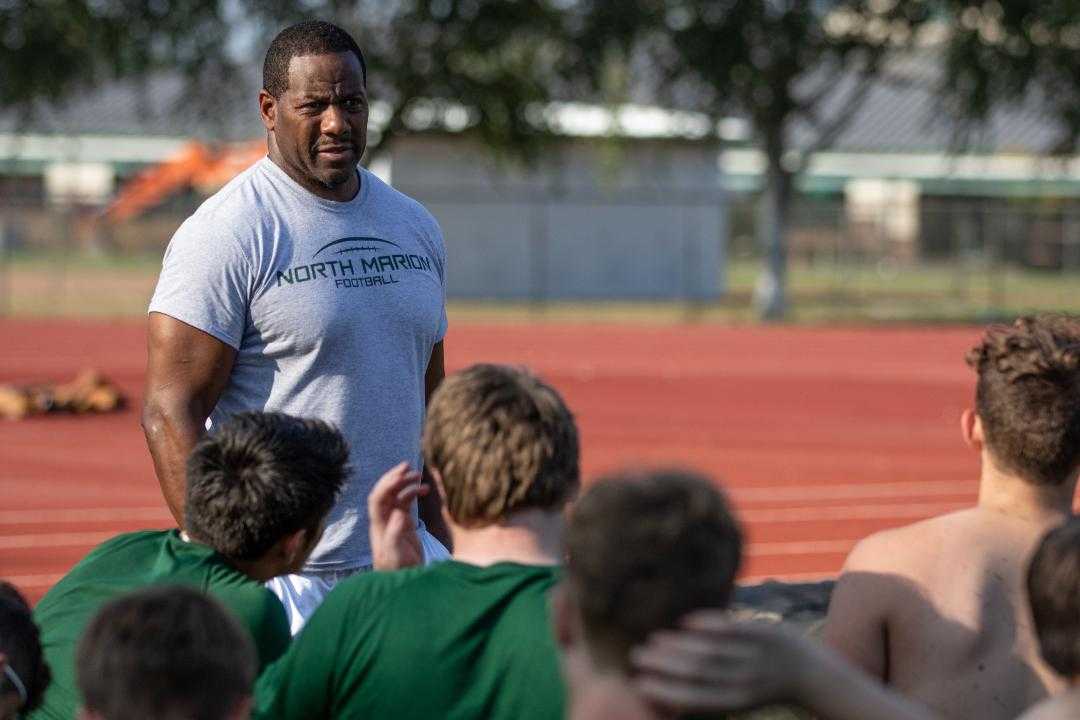 Calvin Griggs has coached plenty of talented football players in a career that has included stints as an assistant at Parkrose, Central Catholic, Grant and Lakeridge.
So when Griggs raves about the players he has inherited as the new coach at 4A North Marion, it carries some weight.
"The group of kids I've got now is just as talented as any of those kids that I've coached in the past," said Griggs, who played receiver at Washington State. "They're raw, they're very talented, they're very athletic, very fast. So I'm really excited about that."
North Marion has had lots of success in recent years in baseball, soccer and basketball, but the Huskies haven't finished a football season with a winning record since 2013.
Griggs, fresh off completing an impressive turnaround in three seasons as the coach at 2A Jefferson, is eager for the challenge. The Lions went 3-6 and 0-9 in his first two seasons, then dropped down from 3A last year and finished 8-2, going to the state playoffs for the first time in nine years.
At North Marion, he replaces Keith Bennett, who went 5-5 in his only season after succeeding Doug Bilodeau.
"I just wanted a new goal, a new opportunity to move up to 4A," Griggs said. "Another challenge. I go to these programs that struggle and I want to make an impact. We had an amazing season last year at Jefferson."
The Huskies, who return starters at 13 positions, have some intriguing pieces. Senior twins David Page and Johnny Page – a linebacker and safety, respectively – will "probably go on to play Division I football," according to Griggs. Junior Tanner Saucedo, who moves from running back to receiver, is a multipurpose threat.
The team's biggest wild card, though, is Sergio Jimenez.
The 6-foot-2 senior started at quarterback as a freshman and sophomore but did not play last season to focus on basketball, earning Tri-Valley Conference player of the year honors. He has decided to come back.
"I said, 'Don't waste your high school career doing just one sport,'" Griggs said. "He can spin it very well. He can stand in the pocket and he's got great vision. The balls are on time every single time. It kind of reminds me of Drew Bledsoe when I played at WSU, his footwork, how he stands in there and how he delivers the ball."
Griggs feels good about the quarterback position with Jimenez and senior Noah Wierstra, who is more of a runner. They are busy learning Griggs' Oregon-type spread offense.
"It fits perfectly because the line I have isn't very big, it's just small and athletic, which is kind of what I'm used to," Griggs said. "This program, all they did was double-wing and wing-T for years and years. This fits perfectly because now I've got a whole bunch of kids who can run and catch."
Griggs, a special education teacher at Lakeridge, is hoping to land a teaching position at North Marion. Among other benefits, it would help him boost turnout, which currently stands at about 40 for JV/varsity.
"I'm still trying to work on a youth program. They haven't had one in a couple years now," he said. "North Marion is not a football school, it's a baseball and soccer school. And you have to share those athletes. So convincing them to come out for football and build a program, it's tough."
The Huskies will have their hands full in Special District 2, where they finished 1-4 last season.
"I think our league is like the SEC," he said. "I believe we're right in the mix. I'm not going to say we're going to win the state title, but with the guys we've got, I'm very confident we're going to compete at a higher level than we have in the past."