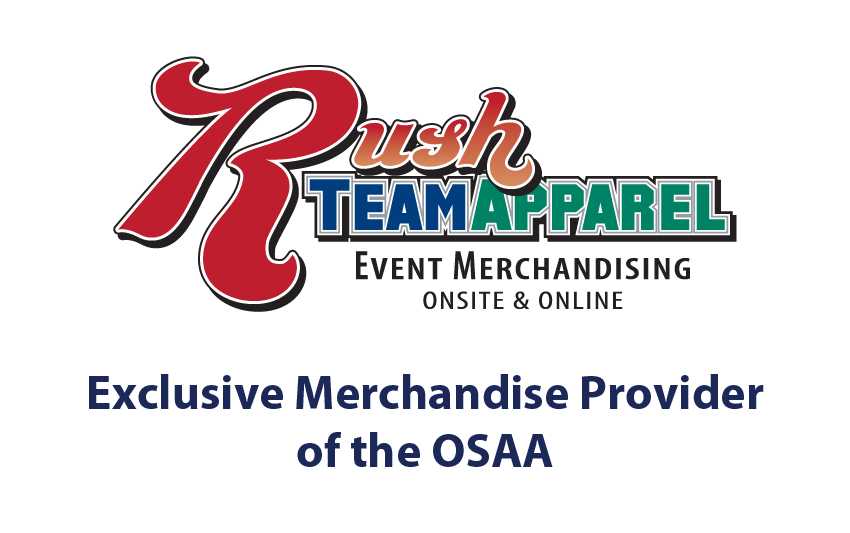 WILSONVILLE – RushTeamApparel and the Oregon School Activities Association (OSAA) have entered into a partnership, naming RushTeamApparel as the Exclusive Merchandise Provider of the OSAA. Beginning in the fall of 2019, RushTeamApparel will design and produce merchandise for each state championship of the OSAA's nineteen activities.
"We are very excited for the new relationship with Jim Butler and his team," said Peter Weber, Executive Director of the OSAA. "We look forward to them enhancing the state championship experience for all student-athletes, parents, coaches, administrators and fans."
"We are very enthused about the opportunity to be the exclusive merchandiser for the OSAA," said Jim Butler, owner of RushTeamApparel. "Our goal is to help OSAA State Championship participants commemorate their achievements. We look forward to providing outstanding customer service onsite and online."
OSAA / OnPoint Community Credit Union State Championships merchandise, such as t-shirts, sweatshirts, sweatpants, hats, patches, and more will be sold on-site at events, through OSAAstore.com, and on the OSAA Live mobile app.
RushTeamApparel knows the high school space well, having worked with the Washington Interscholastic Activities Association (WIAA) for over fifteen years, as well as numerous district-level competitions. ShirtWorksWest, RushTeamApparel's sister company, also works with various high schools to provide branded merchandise.
###
About RushTeamApparel
RushTeamApparel is proud to be entering its 19th year of onsite event merchandising. We are a family owned and operated business with offices in Seattle, Tacoma, and Portland. We service a wide range of events onsite and online. Our business is about helping kids and families celebrate their participation in a variety of events.
About the Oregon School Activities Assocation
The Oregon School Activities Association (OSAA) is a private non-profit, board-governed association comprised of 292 member high schools. A member of the National Federation of State High School Associations, the OSAA annually sponsors 113 team and 426 individual event state championships for students competing in 19 interscholastic activities. For more information, visit http://www.osaa.org or follow @OSAASports on social media.