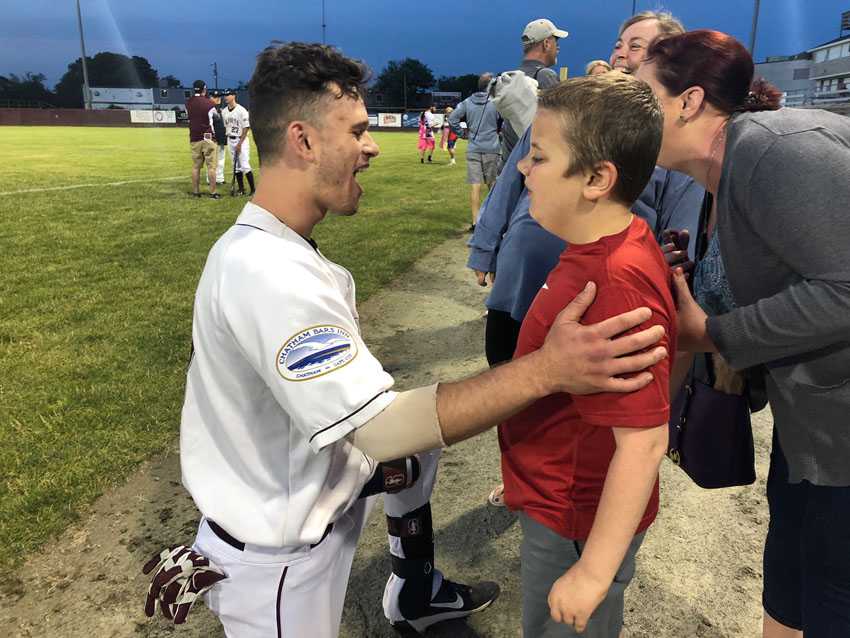 [Editor's note: Tim Tawa graduated from West Linn HS in 2017 as perhaps the most decorated athlete in Oregon history. A rising junior on the Stanford Cardinal baseball team, the 2016-2017 MaxPreps National High School Athlete of the Year is in Cape Cod for the summer trying to get better while also trying to catch the eyes of professional scouts in the toughest wood bat summer collegiate league in the nation. Every Monday will share his experiences in the Cape with you. This is his second installment]
Meeting New People
Summer on the Cape is an important time to develop and grow as baseball player, but there is more to the summer than just playing games. Meeting new people is one of those things. I have been here for just under two weeks and already have met people that I will never forget, each for different reasons.
First are the campers, young boys and girls from all walks of life who come out each morning and participate (eagerly for the most part) in multiple baseball drills. My favorite drill is "pickle," a game where kids start in the middle of two bases and try to avoid being tagged until one kid is left. The enjoyment comes from pretending not to have the ball or hearing the kids laugh as they are chased around for the ten minutes. That really is what camp does well: tire out kids through fun.
Last Friday, a hot day, we finished early so there could be a slip-n-slide for all the campers. They all had a different kind of slide. My personal favorite was a young boy who decided sliding wasn't for him and instead ran across the tarp, barely keeping upright. Naturally, the campers yelled for the players working to take a turn, which we all did eventually to cheers and laughs. I made it clear that any parents who were watching were welcome to take a turn, but sadly no one stepped up.
Friday at camp is also autograph day. Signing autographs for those young boys and girls is always a pleasure and something that makes me smile. I still can't believe that I can make someone happy by putting my name on a hat, ball, bat or, on this particular Friday, a backpack, shoe and bicep, too!
This week I met a special young man named Landon, a blind and autistic child who came to our game against the Hyannis Harbor Hawks. I was walking back to get my stuff from our dugout after the game when his mother stopped me to introduce him. It was an incredibly special moment for me. Naturally, Landon was a Red Sox fan, so I asked him who his favorite player was. Without hesitation, he blurted out "Mookie Betts," who also happens to be one of my favorite players in all of baseball. He then asked me to take a photo before moving around to meet more players. Meeting people like Landon and getting to see him smile is bigger than baseball, something that makes playing the game so special. It is a reminder of how lucky I am to be able to play a kid's game, not just this summer but back at Stanford and hopefully for many years after I graduate.
There are so many other people that have made an impact on me in a positive way in such a short time. All my teammates have been welcoming and are a great group who want everyone to have success each time we step onto the field. The coaches show up early each day to put in extra work and put together scouting reports for summer baseball (something I never thought I would see). All the trainers are caring, funny, and enjoy doing the chart for our team. All the media interns work to broadcast our games and keep operations running smoothly more than I even know. Finally, my host family has been extremely kind and welcoming to me, more so than I could ever have imagined.
What makes summer baseball so special is the people you meet. Baseball creates so many connections, friendships, and memories that would never be feasible without the sport. It makes me grateful to get to go out each day and play the game I love.