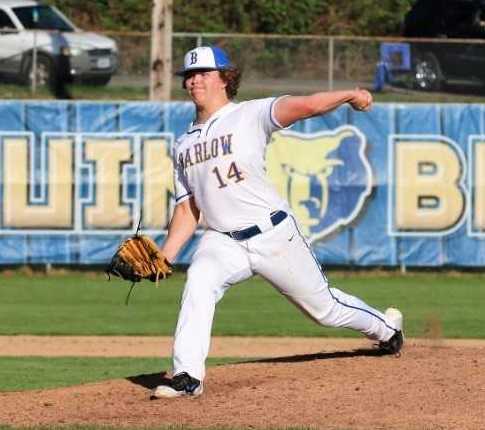 GRESHAM -- In its most important game of the season so far, Barlow's baseball team found itself leaning on the sturdy shoulders of sophomore pitcher Carson Jensen on Thursday.
Turns out, the stout left-hander was more than up to the task.
Two days after losing at No. 6 Clackamas in a first-place Mt. Hood Conference showdown, Jensen got the Bruins even by throwing a three-hit shutout in a 2-0 win over the visiting Cavaliers. Jensen struck out six and did not walk a batter as Barlow (9-8, 7-1) pulled into a second-place tie with Clackamas (11-5, 7-1), one game behind Central Catholic (11-5, 8-0).
"I was just throwing to contact, making sure to throw everything away from the plate, especially to their lefties," Jensen said. "Their top four hitters don't really like anything away. But I've got to give it to our defense. They backed me up."
Clackamas coach John Arntson was impressed with Jensen.
"You've got to tip your cap to the Jensen kid. He pitched really, really well," Arntson said. "He did a good job of pounding the outside corner and keeping us off balance."
Jensen has been in a zone since beating West Salem 4-1 prior to spring break. In his last outing, he held Centennial to one run in 6 2/3 innings.
"He was unbelievable tonight," Barlow junior third baseman Jaren Hunter said of Jensen. "They're a great squad. They've had our number the last two years. He just hit his spots, just all game long was dominant. He's just been getting better every single week. I knew he could do it tonight."
The Bruins were still smarting from Tuesday, when the Oregon State-bound Hunter, their ace, lost 4-2 in what appeared to be a favorable matchup against Clackamas freshman pitcher Nick Holm.
By winning Thursday, they not only bolstered their position in the standings, they ended a nine-game losing streak to the Cavaliers. Clackamas, the three-time reigning Mt. Hood champion and last year's 6A runner-up, had won 23 consecutive conference games.
"I was really proud of how our guys responded from Tuesday. We left that game with a bad taste in our mouth," Barlow coach Scott Hunter said. "Clackamas has kind of been the upper echelon. They've kind of been the team on the east side. The biggest thing today is it made these guys realize that they can compete with anyone if we show up and play baseball."
The Bruins, with only four seniors, have high expectations.
"We know we're capable of big things, and this win definitely showed it," Jaren Hunter said. "I think it shows some of our young players, some of our newcomers, that we can go make a run this year. We have the ability, we've just got to go out there and show them."
On Thursday, both teams went hitless through three innings as Jensen dueled with Clackamas senior Nick Vaughn. Barlow broke through in the bottom of the fourth, though, when senior Kody Kjeldsen and Hunter led off with walks and junior Durham Sundberg delivered an RBI sacrifice fly.
Clackamas nearly got even in the sixth but Bruins sophomore center fielder Cole Peterson saved a run by making a diving catch with two outs and a runner on third base. Barlow got an insurance run in the bottom of the sixth on a two-out, RBI triple by Sundberg.
The Bruins finished with four hits off Vaughn, who struck out three and walked two.
"It means a lot to us," Jensen said of the win. "It gives us a lot of confidence. Just a really all together good team win."
Scott Hunter said his team reached the point Thursday "where it was like, 'This is a game we need to have.' And these guys realized it. We've got four seniors on the roster, but we've got a lot of talent, and these guys just needed to see that W."
After wrapping up the series Friday at Clackamas, the Bruins will take on Central Catholic next week.
"Right now we're trying to win a league title," Jaren Hunter said. "To get a win tomorrow and win this series going into next week would be huge."
Clackamas, which had won seven in a row after losing two games in Arizona, will try to get back on track Friday.
"We had a big win on Tuesday, beating the Hunter kid, and maybe we had a little downer from that," Arntson said. "I don't think that we had the same energy that we've been having the last few games. I think we were down a little bit. Tomorrow's a really big deal. I hope we show up with a chip on our shoulder."