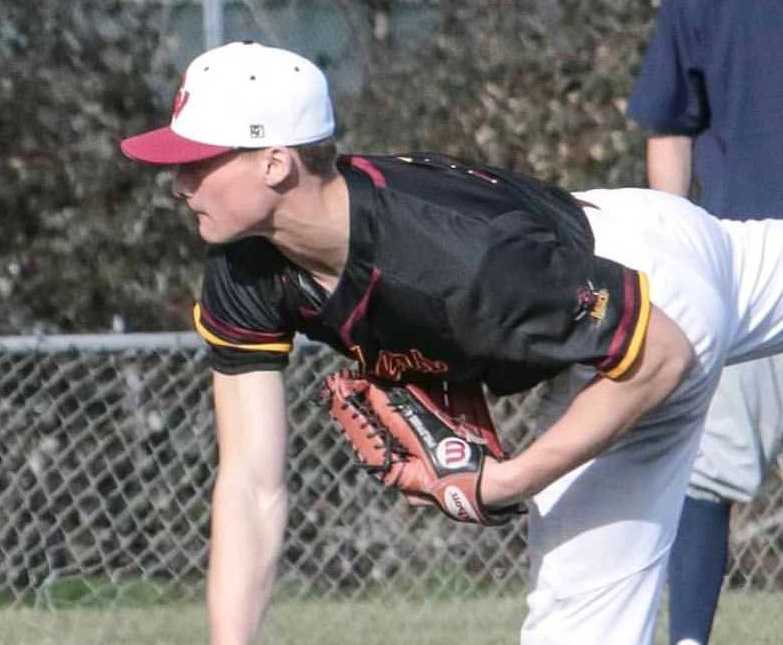 It's hard to find a baseball team with a deeper stockpile of pitching arms than Crescent Valley.
And at the top of that heap is Oregon-bound junior right-hander Taylor Holder.
The hard-throwing, 6-foot-1 Holder has been dominant so far this season, never more so than Wednesday, when he spun a no-hitter with 12 strikeouts as the Raiders, No. 1 in the OSAAtoday 5A coaches poll, won 4-0 at North Marion, No. 1 in the 4A poll, in a battle of unbeaten teams.
Holder, who walked two in the game, kept the Huskies guessing with his low 90s fastball and slider that he was able to throw effectively in hitter's counts.
"It was cool because North Marion is really good," Raiders coach Ryan Starwalt said. "I think they kind of started to feel a little hopeless because they'd get into a good count, and they'd be ready for a fastball, and he'd lay in the slider.
"Most of these kids don't see that type of fastball, but after a few innings, they can kind of start to time it. But when he gets his slider going, they have to account for that and the good fastball."
Holder is 4-0 with a 0.64 ERA for Crescent Valley (10-0). In 22 innings, he has allowed six hits, struck out 38 and walked 11.
He leads a pitching staff that has an ERA of 1.08. It's the main reason why the Raiders, who fell short of winning their first state title last year when they lost to Crater 2-0 in the final, like their chances of making another run this season.
"Pretty much anytime we're in a competitive game, we've got what could be another team's ace on the mound," Starwalt said. "That's a huge advantage."
Western Oregon-bound senior Ethan Krupp, who took a no-hitter into the sixth inning in the state final, is back as the team's No. 2 starter. Sawyer Cleveland, a 6-6 senior who has signed to play football at Southern Oregon, is the third starter. Sophomore Ethan Jenssen, a 5-8 lefty, provides a change of pace out of the bullpen.
The pitching has allowed Crescent Valley to keep winning despite graduating most of its lineup, including the 5A player of the year in shortstop Briley Knight, now on the team at Utah. The Raiders returned three starters in Holder (center field) and seniors Ben Leid (catcher) and Gage Mills (designated hitter).
Leid, a first-team all-state pick last year who has committed to Wenatchee Community College, is batting .438. Holder (.400, two home runs, 13 RBIs), Krupp (.333, two home runs, 10 RBIs) and senior second baseman Dez Holmes (.385, 10 RBIs) also are off to strong starts.
Holder has put on power displays in practice.
"He's hit balls places we've never had anyone hit balls," Starwalt said. "I don't know if he'll hit for Oregon or not. They recruited him as a pitcher, but they're talking about letting him swing the bat, too, because he's so good. He's definitely our best hitter."
Holder also has 14 of the team's 55 stolen bases. The Raiders are on pace to set a school record.
Crescent Valley has shown resiliency this season. The Raiders trailed in the sixth inning of games against Eagle Point, La Salle Prep and Rigby (Idaho) but came back for one-run wins, something they never did last season, when they finished 28-3.
"It doesn't matter who the kids are, they just think we're going to win every game," Starwalt said. "There's been some games where we probably had no business winning and they just found a way at the end."
Winning has become ingrained in the program in recent seasons. The Raiders had won one league title prior to 2013, but have won five since. They reached the semifinals in 2014, 2016 and 2017 before making the final last year.
"Typically, Crescent Valley was built around offense," Starwalt said. "The last couple years our pitchers have been so good, we've just been more well-rounded. This is the same thing with this team."