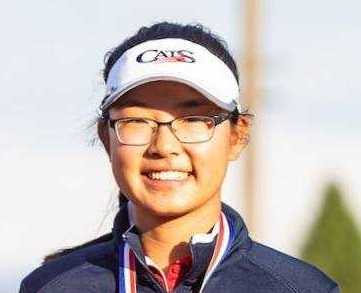 The last time Westview's Alexa Udom was seen playing high school golf in 2018, she was making one of the most clutch shots in state tournament history.
Needing a birdie on the final hole in the 6A tournament at Trysting Tree Golf Club, she coaxed in a 10-foot putt to share the title with Lake Oswego's Tya Seth at 2-under.
"That was just an impressive moment," Westview coach Patrick Baker said.
As it turned out, Udom was just getting warmed up. She shot a career-low 67 during Oregon Junior Stroke Play last summer, won the Central Oregon Junior Championship, won the RMJGT Elite WA Fall Challenge and qualified third for the North Pacific Junior Ladies Team, which will represent Oregon in Canada next month.
Now Udom, who has committed to Brigham Young, is back for her junior season with the Wildcats, and looking better than ever. She is averaging 74.5 through two tournaments – two strokes better than last year – and is showing a newfound steadiness.
"The thing that she's really brought to her game this year is a level of consistency that she hasn't had the last two years," Baker said. "You can count on her just being right around par every time.
"But she also has the ability to go low. She's had the ability for a couple years, but now with the consistent level she's playing at, I'm pretty excited about what she can do."
Baker said Udom's improvement reflects on her work ethic.
"We get done with a 2 ½-hour practice, and she goes and hits wedge shots for another hour," he said. "She loves the game of golf and loves to get better. She's such a hard worker. Such a grinder."
Westview is coming off a run in which it finished as 6A runner-up in 2016, champion in 2017 and runner-up again last year. The Wildcats lost some key players to graduation – including May Wang, who is playing in college at Carnegie Mellon – but have a strong foundation with Udom and senior Jessica Ponce.
The Montana-bound Ponce shot an average of 74.8 last season, No. 2 in the Metro League to Wang's 72.8, and finished tied for 13th in the state tournament. In 2017, Ponce tied for second at state.
Westview is rebuilding its lineup with the younger sisters of Ponce and Udom. Sophomore Megan Ponce and freshman Momo Udom are the team's No. 3 and No. 4 players, respectively.
"They are comparable to what their sisters came in at," Baker said. "Both Jessica and Alexa are much more seasoned at this point and have a lot more tournament golf under their belts. Ability-wise, they could definitely get to that level, but they're not there right now."
The Wildcats' will face reigning 6A champion Jesuit on a weekly basis in Metro tournaments. They finished second to Jesuit by eight strokes in the first league tournament.
"If we played them 10 times, they're going to win eight," Baker said. "It's just a matter of when we're going to win our one or two. And we're hoping we can do that at the state tournament."