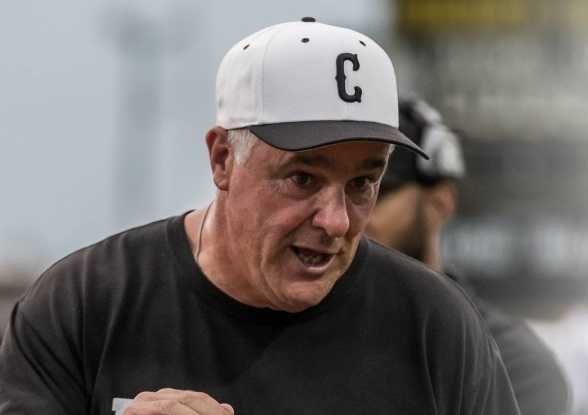 Steve Turner appeared ready to disappear into the sunset after coaching Cascade to the Class 4A football title in 2015.
Exhausted by an intense five-month grind and doubting whether he could continue being fully engaged, he retired from coaching a month later.
"I thought, 'I can't do this anymore,'" Turner said.
While assisting Frank Geske at Marist for the past two seasons, however, Turner dropped 50 pounds and was refreshed. He was content as Marist's line coach, but when the head-coaching job opened at North Medford, where he assisted for 11 seasons (1988-98), the opportunity intrigued him.
"I knew I still had the energy, the want, the excitement," Turner said. "I would have stayed at Marist. Medford was the only job I would have moved for."
Turner was hired as North Medford's coach in April, replacing Mike Mitchell. He returns to Medford with a reverence for a Black Tornado program that has won seven state championships.
"As a kid, growing up in California, we heard about two programs that were two of the best in the country – one was Borah, Idaho, and one was the Medford Black Tornado," Turner said. "It always held this aura in the back of my mind.
"It's the greatest program in the history of Oregon. I don't know why anyone wouldn't want to coach here. So when the opportunity came, it was like, 'Why not?' This was my last chance to get to where I always wanted to be."
Medford is a special place for Turner. He was married there. His two sons were born there.
"For a while, we thought we were going to be here forever," he said. "But I had the opportunity to be a head coach somewhere else."
Turner's has a 106-77 career record as the head coach at Rainier (1985-87), Crook County (1998-2004), Mountain View (2008-11) and Cascade (2012-15). In his last two stops, he went 77-16, winning a Class 5A title at Mountain View and the Class 4A title at Cascade.
Class 6A North Medford represents Turner's first head-coaching job in Oregon's highest classification.
"The challenges at a 4A or 5A schools are just as difficult, but they're different," Turner said. "You have different things you're worrying about at those schools than at a 6A school.
"Oftentimes people don't give enough respect at – and I'm not going to call them lower levels, because they're not, but lower enrollment. There are some really, really, really good football coaches at all levels. Just because you're a 6A coach doesn't mean you're one of the top coaches in the state."
Turner, 64, comes to North Medford with a fresh outlook. The two years at Marist allowed him to recharge while staying connected to the game. He said he enjoyed the time he spent with Geske, as a friend and as a coach.
"I felt bad when I left," Turner said. "I told Frank, 'I don't think I gave you anything,' and I picked up so much stuff from him. For me, it was like being at a coaching clinic every day. He's an incredible football coach."
Turner takes over a program that went 33-30 in the last six seasons under Mitchell, making the Class 6A quarterfinals in 2013. The Black Tornado slipped to 3-7 last season, including a 55-6 loss to crosstown rival South Medford.
Turner's staff has several new coaches, among them former Lebanon coach Josh Dykes, a 1995 South Medford graduate. Dykes will serve as assistant head coach.
It wasn't long ago that Turner thought his coaching days were over. Now he is heading into the 2018 season eager to steer one of the state's most storied programs.
"It won't be a one-year deal, unless something really bad happens," Turner said. "I feel young."