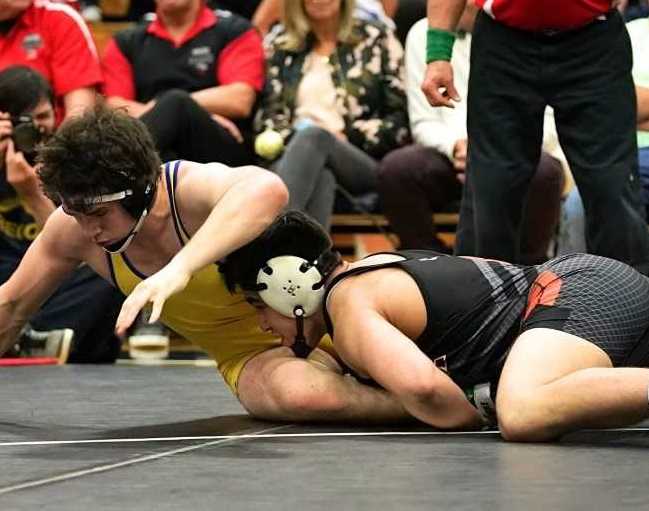 It hasn't been the smoothest of rides for Sprague's wrestling team this season. An assortment of injuries and other setbacks has kept the Olympians from seeing their lineup at full strength.
Until last weekend.
Sprague came together in a big way as host of the Mountain Valley Conference district tournament, winning a school-record eight individual titles and qualifying 16 for the 6A championships on its way to outscoring runner-up Mountain View 479-363.5.
"It was good to see us all out there competing," Olympians coach Nolan Harris said. "It might've been the first time that we've had everybody in the lineup all year. I'm very excited with how the kids have performed this time of year."
The performance gives Sprague a shot of momentum heading into the state tournament Friday and Saturday at Veterans Memorial Coliseum. The Olympians finished third at state last year, behind Roseburg and Newberg, and are in position to make another strong run at the Indians and Tigers.
It helps that senior Landon Davis (160 pounds) and junior Colby Hemmert (126) are back after missing time with knee injuries. At district, Hemmett won his division and Davis reached the final, where he opted to forfeit to McKay senior David Rubio.
"We've missed having them in the lineup, but they're in there now, and we're excited," Harris said. "We've had those times when it didn't go like I thought it would when I was scheduling things in July, but I think our kids are better for it."
Other Olympians winning district titles were freshman Brayden Boyd (106), senior Aaron Joklur (113), junior Noah Worthington (120), junior Brock McMullen (132), senior Daniel McClung (145), junior Santos Cantu (195) and senior Jacob Luna (220).
"We had guys that came through and were not expected to win," Harris said.
The second-seeded Joklur came from behind late to win 7-5 over top-seeded Mountain View sophomore Tyson Oliver, who had pinned Joklur earlier in the season. The third-seeded McMullen also rallied from behind to win to knock off a No. 1 seed, posting a 9-7 decision over Bend's James Anderson.
Luna continued his late-season surge with a second-round pin of Mountain View senior Jacob Conklin in the final.
"The football team relied on him heavily all season, and he came in kind of beat up," Harris said of Luna. "He's feeling good now."
Cantu, a two-time state champion, added another title to his stellar season. He has not lost to an Oregon wrestler and has won titles at the Reno Tournament of Champions and Reser's Tournament of Champions.
Davis opted out of the final against Rubio. Last season, Davis defeated Rubio in a dual meet and in the district final but lost to him 3-1 on a third-round takedown in the state final. They have yet to meet this season.
"It's just one of those things where we're doing everything we can for where we feel we need to be next week," Harris said of Davis' forfeit. "He's feeling good, but we just felt it was the right decision."
A look at other district meets from last weekend:
6A
Pacific Conference
Top teams: Newberg 499.5, Sherwood 293.5. Newberg champions: Nicky Olmstead (106), Ayden Garver (113), Christopher Strange (120), Micah Worthington (126), Charlie Evans (132), Jonah Worthington (138), Joey Moody (145), Rowan Gallardo (160), Oliver Myers (182), Hunter James (220).
Three Rivers League
Top teams: Oregon City 313.5, West Linn 276, Tualatin 272. Oregon City champions: Sage Brown (120), Spencer Townsend (138).
Metro League
Top teams: Westview 390, Aloha 334, Mountainside 283.5. Westview champions: Zeeshan Naeem (120), Travis Blasingame (132), Joey Coste (138), Kianush Behbehani-Escobar (195), Angel Omar Blas (285).
Mt. Hood Conference
Top teams: Centennial 332, David Douglas 282, Clackamas 274.5. Centennial champions: Jeremiah Van Cleve (113), Tui Laithang (126), Phillip Kue (132), Ihe Gonzales (285).
Southwest Conference
Top teams: Roseburg 543.5, North Medford 310, Grants Pass 280. Roseburg champions: Nash Singleton (113), Kahleb Diaz (126), Austin David (152), Darian Thacker (160), Logan Folsom (170), Rourke Martin (182).
Portland Interscholastic League
Top teams: Cleveland 310, Franklin 213, Jefferson 194.5. Cleveland champions: Elijah Fishler (113), Jontae Hardaway (120), Patrick Brown (132).
3A
Special District 4
Nyssa, which had its run of three state titles snapped by Willamina/Falls City last year, put itself in position to regain the top spot Saturday by winning eight divisions in the tournament in Burns.
Nyssa scored 296.5 points to beat Burns (265.5) in the five-team tournament.
"We wrestled really well. We beat some pretty tough kids," Nyssa coach Luke Cleaver said.
The Bulldogs' three reigning state champions – juniors Elijah Cleaver (152) and Adam Simpson (170) and senior Jose Sanchez (220) – won district titles. They got plenty of support as sophomores Efrain Caldera (113) and Bryan Flores (195), juniors Raul Ruiz (120) and Johnny Lopez (182) and senior Dearden Woodruff (160) also finished first.
"The kids that have been in those guys' shadows all the years, they came into their own a little bit," Luke Cleaver said. "It's been happening all year."
The coach said that Caldera and Ruiz wrestled "extremely well." He also was pleased with the performance of Lopez, who had been wrestling behind Flores at 195 but cut down one division and won a title.
Special District 1
Top teams: Willamina/Falls City 358.5, Dayton 232, Irrigon 192. Willamina/Falls City champions: Jordan Reyes (106), Moses Mercier (113), Michael Fox (126), Dylan Hendrickson (152).
Special District 2
Top teams: Scio 205.5, Yamhill-Carlton 177, Harrisburg 166. Scio champions: Jacob Mask (138), Riley Zimmerman (220).
Special District 3
Top teams: La Pine 310, Douglas 196, Sutherlin 166.5. La Pine champions: Carmelo Farfaglia (106), Dylan Mann (113), Derrik Kerr (132), Dylan Hankey (145), Trentyn Tennant (170), Daniel Underwood (220).
2A/1A
Special District 4
Culver -- which has won 11 of the last 12 state titles, including the last five – rolled to first place, racking up 340 points to easily outscore the runner-up, host Pine Eagle (179).
The Bulldogs had 10 finalists and took home six titles with seniors Lorenzo Vasquez (126), Joseph Russo (182) and Cylus Hoke (195), juniors Lane Downing (138) and Hunter Augustynovich (145) and freshman Isaiah Toomey (152).
Vasquez (37-2) is bidding to become Culver's third four-time state champion. Hoke (36-5) is looking for a repeat title.
Special District 1
Top teams: Vernonia 282.5, Neak-Kah-Nie 141. Vernonia champions: Patrick Fletcher (106), Matthew Lavoie (120), Joshua Sholes (126), James Watson (170).
Special District 2
Top teams: Glide 222, Reedsport 217.5, Central Linn 201.5, Lowell 195. Glide champions: Zack Holland (170), Cayden Kansiger (182).
Special District 3
Top teams: Lakeview 150.5, Rogue River 145.5, North Lake 110. Lakeview champions: Brett Stanton (113), Morgan Ludwig (132), Dylan Julian (152).