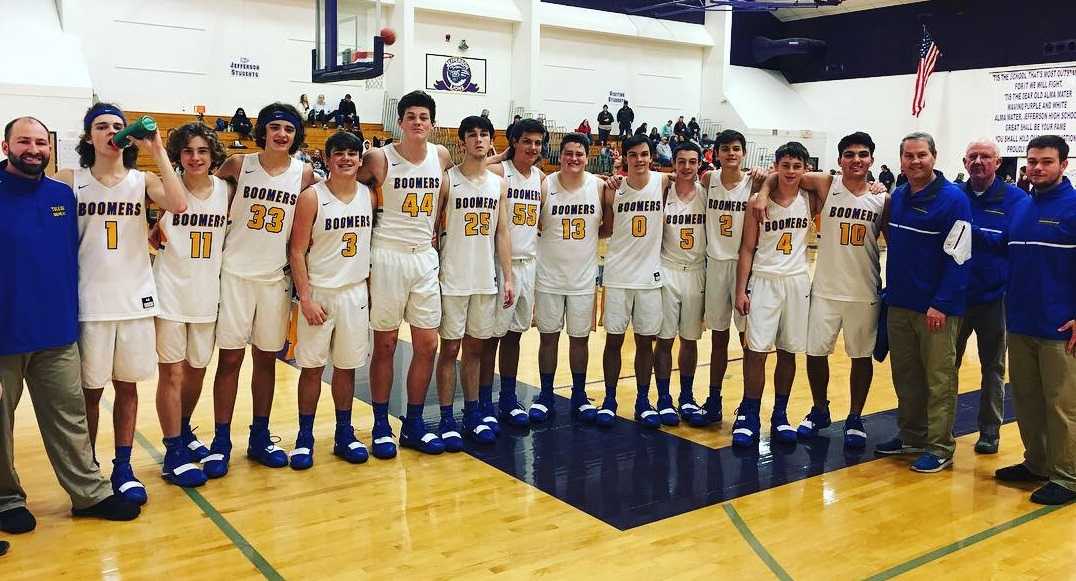 No. 1 Western Christian and No. 2 Columbia Christian are the clear frontrunners in 2A boys basketball. But don't sleep on No. 3 Toledo.
The Boomers' 8-0 record includes five wins over teams ranked in the top 10 of the OSAAtoday 2A coaches poll. They added to their list last weekend by beating No. 10 Jefferson 72-60 and No. 5 Sheridan 97-77.
Toledo returned most of its quarterfinal team from last season, including junior point guard Conner Marchant (first-team all-state) and senior shooting guard Jaydn Spangler (second-team all-state).
"They were pretty hungry over the summer and throughout the fall," coach Eddie Townsend said. "I knew there was going to be some tough games, and I wasn't sure how it would go, but it's gone pretty well for us. At 2A, we've played pretty much everybody except the big dogs."
In Saturday's win over Sheridan, Marchant had 39 points, six assists and six steals and Spangler had 33 points and eight rebounds, making 8 of 12 from three-point range. Jaxon Rozewski, a 6-foot-6 sophomore post, added nine points and 16 rebounds.
Marchant has been sizzling hot, averaging 40.2 points per game and shooting 52 percent (49 of 92) from three-point range. He also is averaging six assists and seven rebounds.
The 6-0 Marchant -- the brother of Isaiah Marchant, the 2A player of the year as a senior in 2016 – is "at another level right now," according to Townsend. Marchant has had games of 47 and 46 points.
"You get an elite athlete like that, and it's like, 'Hey, do what you want, within our system,'" Townsend said.
Spangler is averaging 19.0 points and shooting 42 percent from behind the arc.
"I'd probably put him up with any shooter in the state," Townsend said of Spangler, who made 11 three-pointers in one game as a sophomore.
Rozewski, who contributes 13.0 points and 16.0 rebounds per game, gives the team a nimble big man with a soft touch. He made a name for himself as a quarterback during football season when he threw for a state-record 613 yards and eight touchdowns in a game.
The Boomers are averaging 78.8 points and shooting 39.9 percent from three-point range.
"We've always been king of high-paced, but it's like all the parts kind of fell into place this year, so far," Townsend said. "We've got this really nice conglomeration of talent, and they all kind of complement each other. It's really fun to watch them."
Townsend, who guided Toledo to a state runner-up finish in his first season in 2015, knows the Boomers probably will have to go through Columbia Christian and Western Christian at some point. So he is shaping his team with that in mind.
"We're going to have to play a certain version of basketball and be used to that pace, that speed," he said. "When you look at Western Christian and Columbia Christian, all right, we've got to go at that pace. Do we have the tools and the parts to do that? Yes."
Capitol City Classic
One of the more impressive performances of the weekend came in defeat in the final of the 16-team Capitol City Classic at Willamette University.
Wilsonville hung tough against Centennial of Corona, one of the top teams in California, before falling 77-62. The Wildcats, ranked third in the OSAAtoday 5A coaches poll, led 35-32 at half, trailed 49-45 after three quarters and still were within single digits with 3:30 left.
It was a commendable effort by Wilsonville (7-1) considering that Centennial (11-2) had beaten La Salle Prep by 42, Roosevelt by 48 and Tigard by 30 in its first three games of the tournament.
The Huskies got a game-high 28 points from junior guard Paris Dawson, who had scored a combined 26 points in the tournament's previous three games, and 18 points from junior guard DJ Davis. Wilsonville held highly touted senior forward Allan McBride to 10 points on 2-for-7 shooting.
Wildcats senior guard Jack Roche made four three-pointers and finished with 20 points and 10 assists, navigating Centennial's relentless pressure defense. Juniors Dakota Reber and Keegan Shivers added 12 points each.
It was Wilsonville's second game against an out-of-state opponent in the tournament. In Thursday's quarterfinals, the Wildcats beat Dutchtown (Ga.) 62-52, finishing the game on a 10-2 run. Roche had 23 points and seven assists and senior Zach Rivers added 12 points.
Wilsonville will travel to Hawaii for three games Dec. 29 through Jan. 2.
Third in The Eight
Silverton remained unbeaten against Oregon teams by defeating Sherwood 69-51 in the third-place game of the Les Schwab Invitational's The Eight on Saturday at Liberty High School.
Senior Levi Nielsen had 19 points and 13 rebounds for the Foxes (9-1), who bounced back from a 76-66 loss to Pacifica Christian (Calif.) in the semifinals. Silverton beat host Liberty 71-53 in its opening game behind 30 points from junior David Gonzales.
Senior guard Jonah Downey was named first-team all-tournament for the Foxes, ranked fourth in the OSAAtoday 5A coaches poll.
Eastside Catholic (Wash.) beat Pacifica Christian 72-65 for the tournament title.
Triad stays unbeaten
Coming off an appearance in the 1A semifinals last season, Triad has started the year 9-0.
The TimberWolves, No. 3 in the OSAAtoday 1A coaches poll, improved to 3-0 in the Mountain Valley League on Saturday with a 54-42 home win over No. 10 Trinity Lutheran.
Sophomore Micah Young made 4 of 7 from three-point range to finish with a game-high 18 points. Young hit two three-pointers during a 13-point third quarter as Triad extended its 27-21 halftime lead.
Junior Ethan Roe added 11 points for the TimberWolves. Junior Matt Eidler had 18 points for cold-shooting Trinity Lutheran (6-3), which had its five-game winning streak snapped.