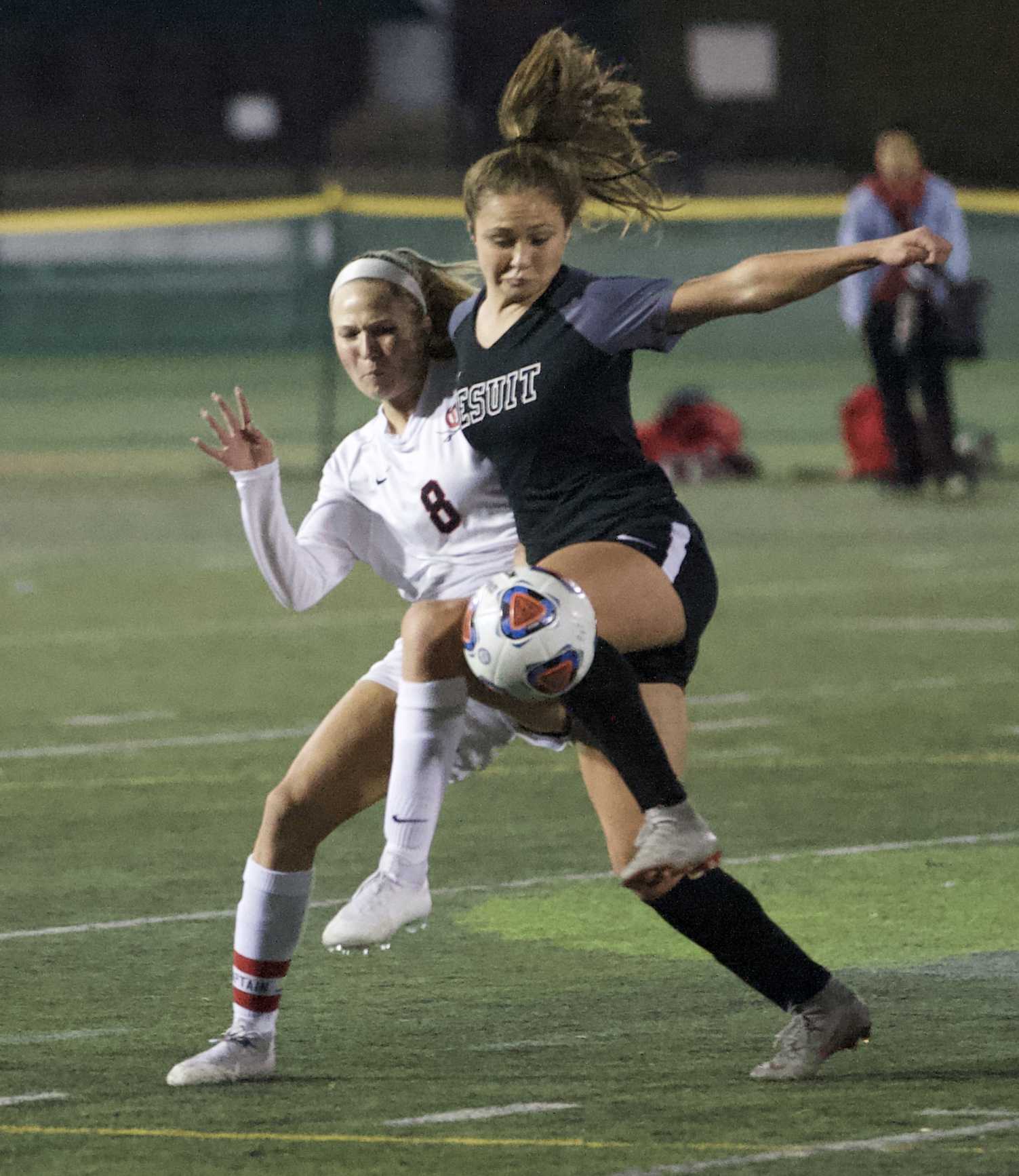 HILLSBORO — The devastation is over.
Jesuit's reign of terror over the rest of the girls soccer teams in Oregon ended Saturday night when the top-seeded Crusaders scored six goals in the second half to crush No. 3 Clackamas 8-0 in the OSAA/OnPoint Community Credit Union 6A final at Hillsboro Stadium.
This is what total domination looks like: The Crusaders won all 19 of their games and were never seriously threatened. Not even for a half.
They scored 128 goals and gave up one — back on Sept. 4 to Camas. After that single goal ("it was kind of a fluke," said one Jesuit player), the Crusaders went 640 minutes without giving another one up.
That's nearly 11 hours, if you want to look at it that way. In that time, a careful motorist could drive from Portland to Seattle, then back, then back to Seattle again. Even with the usual traffic snarl at the Tacoma Dome.
Jesuit scored 10 goals twice and nine goals five other times — including three in a row in September. Only four teams — Sherwood, Aloha, Westview and Mountainside last week — held them to fewer than five goals.
And yet…
"We thought it was going to be kind of a rebuilding year," said midfielder and foot-cannon Callan Harrington, who dropped four goals on the Cavaliers.
Wait. What?
"It's true," said goalkeeper Mary Votava. "As soon as we had tryouts (in August) we were surprised by how much talent we had. We took a bonding trip to Bend and that really helped.
"The team chemistry took us from a rebuilding year to a really good year. We became friends. We all knew what we were supposed to do."
Say this for the Cavaliers, who had huge losses to Jesuit as bookends to their 15-3-1 season: They were game and competitive, for a while. So was the Alamo, but they challenged Jesuit's superb back line with five shots on goal, including one point blank shot that popped over the top bar by inches. They were down only 2-0 at the half.
They weren't a threat to win — nobody is against Jesuit this year — but they ran both with and at the Crusaders as well as anybody.
The bombing began in earnest just 7:20 into the second half, when Katelyn Duong fed Harrington up the middle and watched her blast one from 10 yards. Harrington struck again less than five minutes later on a steal and a breakaway.
Ella Nelson banged one in with her forehead 3:01 later off a head pass from Harrington, and Harrington finished the assault less than two minutes after that. Four goals in less than 10 minutes.
Clackamas goalkeeper Hallie Byzewski withstood the barrage admirably. The Crusaders got 21 shots off in the game — about triple what two evenly matched teams usually get against each other — and Byzewski stopped four of them.
Jesuit coach Steve Fennah analyzed the game as a matter of time before his team exploded.
"We expected a competitive game from Clackamas," he said, "but we got goals at the right times. They gave us a good 15-20 minutes."
What made this Jesuit team this good?
"Hard work," Fennah said. "They're obviously talented kids, but they work harder than anybody. it's definitely been fun. From the first day in August it's been great. This is a great group of kids."
Was there a lot of pressure on the Crusaders this year? Yes, but not like you'd think.
"We had pressure," Harrington said, "but it was always a good kind of pressure. It made us better. Our motto this year was calm and collected."
The Crusaders can pick any motto they like next year. The punctuation mark on this season may not be an exclamation point, but a comma.
Of the 11 starters who took the field against Clackamas on Saturday night, seven of them are coming back next fall.
Uh-oh.