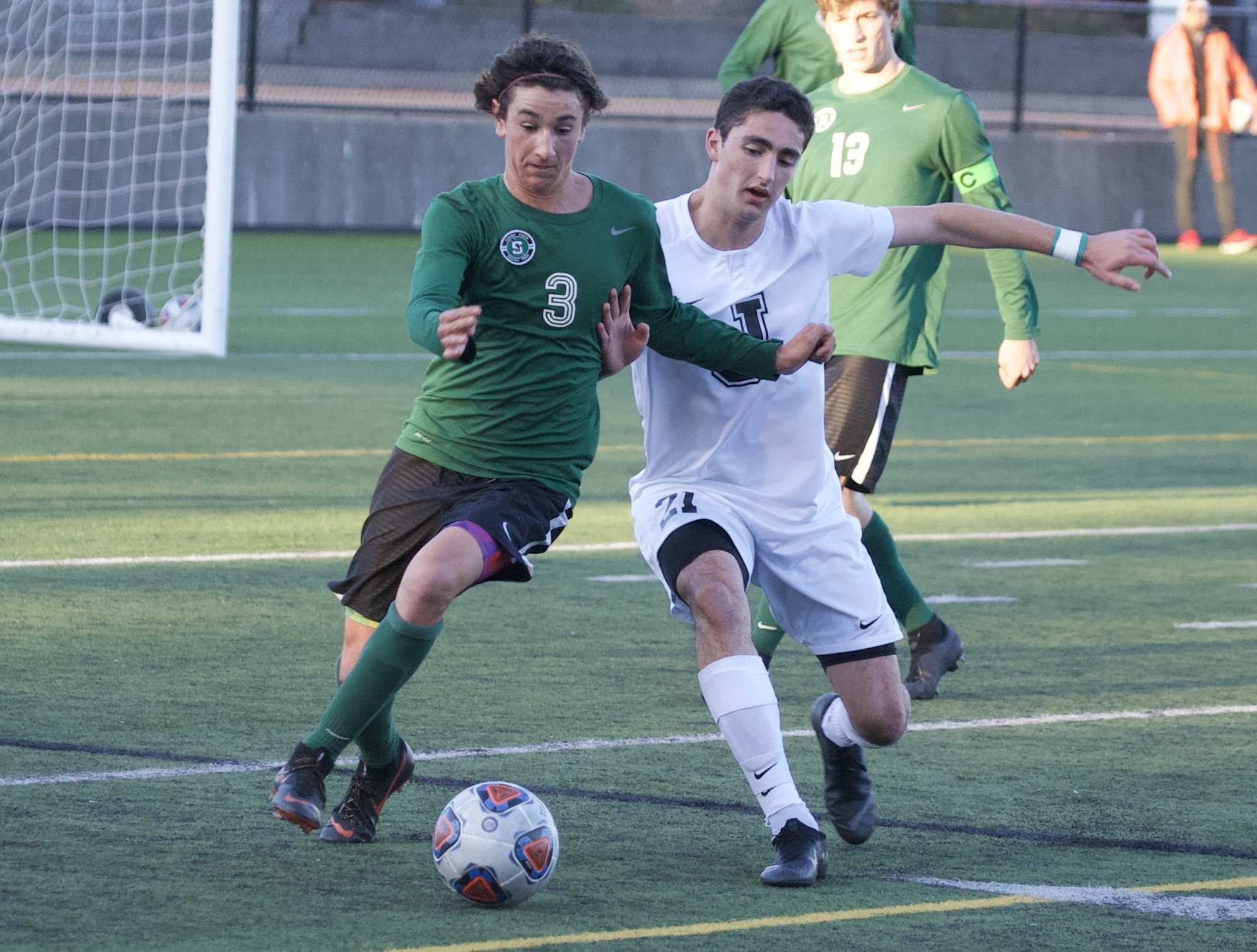 HILLSBORO — Nolan Gregg didn't want to jinx anything — he's a little superstitious — but as his Jesuit soccer teammates went into the second overtime of their game against Summit of Bend for the OSAA 6A championship at Hillsboro Stadium on Saturday afternoon, he started getting ready to apply his very unique skill.
Gregg is a penalty-kick defense specialist. In the rare times that the Crusaders get all the way to a penalty kick situation, it's automatic: Gregg is going on duty.
The 12th-seeded Crusaders (13-3-3) never needed him as much as they needed him against the second-seeded Storm (17-2). The two teams were dead even at a goal each after two overtime periods, and with the state title on the line, regular goalkeeper Nolan Aylward came out and Gregg deposited his 6-foot-2 frame and his impressive wingspan on the goal line.
And the junior was darn near perfect. He guessed perfectly against both Jace Marshall (low left) and Simon Kidder (high right), missed one, and on his fourth turn, turned Kaden Barker (high right) away.
It was more than the Storm could handle. The Crusaders got successful shots from Jack Chesnutt and Devin Slingsby, and when Marco Navarro blasted one past Khael Engelman, the math added up.
"I didn't want to jinx it," Gregg said, "So I didn't start thinking about it until the second overtime period. I jogged a little bit, had our goalkeeper coach (Leroy Neal) shoot some balls at me."
Gregg said he was nervous when he went into the goal — it's a natural thing — but when he stopped Marshall with two hands, he knew he was in for a good night.
"When I got that first one, I knew chances were very good that we would win," he said. "When I got the second one, I knew I had some more saves I may have to make, but we were in good shape."
Aylward, a senior, has been the Crusaders' regular in goal since his freshman year. There would be no taking that spot away from him.
"I've mainly been a backup my three years," he said. "I knew it would be that way coming into high school. I don't mind."
It helps, Jesuit coach Geoff Skipper said, that Aylward and his backup get along.
"Nolan and Nolan are pretty good buddies," he said. "They get along pretty well, and that's good."
Skipper leaves all the goalie stuff to Neal.
"When we were in overtime, I just asked him if it was too soon for karma to get Nolan ready."
How he determines things isn't complicated, Neal said.
"Gregg is amazing," he said. "He's a great goalie. He's a junior, though, and he accepts that. Aylward is the first to say how great he is."
Gregg is also a pretty good student of shooter tendencies. So good, in fact, that he signaled Aylward from the sideline which way he thought Forest Grove's Oscar Macias would go on an ultra-critical penalty kick in the semifinals.
He studied Macias for a moment, then raised a white Gatorade bottle to signal that he thought the Viking star was going left (a green bottle means the opposite). He was right.
But when he goes out for game-deciding penalty kicks, he's on his own.
"I just patted him on the back and sent him out there," Aylward said.
The 1-1 tie came from a dramatic sequence of events in the second half. The two heavyweights fired haymakers at each other for most of the game until Jesuit's Oscar Baudy escaoed down the left side of the goal and crossed one past Engelman with 12:20 left.
The way the game was going, that probably would have done it against anybody else.
But just 17 seconds later, Summit's Nathan Deperro found himself wide open in front of the goal and tapped it in to tie the game.
The battle of nerves was on, but nobody cracked. That meant Nolan Gregg.
He was ready.