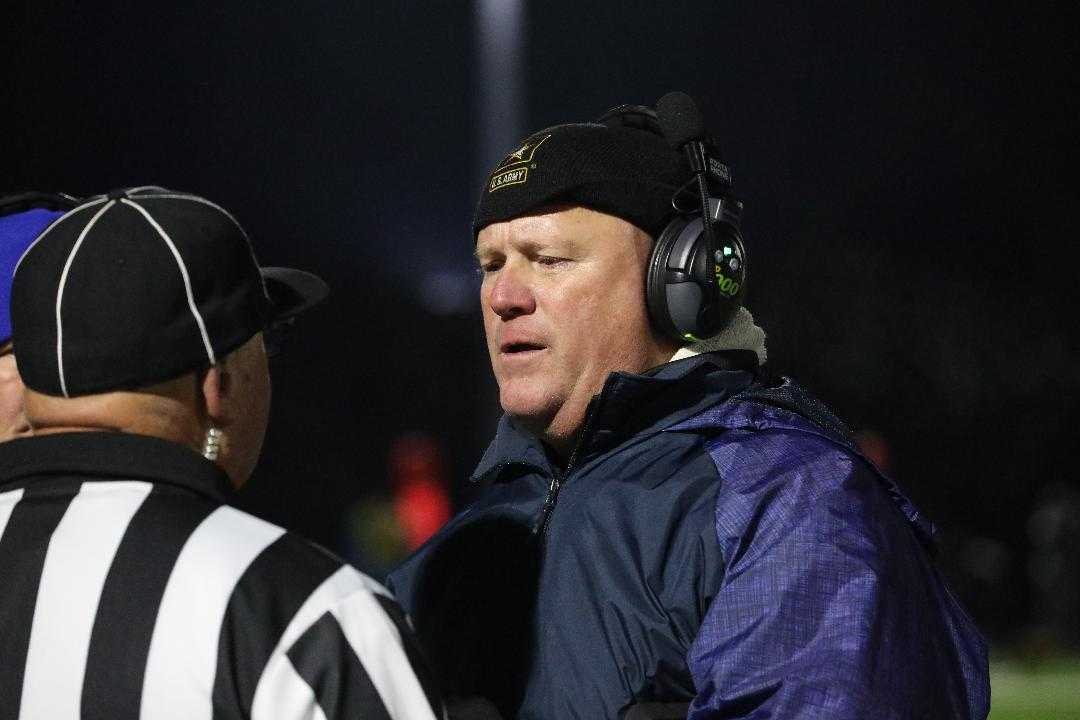 No, Terry Summerfield won't be Barlow's head football coach next season, for the first time in more than two decades.
His resignation last week, after going 111-118 in 22 seasons with Bruins, put an end to a tenure that was tied for the fourth-longest in 6A.
But don't expect Summerfield, who guided the Bruins to the semifinals last season for the first time since 1991, to fade into the football sunset.
"I want to continue to coach, and I plan on doing that," Summerfield said. "Don't know where yet. I'm willing to look at doing some college coaching, or continue at the high school level, and be an assistant, whether that's at Barlow or somewhere else.
"I've had a long, positive experience as a head football coach, and I feel like I have an opportunity to share some things with a young coach, or another coach and their staff."
Summerfield, 57, said he already has had offers from inside and outside the Mt. Hood Conference.
"I'll be coaching next year," said Summerfield, who will be an assistant coach in the Les Schwab Bowl all-star game this summer. "It might be here at Barlow, depending on who gets the job. If I'm not at Barlow, I'll probably stay out of our league. But I will coach."
Summerfield also will continue with his role as a master trainer for USA Football. He does coaching education and certification in Oregon for the OSAA and conducts clinics around the country that focus on advanced tackling and safety education.
"That's a big passion of mine," said Summerfield, who was in Dallas, Texas, last weekend for a USA Football event. "I'm going to continue to pursue those things."
Summerfield, who played quarterback at Gresham and Portland State, went 26-31 in six seasons as the coach at Central Catholic (1992-97) before taking over at Barlow. He is the longest-tenured coach in the history of the program, which started in 1969.
He led the Bruins to the state quarterfinals in 2005 and to the semifinals last year, where they lost to eventual champion Central Catholic 35-7. Barlow finished 10-3, the fourth time in the team's history it reached double digits in wins.
Summerfield said he considered stepping down four years ago when his youngest son, Masten, finished up at Barlow, but continued in part because of the district passing a bond for a new stadium. The Bruins played at their new stadium for the first time last season.
"I felt like I deserved an opportunity to have at least one season there," Summerfield said.
Both of Summerfield's sons played at Barlow. Campbell, 26, played quarterback for the Bruins and at Pacific University. Masten, 22, was a receiver. Both played in the Les Schwab Bowl.
Summerfield's twin daughters – Gabrielle and Alexandria, who are 30 – also graduated from Barlow.
"There was a span of 12 years where there was a Summerfield kid walking the hallways," Summerfield said.
Summerfield, who teaches health and PE at Barlow, will be eligible to retire in four years.
"I'm not old at all. I'm a spring chicken," Summerfield said. "I just decided I want to do things a little different.
"I knew at the end of the season that this is what I wanted to do. My wife (Jeannine) said, 'I don't know if you can do this. You've done it so long, it's in your blood.' But I've been OK with it. I thought I would be a little depressed, but it's been OK."
Summerfield said the Barlow program is "in a good place."
"We've got a brand new stadium. We've got money in the booster club," he said. "Lots of new technology. Some good facilities, a great community and a lot of support. The youth program is run very well. Whoever gets the job will be in a good situation."