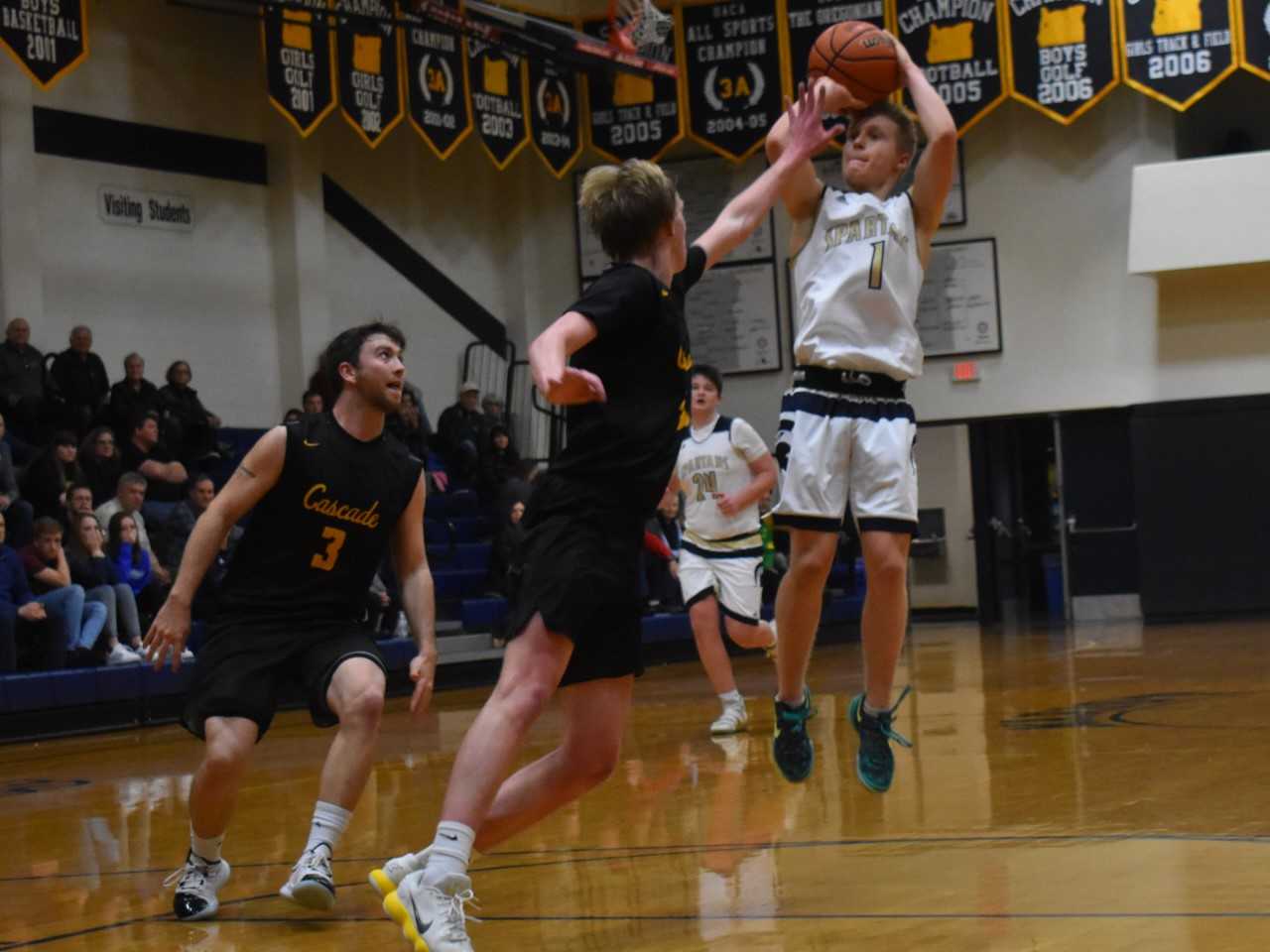 EUGENE – Senior guard Nick Stice split three pairs of free throws down the stretch to lift No. 2 Marist Catholic over No. 1 Cascade 42-39 in a 4A nonleague boys basketball showdown Tuesday night.
The shorthanded Spartans (9-2) handed the visiting Cougars (9-2) their first loss to an Oregon team this season.
"It felt great because we had so many injured players and sickness," Stice said. "So other players had to step up. It felt great hitting those free throws, just wish I hit them both. It's all right, we got the win."
Junior forward Alec Vendetti scored 14 points and Stice added nine points for Marist Catholic. Junior guard Carson Molan and senior wing Carson Bischoff had 14 and 13 points, respectively, for Cascade.
The Spartans led 22-11 at half, shutting down the Cougars with their ball pressure, contesting every shot.
"We just tried to focus up on defense," Stice said. "We were talking about getting our hands up the whole time and talking a lot on defense the whole time."
Cascade rallied in the second half. The Cougars pulled even at 30-30 early in the fourth quarter on a three-pointer by Molan and took a 37-35 lead with 2:36 left on a basket by sophomore Kellen Sande.
"It was more mental mistakes than anything else," Molan said of the slow first half. "So we came together as a team and took those mental mistakes out of the picture, and we just fought back together as a team."
Marist Catholic surged ahead in the closing minutes as Stice sank free throws after being fouled while going after loose balls. Cascade had a chance to tie but Molan's three-point attempt missed the mark at the buzzer.
"It's great for us," Stice said. "We try to have the toughest preseason we can. Our league may not be the best, but Coach jam-packs the preseason to get us ready."
Molan said the game will help the Cougars prepare for a tough Oregon West Conference schedule.
"Our league is probably one of the top leagues in the state," Molan said. "So it was a good test for us to learn that we may not be as good as we think we are. But as long as we stick together we can overcome stuff."