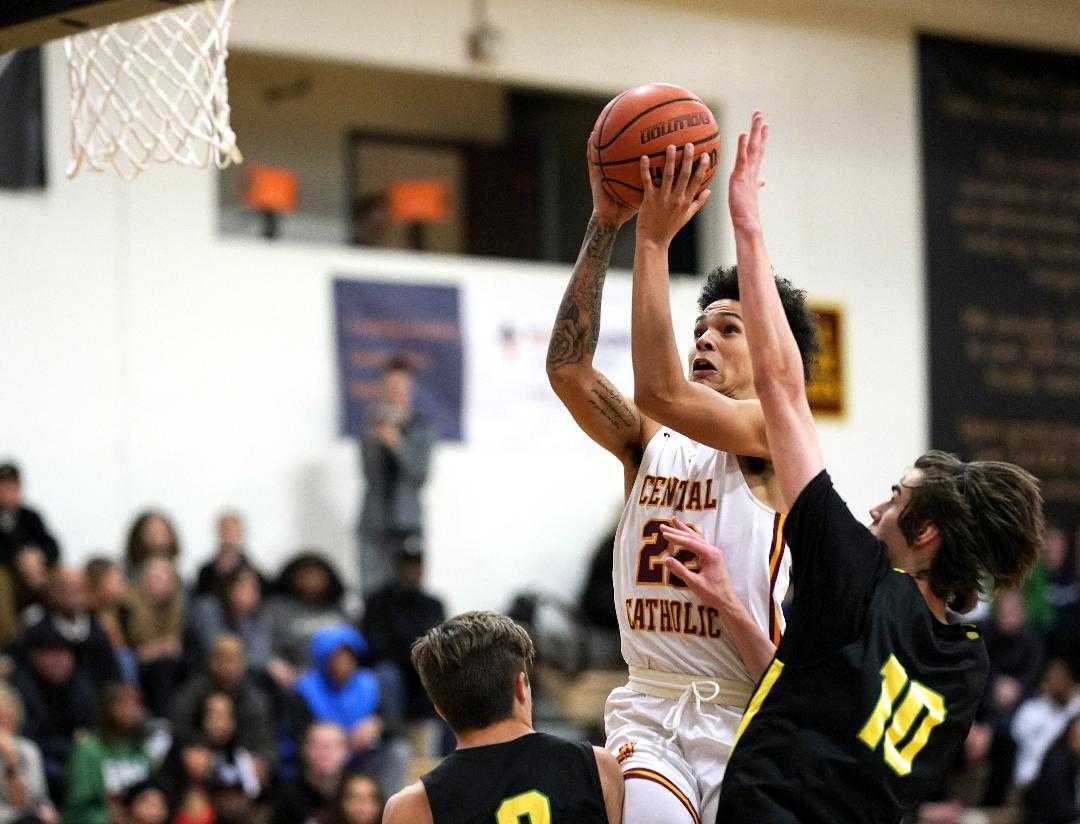 PORTLAND – An unceremonious exit from last season's 6A tournament lit a fire under Central Catholic's boys basketball team in the offseason.
Three games into the new season, and the Rams – with many of their key players back – are heating up.
"We're pretty jacked up. Our adrenaline is there every game," senior guard DeRay Seamster said.
Central Catholic, ranked second in the OSAAtoday 6A coaches poll, improved to 3-0 on Tuesday night with an 85-65 home rout of No. 5 West Linn. It comes four days after the Rams posted a 10-point win over No. 4 Jesuit, the reigning 6A champion, to avenge a 26-point defeat in last season's state quarterfinals.
"We definitely took that loss as motivation throughout the whole year," senior guard Isaiah Amato said. "We don't necessarily talk about it, but we definitely remember it., the feeling of it. This year we switched everything up. Practices are more intense. Our mindset is different."
Sophomore forward Luke Johnson scored a career-high19 points and Seamster and junior guard Darius Gakwasi added 18 and 16 points, respectively, as the Rams ran away from West Linn (2-2). Central Catholic scored the first nine points of the second quarter to open a 26-17 lead and was never seriously threatened.
Rams coach David Blue spoke about how his team has grown mentally since last season by playing with more discipline and sticking to the scouting report.
"I have some talented kids, and sometimes you feel like, 'I can just go do what I want to do at any point in time, and get it myself,'" Blue said. "Against a team like West Linn, that's well coached, that can bite you. And that's bit us in the past.
"We're more experienced this year. And coming off the way last season ended, we're understanding that we're talented, but we've got to do it together."
Seamster likes how the Rams are gelling.
"The sky's the limit for this team," Seamster said. "We all love playing with each other. It's all about chemistry and what we can do with one another."
Central Catholic not only has talent and experience, but it has size, length and athleticism. The starting lineup features Johnson (6-7), Seamster (6-2), Gakwasi (6-5), Amato (6-5) and senior Gaige Ainslie (6-8), a rangy group that swallows up the passing lanes.
"It makes it hard for offense to get past us," Amato said. "When we press, pretty much the whole court is covered."
Amato put his long frame to good use Tuesday night by making life difficult for West Linn's outstanding freshman guard, Jackson Shelstad. The 5-11 Shelstad entered averaging a team-high 21.0 points but finished with nine points on 3-for-9 shooting. He also struggled to pass around the long arms of Amato.
"He's really good, so I couldn't sleep on him," Amato said. "I take pride in defense. I knew that I was longer than him and older than him. He got me with some good moves, but we scouted him well."
Shelstad scored 26, 17 and 20 points in his first three games before being held in check Tuesday.
"He's 14. He's going to have those games," Lions coach Eric Viuhkola said. "I think they were concentrating on him and making it tough. Their length I think bothered him. But he's a lot better player than that."
It was a banner night for Johnson, the brother of former Central Catholic girls star Kailee Johnson, who went on to play at Stanford. He made 9 of 10 shots and always seemed to be in the right place at the right time, especially in transition.
Johnson, a swing player between JV and varsity as a freshman, erupted for 12 points in the second quarter and had 16 points at half. He added an exclamation point in the third quarter with a rim-rocking dunk while being fouled by 6-7 senior Joe Juhala.
"He's young, but he's getting there," Seamster said of Johnson. "He's a really good guy for us. He'll be very important toward the end of the season."
Johnson played football and missed time after suffering an injury in the first basketball practice, so he is still rounding into form.
"He didn't touch a basketball for a while," Blue said. "He's just starting to get back to where I know he can be. I have high expectations for Luke. He had a really good summer for us."
Viuhkola, who resigned as West Linn's coach in 2016 after leading the team to four consecutive 6A titles, has returned to replace Tyler Toney. He said the early part of the season has been a struggle for the Lions, who hold wins over No. 10 Barlow and 5A No. 3 Wilsonville and a two-point loss to Roosevelt.
"We're not a very good team right now, and we're not a very well coached team," he said. "We don't look like we know where we're supposed to be. It's a new system, and they're getting used to me. We've got guys that played a lot last year, but we're not playing the right way."
He said the Lions didn't play hard or smart against Central Catholic. Senior guard Micah Garrett was the only West Linn player in double figures, scoring 13 points.
It doesn't help the Lions that they are without senior guard Bryson Crockett, who is working his way back after tearing his ACL last season. Crockett is scheduled to be cleared for action later this week, according to Viuhkola.
"That'll help, but we've got all kinds of things we've got to fix," Viuhkola said. "I know we have a lot of talent, but we're just not a very mature team."
Central Catholic and West Linn have played tough early schedules, and they won't get any easier. On Friday, Central Catholic plays host to No. 3 Lake Oswego and West Linn goes to Jesuit. Next week, both teams will play in the Les Schwab Invitational at Liberty High School.