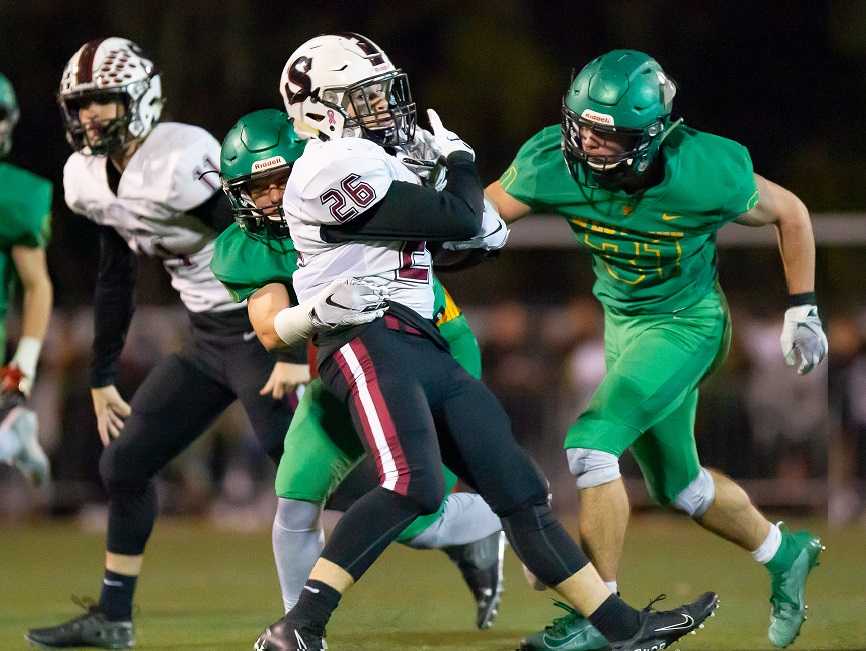 No one has to tell Sherwood football coach Greg Lawrence about how regular-season results can be rendered meaningless in the playoffs.
There was 2009, when the Bowmen crushed Jefferson by 33 points in the regular season but lost to the Democrats by a field goal in the state semifinals.
In 2011, Sherwood blasted Mountain View by 23 points in September but lost the rematch by one point in the state final. And Lawrence won't ever forget 2013, when the Bowmen clobbered West Albany 48-0 in Week 2 but dropped a one-point, overtime heartbreaker to the Bulldogs for the state championship.
So don't expect Lawrence to make too much out of a 52-27 loss to West Linn in Week 5 when No. 12 seed Sherwood (8-2) visits the fifth-seeded Lions (7-3) on Friday in the second round of the 6A playoffs.
"From a man of experience, you play a team twice after beating them the first time, by a lot, it's hard to beat them a second time," Lawrence said. "You can tell your kids, 'Hey, they're going to be a different team,' but in the back of their mind, they remember when they played before. Maybe that will be in our favor this time."
In the 52-27 loss to West Linn, Sherwood committed four first-half turnovers and fell behind 38-7. Lions senior quarterback Ethan Coleman threw six touchdown passes, four to senior Casey Tawa.
"It was like, boom, and we were down," Lawrence said. "It was over before we got started. It wasn't like we weren't able to move the ball, we just stuck ourselves with the stupid turnovers. We just never got a chance to get going."
Sherwood settled down and rushed for 324 yards, but it was too late as the Bowmen lost a regular-season game to the Lions for the fourth year in a row.
Since that defeat, Sherwood has won five consecutive games. The Bowmen won all four of their Pacific Conference games by at least 21 points and beat McNary 49-7 in the first round as Clay Peden and Jamison Guerra each rushed for more than 100 yards, scoring two touchdowns apiece.
Sherwood's wing-T offense, which averages 338 rushing yards per game, is "dialed in," according to Lawrence.
"And we stopped turning the ball over," Lawrence said. "The way our offense is going right now, our kids are very confident in it. We feel that we're going to be able to move the ball. Hopefully, if we can get a couple stops, we'll be in the game and have a shot at it."
West Linn coach Chris Miller, who is 5-2 against Sherwood since taking over in 2014, knows the drill about defending the misdirection and stealthy ballhandling of the wing-T.
"You just have to be very disciplined. You have to trust your eyes," Miller said. "You have to be gap sound and you have to tackle well on defense. This is our eighth time against them, and they're not going to reinvent what they do.
"Obviously, we respect Greg and the work they've done over there. That's why we schedule them as a nonleague game because we respect them and enjoy the competition."
The Lions handled Roosevelt 70-29 in a first-round game as Coleman passed for 411 yards and six touchdowns, raising his season totals to an even 3,000 yards and 38 scores.
Coleman threw three interceptions, however, as West Linn "started off a little sloppy," Miller said. "I was little disappointed. We were a little bit complacent."
The Lions held out four starters for the game, including Tawa, who has 61 catches for 1,142 yards and 16 touchdowns this season. Miller said he expects all four starters to return Friday.
***
A look at some of the top matchups for the second week of the playoffs -- the round of 16 for 6A, quarterfinals for the other classifications:
6A
No. 22 Lakeridge (4-6) at No. 6 Aloha (9-1): The Warriors, who are bidding to reach the quarterfinals for the first time since winning the 2010 title, play host to the Pacers, who are coming off a first-round upset of No. 11 seed Beaverton. It could be a shootout between Aloha quarterback Timmy Dennis Jr. (38 touchdown passes) and Lakeridge running back Jalen John, who rushed for 204 yards last week and has 1,603 for the season.
No. 9 Barlow (8-2) at No. 8 Sheldon (6-4): Sheldon, last year's state runner-up, won a playoff game for the 20th consecutive season last week by blanking Jefferson 35-0, holding the Democrats to 78 total yards. Now the Irish take on quarterback Jaren Hunter and the Bruins, who can make the quarterfinals for the first time in 14 years.
5A
No. 8 Wilsonville (8-2) at No. 1 Thurston (10-0): A rematch of last year's wild state final, which Thurston won 30-27. The Colts, who are holding opponents to 11.8 points per game – third in 6A behind West Albany and Crater – must contend with a Wilsonville passing game that features quarterback Jayce Knapp (2,198 passing yards, 29 touchdowns, four interceptions). The Wildcats can make the semifinals for the fifth year in a row.
No. 7 Parkrose (7-2) at No. 2 Crater (9-1): Parkrose registered its first playoff win in school history last week when it dominated Lebanon 59-20 behind Tre Singleton, who passed for four touchdowns, ran for a score and also found the end zone on an interception return. Now the Broncos face a stifling defense in Crater, which has not allowed a point in 13 quarters and has five shutouts.
4A
No. 5 Marist Catholic (8-1) at No. 4 North Marion (7-2): Two teams enjoying resurgent seasons meet with a semifinal berth on the line. Marist Catholic made the 5A semifinals in 2014 but won only 17 games in the last four seasons. The Huskies, playing for first-year coach Calvin Griggs, are in the quarterfinals for the third time in school history (1951, 1982). They have never made the semifinals.
No. 15 Tillamook (7-3) at No. 10 The Dalles (6-4): Both teams made long trips to Klamath Falls last week and came away with upset wins, Tillamook 19-14 over second-seeded Mazama and The Dalles 49-18 over No. 7 seed Henley. It was the first playoff win in 20 years for Tillamook, which hasn't made the semifinals in 30 years. It was the first postseason win in 10 years for The Dalles, which is making its first quarterfinal appearance since 1997.
3A
No. 5 Rainier (8-2) at No. 4 Amity (8-2): The Special District 1 rivals have put on good shows in their last two meetings, with Rainier winning 60-54 in overtime last year and Amity prevailing 24-20 this season. In the latter, each team scored three touchdowns, but Amity converted all of its two-point conversions. Rainier, last year's champion, is trying to reach the semifinals for the third consecutive year. Amity lost in the semifinals last year.
No. 6 Clatskanie (8-2) at No. 3 Burns (10-0): The Burns defense, which holds teams to a state-low 5.3 points per game, gets a stern test against the Tigers, who are averaging 39.2 points, fifth in 3A. Clatskanie, which lost to Rainier 19-7 in the quarterfinals last year, hopes to make the semifinals for the first time in 12 years. Burns hasn't made the semifinals since winning the 2A title in 2014.
2A
No. 5 Toledo (8-2) at No. 4 Monroe (9-1): A rematch of a Week 3 nonleague game, won by Toledo 52-49. In that game, the Boomers shook off a 14-0 deficit and won behind junior running back Donovan Villanueva (187 rushing yards), overcoming a big performance from Monroe's Zach Young (277 rushing yards). Toledo hasn't made the semifinals since 1995. Monroe, the 2017 champion, lost in the semifinals last year.
No. 7 Knappa (8-2) at No. 2 Coquille (9-1): Knappa has won seven in a row, but now must face a Coquille running attack that features seniors Ean Smith (1,188 yards, 17 touchdowns) and Caiden Yates (1,035 yards, 12 touchdowns) and sophomore Gunner Yates (947 yards, 17 touchdowns). Knappa beat Culver last week as Cameron Miethe and quarterback Eli Takalo combined to rush for 237 yards and four touchdowns.
1A
No. 7 Hosanna Christian (9-0) at No. 2 Adrian/Jordan Valley (10-0): Two unbeaten teams meet in a rematch of last year's quarterfinal, won by Hosanna Christian 46-36. The Adrian offense, averaging 64.3 points per game, clashes with a Hosanna Christian defense that is giving up 6.6 points per game. Hosanna Christian's last two seasons have ended with losses to Dufur, in the final in 2017 and the semifinals last year.
No. 12 Powder Valley (7-3) at No. 4 Camas Valley (8-0): Powder Valley, much improved after finishing 2-5 in each of the last two seasons, can make the semifinals for the first time since 2003 by beating the Hornets. Both offenses exploded in first-round wins. Powder Valley amassed 630 yards to outscore Lowell 68-62; Camas Valley racked up 687 yards in an 86-50 win over Mapleton.