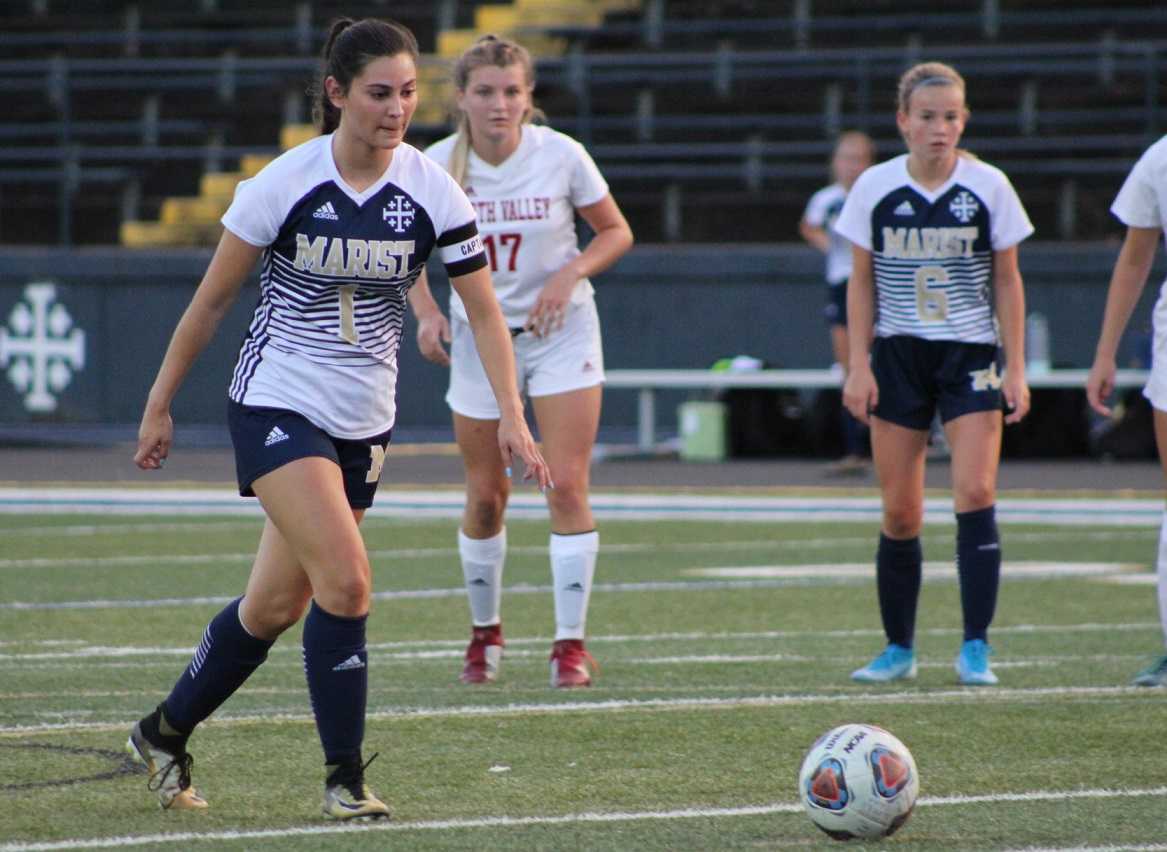 Stefan Schroffner has stepped into the fire in his first high school head coaching job.
Schroffner, a club soccer coach in the Eugene area, has taken over the girls team at Marist Catholic, which has high expectations after reaching the 4A semifinals last season under coach Gary Smyth.
"When I first got the job, someone told me, 'That's a tough act to follow,'" Schroffner said. "That's OK. I'm not going to worry about that because our goal is always to win the state."
The Spartans have never won a state championship, finishing second four times, but they are an early favorite this season. They have risen to No. 1 in the OSAAtoday 4A coaches poll.
"I've talked with some other coaches and they believe we're that good," Schroffner said.
Marist Catholic brought back seven starters from a team that finished 13-3, including three senior captains who provide a nucleus in center midfielders Ella Coulombe and Kallie Harding and fullback Georgia Karam. The midfield, with Coulombe, Harding and junior Avery Anderson, fuels the attack.
"In my opinion, we have the best midfield in the state," Schroffner said.
The Spartans graduated much of their scoring punch in Gabrielle Ficek, Delaney Pratt and Sarah Hayes, but juniors Abbie Chambers and Whitney Korth, sophomore Maddie Fuller and freshman Paige Meador are "developing quickly," according to Schroffner said.
"A lot of pace, lot of technical skill," he said. "It's just a matter of growing into the roles."
Marist Catholic (3-0-2) opened with an impressive 4-1 win over No. 5 North Valley. The game was 0-0 at half, but Fuller, Harding, Coulombe and Chambers each scored in the second half.
"That was a really good test," Schroffner said. "Our players were really hyped for that game."
The Spartans beat Sisters 2-0 in a game that was called at half due to lightning and tied 1-1 against 5A No. 2 Thurston and 3A/2A/1A No. 1 Catlin Gabel. They won 2-1 on Tuesday over visiting Gladstone, ranked third in 4A, by getting goals from Chambers and sophomore Anna Watts.
"I'm not exactly thrilled about tying two games, but I know they were both top teams in their own classifications," Schroffner said.
The team suffered a setback against Thurston when senior goalkeeper Teagan Peterson broke her ankle. Sophomore Tessa Woodrum has taken over as the starter.
Schroffner -- who played high school soccer in Hawaii and went on to Notre Dame, where he was the starting kicker for the football team in 1994 -- said it will take some time for the team to gel. But the Spartans' semifinal run last year has made them more determined to reach the finish line.
"Our girls got a taste of that. They want to go further," he said. "We want to win this whole thing. That has to be the goal."