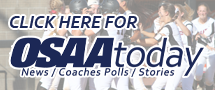 List of Applications to Participate in the OSAA Music State Championships

CLOSED - Online Application Form for Bands, Choirs, and Orchestras
Waiting for Tape Pool Review Process
The online application form to participate in the OSAA Music State Championships is closed. The deadline to submit additional materials has also passed. Recordings from tape pool qualifiers have been sent to out-of-state adjudicators and the list of selected groups is pending. For additional information, please refer to the OSAA Choir and Band/Orchestra Handbooks.
List will be published by 4:00pm Wednesday 4/29/2020
Submitted Applications by School - Selections TBD
There are no school applications to display.