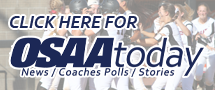 Girls Golf AD and Coach Information

(Updated 5/3/2019)
AD/Coach Information
» 6A, 5A Boys - Trysting Tree Golf Club
» 6A, 5A Girls - Quail Valley Golf Course
» 4A Boys, 3A/2A/1A Boys - Emerald Valley Golf & Resort
» 4A/3A/2A/1A Girls - Eagle Crest Ridge Course
Includes information regarding lodging, parking, posting/corrections procedures, coaches' meeting, practice round tee times, souvenirs, the local rules sheet, and a sample scorecard with yardages to be used during the championships.

Practice Rounds
Please contact the golf course if you are NOT going to use your practice round.
» 4A/3A/2A/1A Girls - Eagle Crest Ridge Course
» For all other practice times please contact the course directly.

District Results/State Qualifiers
» Boys | » Girls
Posted after entries are completed by the district director
Golf Plan Book
(Updated 5/3/2019)
»
Golf Plan Book
Contains the season dates, OSAA golf rules and policies, state championship information and qualifications, OSAA general policies
Reminders / Memos
» OSAA Hard Card
Overarching rules of OSAA golf events.
»
OSAA Golf Cell Phone Policy Sign
Printable sign for schools, courses to display during events
» Pre-Season Memo
Provides guidance to golf coaches for the season.
» Rules Highlight Booklet
Provided by the OGA to help assist in the new rules.
(Updated 4/23/2019)
Spectator Information
Includes information regarding lodging, parking, coach/spectator regulations, carts, and souvenirs.
» 6A, 5A Boys - Trysting Tree Golf Club
» 6A, 5A Girls - Quail Valley Golf Course
» 4A Boys, 3A/2A/1A Boys - Emerald Valley Golf & Resort
» 4A/3A/2A/1A Girls - Eagle Crest Ridge Course

Maps/Directions
»6A, 5A Boys @ Trysting Tree Golf Club (Corvallis)
»6A, 5A Girls @ Quail Valley Golf Course (Banks)
»4A Boys, 3A/2A/1A Boys @ Emerald Valley Golf & Resort (Creswell)
»4A/3A/2A/1A Girls @ Eagle Crest Resort - Ridge Course (Redmond)

Lodging/Visitor Information
Trysting Tree Headquarter Hotel
Comfort Suites - Corvallis
» Contact Catherine Brady
» Phone: 541.753.4320
»
Corvallis Tourism
Quail Valley Headquarter Hotel
Courtyard by Marriott - Hillsboro
» Call: Paige Carlson
» Phone: 503.268.4356
»
Washington County Visitors Association
Emerald Valley Headquarter Hotel
Comfort Inn & Suites - Creswell
» Call: Tawny Sykes
» Phone: 503.459.9952

Holiday Inn Express - Eugene
» Call: Marlana Bickel
» Phone: 541.284.0256
» Travel Lane Country
» Eugene, Cascade, & Coast
Eagle Crest Headquarter Hotel
»
» Phone: 866.806.4921
»
Eagle Crest Resort
»
Redmond Chamber of Commerce
»
Visit Bend