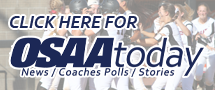 Cheerleading AD and Coach Information

State Championship Results
To be posted at the end of each championship
Championship Results

AD/Coach Information
(Updated 2/19/2020)
»
AD/Coach Information
Includes information regarding eligibility, music, stunts, plus information about tickets, lodging, divisions, practice, and a general time schedule.
2020 Championship Schedule
(Updated 2/19/2020)
»
Championship Schedule
Championship schedule contains the performance order, team photo schedule and the practice schedule.
Cheerleading Handbook
(Updated 2/19/2020)
» Cheerleading Handbook
Contains the season dates, NFHS rule changes, OSAA Cheerleading policies, state championship information, divisions, and OSAA general policies

Reminders / Memos
» NFHS Considerations for Spirit Safety Opening in the Fall
Details considerations outlined in this document are meant to decrease potential exposure

» OSAA Practice Model
Including Q&As.


Spectator Information
(Updated 2/19/2020)
»
Spectator Information
Includes information regarding tickets, lodging, parking, souvenirs
»
Rose Quarter - Guest Services
NEW
Includes information regarding prohibited items (i.e., backpacks, umbrellas, strollers, etc), lost and found, ADA guide, etc.

Watch on the NFHS Network!
Tune in for LIVE coverage for this year's Cheerleading State Championships; subscription fees apply
Cheerleading Championships
Final Site Parking
Spectator Parking
: The East/West Broadway Garages will be the only parking facilities available on Saturday. Pre-purchased parking passes are available for $8 (for the day) and are limited to availability.
DAY OF EVENT:
$8 until 4pm,
$20 after 4pm / $25 for in and out priviliges.
See Spectator Info for more details.
School Vehicle Parking
: Marked school vehicles may park free of charge in the Benton lot across the street from the North Stage Entrance on a first-come, first-serve basis (priority is given to larger vehicles, discretion is determined by OSAA).
Maps/Directions
» All Classifications @ Veterans Memorial Coliseum (Portland)

Lodging/Visitor Information
Headquarter Hotel
Radisson RED Portland
» 1455 SW Broadway, Portland
» Phone: 503-334-2167
City of Portland
» Proud to support state championships in Portland

State Rules Interpreter Bulletins
Updates/reminders for coaches sent throughout the season