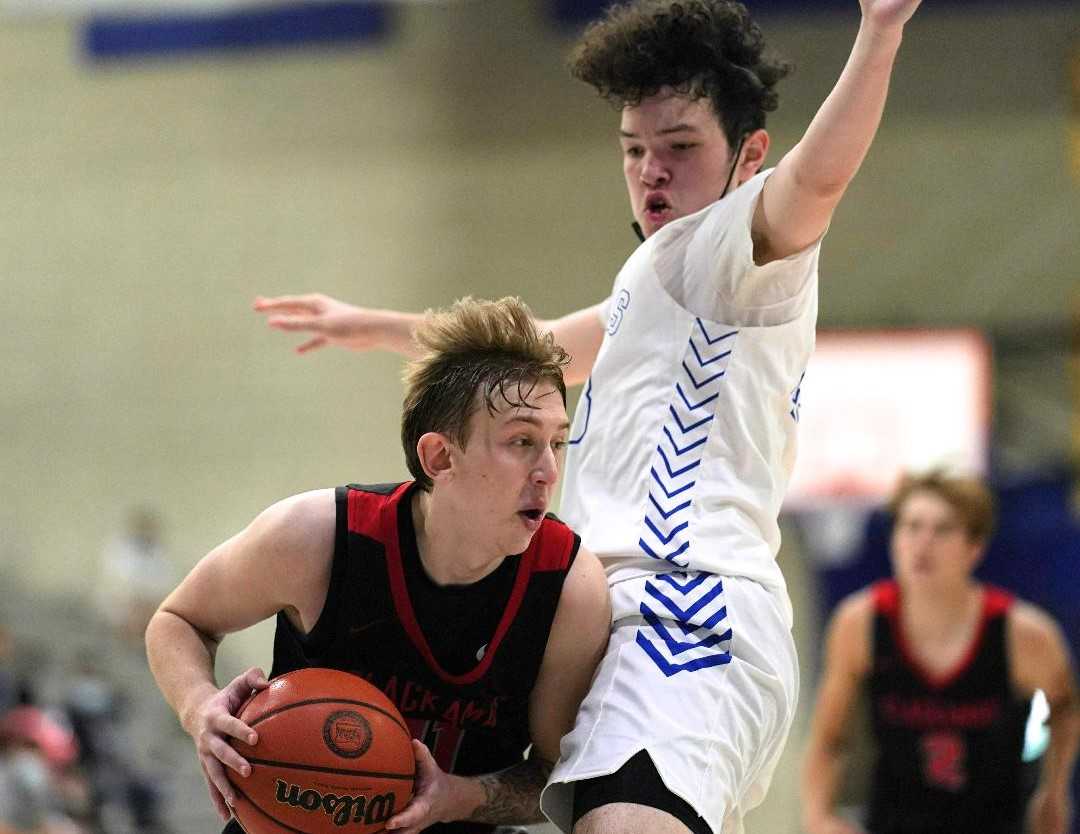 It would've been easy to overlook the Clackamas boys basketball team after star forward Ben Gregg opted to forgo his senior season to get started on his college career at Gonzaga.
So far this season, though, the Cavaliers are commanding plenty of attention in the 6A Mt. Hood Conference.
Clackamas solidified its hold on first place Saturday with a wire-to-wire 64-43 win at Gresham. The Cavaliers (8-0) stand above reigning conference champion Barlow (6-2), David Douglas (5-2) and Gresham (5-3).
"I knew we were going to be really, really good this year," Clackamas coach Cameron Mitchell said. "Obviously losing Ben hurt, but I think this is showing people that we have a really well balanced team and a lot of guys that can contribute in a lot of ways."
The Cavaliers expected a battle Saturday from Gresham, a team it defeated by seven points on their home court May 19. But they scored the game's first nine points, led 32-20 at half and coasted to the win in the Gophers' new gym.
"We got a really good start, and it kind of set the tone for the rest of the game," Mitchell said. "We came with a focus and an energy that was awesome."
Senior guard Damon Erickson scored 16 points and senior guard Ryan Lewis and junior guard Jackson Jaha added 14 points apiece for Clackamas. Senior guard K.J. Horsley came up big on the defensive end by helping to limit Gresham sophomore point guard Esyah Pippa-White to 10 points, well off his 25.0 average.
"K.J. is one of the best on-ball defenders in the state, if not the best," Mitchell said. "He did an amazing job on Esyah."
The Cavaliers have been winning with balance. The 6-foot-3 Erickson (14.5 points, 5.0 rebounds, 3.2 assists) leads the team in scoring, but Horsley (12.0 points, 4.7 rebounds, 3.3 assists), Jaha (9.8 points), Lewis (9.2 points, 6.0 rebounds) and senior Izzy Baker (8.2 points, 6.0 rebounds) all are capable of breakout games.
"We just move the ball really well on offense," Mitchell said. "We're very well rounded. It would be hard for me to scout us. On any given night, we have five or six guys that can give you a big point output."
The Cavaliers will play their first nonconference game Tuesday when they visit Portland Interscholastic League power Grant (7-1) in a rematch of last year's 6A second-round playoff game, won by Clackamas. The Cavaliers also will be looking to face other state contenders in a Portland-area tournament during the culminating week June 21-27.
The team's success has helped curtail thoughts about how a normal season would have played out with the 6-9 Gregg on board. Clackamas, a 6A quarterfinalist last year, was scheduled to play in a tournament in Spokane as well as the Les Schwab Invitational.
"I try not to think about it that much, because it kind of bums me out," Mitchell said. "It's tough thinking about maybe what could have been. But the message to kids is just, 'This is what we have, and let's be grateful for what we have, and let's go win a conference championship, and take something away from this year.'"
SA's Gilliam honored
South Albany honored senior guard Isaiah Gilliam, a third-year starter, by inducting him into the school's athletic hall of fame when the team played host to Central on May 24.
The 6-3 Gilliam is averaging 24.6 points, 8.0 rebounds, 3.1 assists, 4.0 steals and 1.9 blocked shots for the RedHawks (5-3, 4-1 Mid-Willamette Conference). He is shooting 58.2 percent from the field.
"He's just a physically gifted kid," South Albany coach Tim Matuszak said. "He's a big, strong guard. Anytime an opposing guard ends up on him, it's a mismatch. He's scored a lot of points the last few years just by being able to get his way into the paint."
Gilliam has a knack for getting to the free throw line. He made 137 of 198 free throws as a junior, when averaged 24.0 points per game. He has made 50 of 76 free throws this season.
Gilliam tied the school record with a 41-point game in a win over North Salem on May 26. He has been filling up the stat sheet, recording 17 points, 13 rebounds, nine assists, six steals, four blocks and nine pass deflections to lead South Albany past Central..
"The kid is all over the place," Matuszak said.
Gilliam is working on improving his shooting range. He shot 4 of 17 from three-point range as a junior and is 5 of 13 from behind the arc this season.
"Coming into his senior year, and thinking about playing at the next level, he knew that was a part of his game that he was going to have to develop," Matuszak said. "He's never really needed to shoot from outside in the past."
Gilliam has not committed to a college. Matuszak said that among the schools showing interest in Gilliam are Western Oregon, Redlands, Pacific and local community colleges.
The season has given Gilliam a chance to play alongside his freshman brother, DeShawn, who starts at shooting guard and is likely to eventually move to point guard. The 6-0 DeShawn is averaging 7.0 points, 4.3 rebounds and 2.3 assists.
"He's a stud," Matuszak said of DeShawn. "He might be the best perimeter defender we've got right now, and that includes his brother. He's an outside shooter, a quick, shifty guard. It's been real neat watching them get to play together."
Rising Tigers
Sophomore twins Moroni and Malachi Seely-Roberts continue to blossom at 3A Yamhill-Carlton, where their mother – Heather Seely-Roberts – is in her third season as the boys coach.
The 6-5 Moroni, who had back-to-back games of 32 and 35 points over the weekend, is averaging 26.4 points and 11.4 rebounds for the Tigers (4-2). The 6-7 Malachi, the team's best outside shooter, is averaging 12.8 points, 6.8 rebounds and 4.2 assists.
"I think they can play at the next level," Heather Seely-Roberts said of her sons, both 4.0 students. "They really want to play at Oregon State, so we're trying to get Oregon State's attention."
The twins played the winter high school season at Grand County of Moab, Utah., where Heather served as an assistant coach. They led the team to a 22-4 record and into the quarterfinals of the 3A tournament.
Moroni was the regional player of the year and a first-team all-state pick, averaging 25.3 points and 10.0 rebounds. Malachi was second-team all-state, averaging 13.9 points, 5.2 rebounds and 5.7 assists and making 56 three-pointers.
Yamhill-Carlton, which went 16-11 and lost in the first round of the 3A playoffs last year, won its first four games before falling to PacWest Conference rival Amity 60-57 on Friday and at 4A Cascade 62-59 in overtime on Saturday.
The Tigers have four of the same starters from last season in the twins, senior post Trey Richmond and senior wing Mikel Rivas.
"Last year we were hoping to win. This year the kids expect to win," Heather Seely-Roberts said. "It's different going from the underdog to now I would say we have more of a target.
"They have confidence. They just know their ability to score a lot of points in short periods of time."