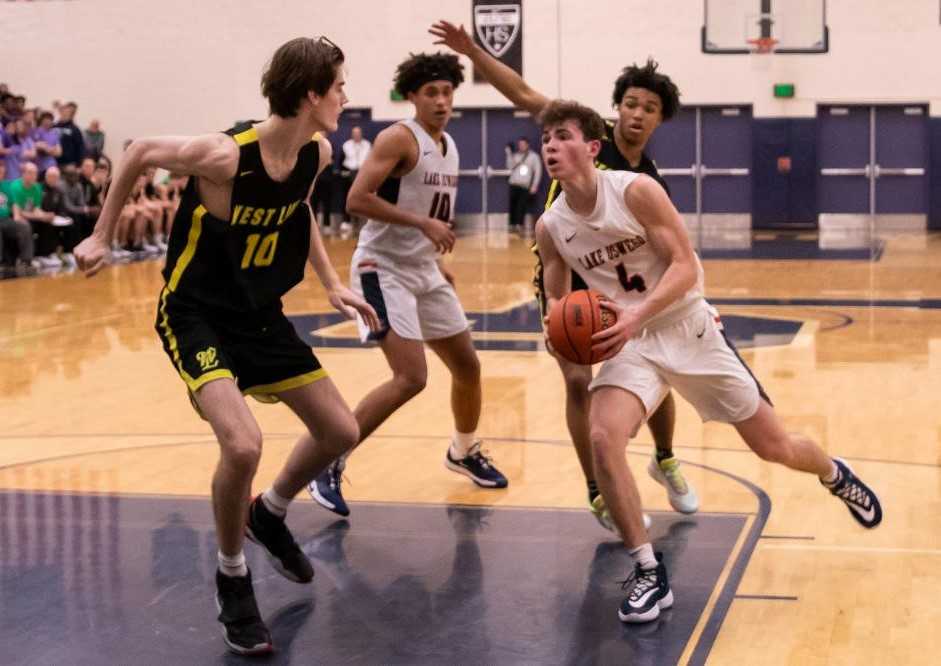 LAKE OSWEGO – If someone is going to take the Three Rivers League boys basketball title away from Lake Oswego, they're going to have to pry it from the Lakers' vise-like grip.
No. 10 Lake Oswego showed as much Wednesday night, battling back from an 11-point deficit late in the third quarter to beat No. 4 West Linn 58-47 in overtime with first place at stake.
The two-time reigning league champion Lakers (10-8, 6-0) put on a defensive clinic late in the game, holding the Lions (12-6, 5-1) to a mere two free throws in the final 11 minutes, 45 seconds. During that span, West Linn went 0 for 15 from the field and committed eight turnovers.
"We always come with pride," Lakers senior guard Casey Graver said. "We're Lake Oswego, we wear that proudly on our chests. We talk about it all the time, what it means to be worthy of the jersey. And I think we showed it right there."
Lakers coach Marshall Cho said comebacks have become a trademark for the team in recent seasons.
"If you look at what we've done in the last three years, we don't get blown out," Cho said. "Which means you're going to have to put us down if you're going to finish a game against us."
West Linn had the Lakers down and seemingly out, but failed to deliver the final blow.
"I thought they were the tougher team," Lions coach Eric Viuhkola said. "I thought they deserved to win. I told our guys, the whole game, they had that look like they were going to get it done, and we looked like we were scared. I thought they always looked like they believed they were going to come back."
Senior forward Jack Chlumak had 15 points and 11 rebounds for the Lakers, who also got 14 points and nine rebounds from senior post Trace Salton and 10 points each from Graver and senior guard Sam Abere.
Lake Oswego spent much of the night fighting uphill. West Linn bolted to a 10-1 lead and was up 28-23 at half behind senior guard Micah Garrett, who scored 13 of his game-high 17 points before the break.
The Lakers pulled even at 30-30 on a basket by Chlumak, but Lions freshman point guard Jackson Shelstad scored nine points during a 13-2 run as West Linn opened a 43-32 lead in the final seconds of the third quarter.
"There was a time when we thought it was going to be tough to come back," Salton said. "Then we got a timeout, coach brought us in, and he said, 'This is fun. This is exactly where we want to be. Show some perseverance. Show people who you are.' That's what happened."
West Linn sophomore Mason VanBeenan scored on putback in the opening moments of the fourth quarter to make it 45-35, but it would be the Lions' final field goal. Lake Oswego cranked up its defense and harassed the Lions, who began to rush on every dribble, pass and shot attempt.
"We did a good job of speeding them up and just being active, with our hands up," Chlumak said. "We have a lot of athletes on our team that can get in the passing lanes and just make it hard on the other team. It's hard playing against length up top and it's hard playing when you've got an athlete like Trace behind you."
Salton said the Lakers were moving in concert on defense.
"We talk about being on a string all the time, just communicating with each other, being on the same page always," Salton said.
The Lakers slowly came back, and when Chlumak put back his own miss with 23 seconds left, they were down 46-45. After Shelstad split two free throws, Chlumak drove for a layup to tie 47-47 with 12 seconds to go.
Shelstad missed a pull-up jumper with five seconds remaining, and the game went into overtime, where the Lakers dominated.
Abere scored inside to make it 49-47 – Lake Oswego's first lead – and Salton followed with back-to-back baskets for a 53-47 lead with 42 seconds left. From there, the Lakers made 5 of 6 free throws to seal it.
"The past couple games haven't been up to our standards defensively," Graver said. "That was our focus coming in. We wanted to be us. In the fourth quarter and overtime, that's what we did."
In overtime, West Linn missed all eight of its shots and committed four turnovers.
"We just got frantic, instead of taking our time," Viuhkola said.
Garrett said that once the game got to overtime, the Lions had lost their intensity.
"We just fell short from there," Garrett said. "Our offense could've been better. We were kind of rushing. We've got to get back in practice and work on being patient on offense, and it'll come."
Shelstad added 12 points for West Linn. He had the brilliant surge in the third quarter but otherwise struggled offensively, finishing 5 of 21 from the field.
For the Lakers, the win could be a springboard into the second round of league play.
"They've had their trust and faith shaken a little bit with all the adversity and all the close losses we had early in the season," Cho said. "But it speaks to the character of these guys, not to give up on that."
Said Salton: "We're taking it personal. We didn't leave anything out there on the court."