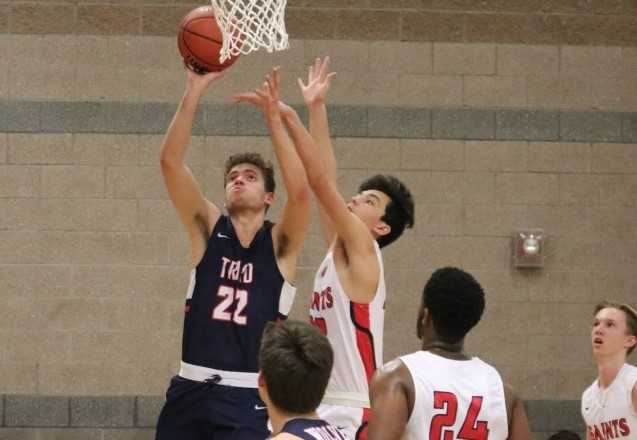 Coming off a big summer, expectations were soaring for Triad's boys basketball team.
The Timberwolves of Klamath Falls not only had three key players back from a 1A quarterfinal team, they added two potential impact transfers. All the pieces seemed to be in place for a run at the top.
In a season-opening tournament at Hood River, though, Triad got a splash of cold water by losing to No. 6 Crosshill Christian 58-52 and No. 5 Damascus Christian 61-48.
"We were just playing open-gym basketball," coach Jason Young said. "I told them, 'We had a great summer, but if we play team basketball like we did this weekend, we're not going to reach our goals.'"
Since those losses, Triad (17-2, 13-0 Mountain Valley League) has reeled off 17 consecutive wins and moved to the top of the OSAAtoday 1A coaches poll.
"I think it was really good for us," Young said. "We had to kind of re-evaluate. There was definitely guys having to figure out their roles."
Senior Michael Irvine, a 6-foot-3 forward who transferred from 1A Hosanna Christian, and senior Zane Napoli-Sorg, a 6-1 point guard who came over from 4A Klamath Union, are leading the Timberwolves in scoring at 18 and 16 points per game, respectively.
The returning starters – senior guard Ethan Roe, senior post Ethan Moritz (6-5) and junior guard Micah Young – are averaging near the 10-point mark.
Jason Young said that the additions of Irvine, a former first-team all-league player, and Napoli-Sorg, a starter at Klamath Union last season, transformed the team.
"For us, those are two pretty big pickups," he said. "That really put us on a different level in 1A. That's a big reason why we're having the success we're having. I also had a good core returning that's been through a lot of battles.
"The guys who had been at Triad don't have to score as much as they did last year. The ballhandling is a lot better than it was in previous years. And our shooting is much better than last year. This team's a little bit more confident than last year."
Triad's winning streak has included two wins over No. 3 Trinity Lutheran (16-4, 11-2), its Mountain Valley rival. Micah Young hit a three-pointer at the buzzer for a 48-45 win at Trinity Lutheran on Dec. 21. The Timberwolves also defeated the visiting Saints 51-43 on Saturday, getting 18 points from Irvine and 14 points from Roe.
"To beat Trinity two times this year has been huge for us," Jason Young said. "We've been pretty fortunate in both of those games. There's probably a good chance we'll see Trinity again for seeding purposes, so we've got a long ways to go."
Last season, Triad split two league games with the Saints but lost to them 52-41 in the state quarterfinals.
"The thing with us and Trinity is we know each other so well," Jason Young said. "So both games have been just a defensive grind."
Triad, which started its program in 1999-2000, made its only finals appearance in 2011, losing to Siletz Valley 70-56. Young has never had a losing record as coach, compiling a 241-97 mark in 13 seasons.
After reaching the semifinals in 2018 and the quarterfinals last year, the Timberwolves are hungry. The 1A field is filled with contenders, but has no clear-cut favorite.
"I think 1A is pretty good this year," Jason Young said. "I see five or six teams that could win it, which is exciting. I think it's a little bit stronger than last year."