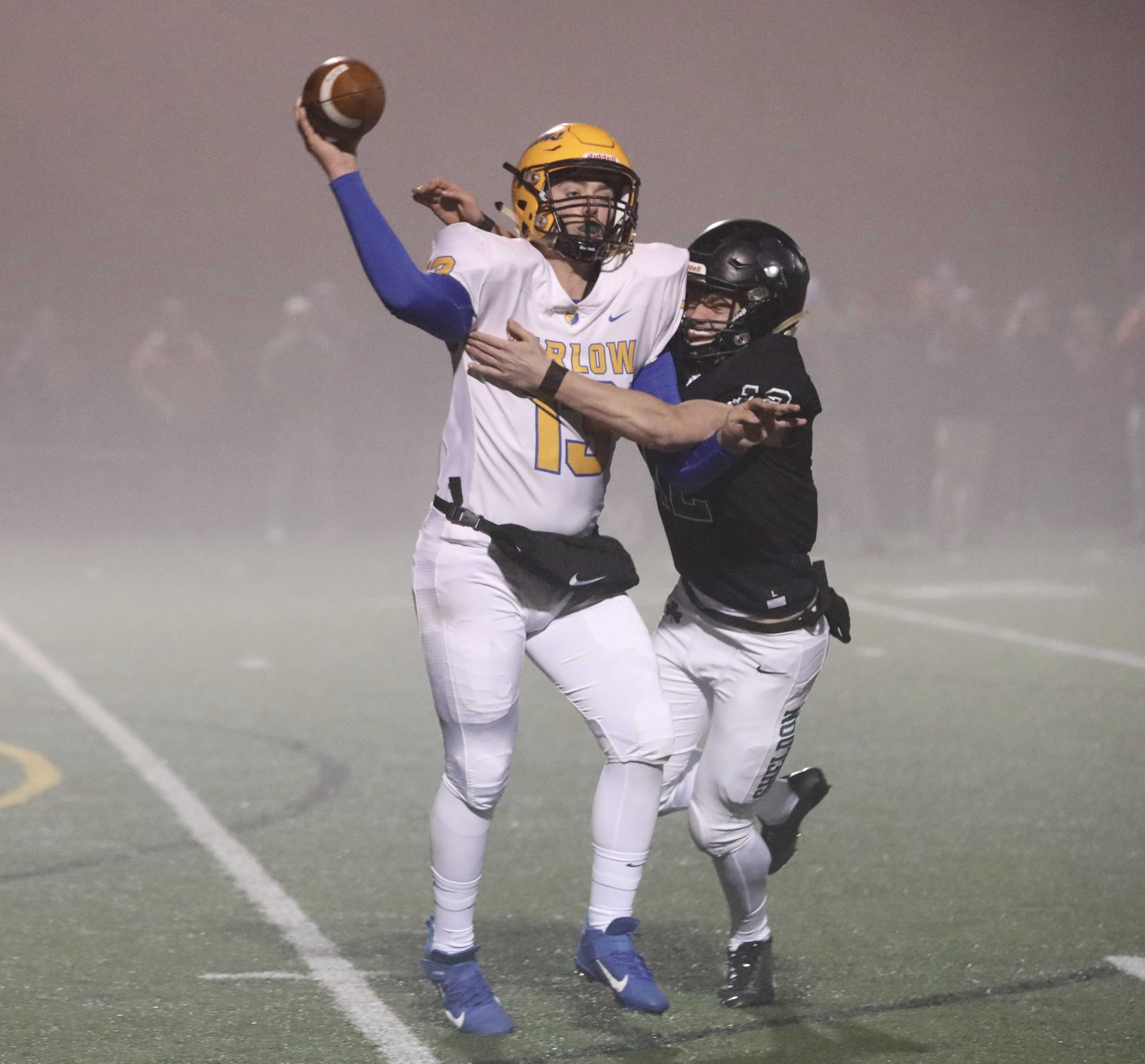 EUGENE — By the time Barlow quarterback Jaren Hunter took a knee and watched the clock spin all the way down to zeroes Friday night, he and his Bruin football teammates had knocked down everything they had to.
The Bruins beat up, in no particular order, on Sheldon's considerable reputation, the kinks from a two-and-a-half-hour bus ride down from Gresham, conventional wisdom, tradition, rankings and the big Irish line.
All of that explained what the scoreboard showed through a thick blanket of river-bred fog at the end of the collision between the two in the second round of the OSAA 6A playoffs:
Barlow 26, Sheldon 24. And it wasn't really that close, either. Sheldon threw a touchdown pass through the soup with 7.2 seconds left in the game to narrow the score down.
The Bruins, 9-2, earned the victory with a solid second half. They scored on long drives on their first two possessions of the final 24 minutes, stuffed Sheldon's had-to-have-it drive with less than two minutes left in the game and covered Sheldon's desperation onside kick at the end.
"It's awesome," said Hunter, who threw two touchdown passes to to wideout Durham Sundberg and moosed in from three yards out early in the fourth quarter to give Barlow its final lead. "A two-and-a-half-hour drive coming down, getting a great win.
"It's an unbelievable environment. Sheldon is such a tough program for as long as I can remember, so getting this upset was awesome."
Upset? Hardly. By the end, it didn't feel like an upset. Didn't look like one, either.
First, the asterisk: For all of Sheldon's splendid accomplishments over the last 20 years, this was a rebuilding year. The Irish lost a ton of talent from last year's state finalists and got three facials in their first three games this season — all to high-quality programs. But they also won six of their next seven and seemed to have the ship righted by the time the Barlow bus rolled in Friday afternoon.
They scored their first touchdown before the first quarter was halfway done on a strange play: quarterback Griffin Line zinged a ball on a buttonhook to Larsen Helikson, but the ball ricocheted off his hands — right to another receiver, Josh Loesch, who had the whole sideline to himself for 43 yards.
That merely served to wake the Bruins up. They came back immediately on a 49-yard scoring pass that Hunter threw to Sundberg on the sideline. It wasn't that long a throw, but Sundeberg shed three tacklers who were hanging all over him and escaped for the touchdown.
Game on. The Bruins discovered that they could swat with Sheldon's big line and beat it.
"We saw on film how physical they are," Barlow coach Terry Summerfield said. "It came down to physicality. That was the key to the game.
Still, the Bruins trailed 10-6 at the half.
"In that first half we dug ourselves a hole," said Hunter, who's headed to Oregon State to play baseball next year. "We were paying them great just the way we were. Take away the mistakes and we're leading."
The mistakes included two snaps that went over Hunter's head — one for a 36-yard loss, and both of which killed promising drives.
"We went into halftime under control," Summerfield said. "There was no screaming or hollering in there. We just had to play our game. We had to be physical. We had to get down and dirty and start rooting people out."
The guys who did the rooting were the ones who brought the Bruins back in the second half: The offensive line of Evan Pugsley, Jadon Morgan, Ethan Wallis, Jesse Wilson and Matthew Jefferis. They were big, strong, and every bit a match for Sheldon.
"We saw a lot of film on them," said Wallis, the 330-pound left guard. "And that helped us, because we sat that they come off the ball, but once you hit them in the mouth they back up.
"(At halftime) we knew we could pound the ball up the middle and around the outside on them. It felt awesome do it."
Truth, that. Statistics were worthless without visible yard lines in the increasing second-half fog, but Barlow got several big-yardage plays behind its five steamrollers.
And Sheldon buckled. The Bruins rolled 80 yards in nine plays on their first drive and completely fooled the Irish with a sideline pass to Sundberg. Sheldon's real last gasp came immediately after, when the Irish drove 90 yards to Lane Shields' 17-yard touchdown run for a 17-14 lead.
Barlow, no longer intimidated by the surroundings, drove right back to take the lead on Hunter's shortie early in the last period.
The Bruins stopped the desperate Irish in their own 12 late in the game and got their last touchdown on Nick Collins' five-yard cutback with 1:19 left in the game.
Everybody in Bruin white put the win on the line.
"They were unbelievable," Hunter said. "They controlled the line of scrimmage all night long. They dominated. Some of those (Sheldon) guys are playing D1 ball next year and our guys just handled them."
Summerfield concurred. "Holy smoke," he said. "Our line did a great job in the second half. We could see on film all week long that we could do this, but it came down to being physical."
Things will get physical again next week when the Bruins play a home game against Mountainside, which stunned No. 1 Tigard 34-31 at Tigard Friday night.
Now THAT was an upset. What happened at Sheldon Friday night was not.