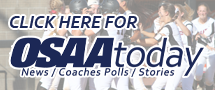 OSAA Complaint Form
Create a New Complaint Form

This complaint form is currently under construction. It will be available at the start of the 2019-20 membership year.
Start a new OSAA Complaint Form by clicking the button above.
Complaint Form Process
1. Complainant creates and completes each section of the Complaint Form.
Once submitted, the OSAA is notified of the complaint.
A confirmation is sent to the Complainant within 48 hours acknowledging receipt.
Every effort will be made to complete the investigation process within 30 days; however, should the investigation require more time, a 30-day status update shall be provided.