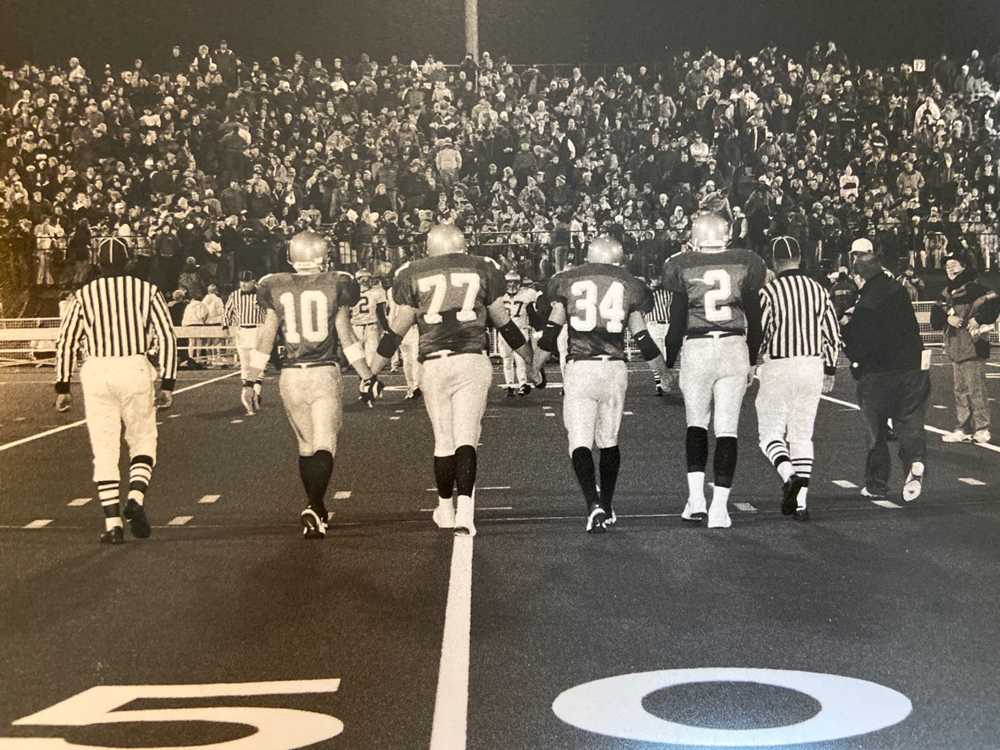 It was considered the biggest high school football game in many years: undefeated Jesuit and undefeated Central Catholic, co-No. 1s in the season-ending coaches poll, squaring off in the 2000 4A quarterfinals.
The game was held on a Friday, one day before the other three quarterfinal clashes. Hillsboro Stadium was filled to capacity, with nearly 10,000 fans in attendance to witness, through the backdrop of a thick fog, what was described playfully as the "Holy War."
It was in this setting that Mike Hass, the Jesuit senior, had arguably the greatest game for a receiver in the history of Oregon football. He caught five first-half touchdown passes and, for good measure, added two defensive touchdowns -- one in each half -- in Jesuit's dominating 55-20 win.
"It was like I was in a dream world," Hass said. "You don't go into a game expecting to score seven touchdowns."
According to the OSAA 11-man football record book, no receiver has ever caught more than five touchdown passes in one game. Hass equaled that mark in one half! His seven total touchdowns also set an OSAA record for a receiver.
"It was surreal," said Hass. "You'll never forget doing it in front of that crowd as a high school kid."
***
The year 2000 was Hass' only season starting at wide receiver and the senior made the most of it. Catching passes from two quarterbacks, Mike McGrain and Kyle Faulk, Hass entered the playoffs on the heels of being named Offensive Player of the Year in the Metro League. Hass was largely bottled up in Jesuit's first two playoff games, as both Tigard and South Salem committed to double covering him the entire game.
Central Catholic opted to cover Hass one-on-one. Jesuit had a lot of offensive weapons and Central had terrific individual talent. The Rams thought they could slow down McGrain, the Jesuit signal caller who'd only returned the week before after several weeks off due to a broken collarbone; by focusing on all of the Crusader threats rather than committing to stopping just one player.
That turned out to be a big mistake. Hass had over 200 yards receiving in the first half alone. He scored on streak routes, posts, a quick screen, finding pay dirt virtually every time he touched the ball, including a pick six from his strong safety position. At halftime, a teammate next to Hass in the locker room turned to him and asked, "Do you know what you're doing?"
"It was just fun to go out and dominate," Hass said. "We were up pretty big at the half. We didn't need to throw the ball in the second half or I think I could have had 10-12 touchdowns."
***
The week leading up to the game was filled with hype. Since 2005, Jesuit and Central Catholic have each won three state titles. In 2000, however, neither of Oregon's two large Catholic schools had won a title in more than 30 years.
"I was pretty jacked up for it," Hass said. "We wanted to go in and show them we were the better team."
Jesuit's dominating win not only gave the Crusaders the momentum they needed to win the state title for the first time since 1968; it also was the springboard game that helped the Jesuit/Central rivalry move forward. The teams now play every year during the regular season and, in 2013, met for the state title, a 38-28 Jesuit victory.
***
Hass finished the year with 1,746 receiving yards, which remains the fourth best season in OSAA history; and caught 21 touchdowns. That seven touchdown game against Central and becoming 2000 state champions would be career highlights for most players. But Hass wasn't nearly done. He walked on to the Oregon State football team and had three consecutive 1,000-yard receiving seasons. He capped his collegiate career in 2005 by being named the Biletnikoff Award winner as the nation's leading receiver. Hass was drafted in the sixth round and played four seasons in the NFL.
***
Almost 20 years after that foggy Friday in November, with all of the other memories competing for his attention, Hass still remembers Jesuit/Central Catholic like it was yesterday.
"I was lucky enough to be a part of it," he said. "I had no idea that it would turn into the start of people knowing the name 'Mike Hass' and the player he was."
*This is part of a summer series…Mondays…
Read the other articles in the series…
The day Rainier terminator Breana Edwards shattered the single-match kill record
The night Aloha back Thomas Tyner ran wild!
The Taft pitcher who knew what it was like to be perfect
The wrestler who knew when it was time to raise his hand
The girl who ran faster than the wind
The lefty who was a hit when he wasn't giving up any
The leadoff batter whose hitting led to a run
The day Tommy Skipper's record vault also cleared a hurdle
The day Morgon Henderson-Kunz destroyed his own record in the 100 freestyle
The quarterback whose receivers found the end zone and got him a record
The Bulldog who pulled the strings on 88 straight wins during her North Bend tennis career
The year a "Swede" dominated the American game of basketball in Oregon