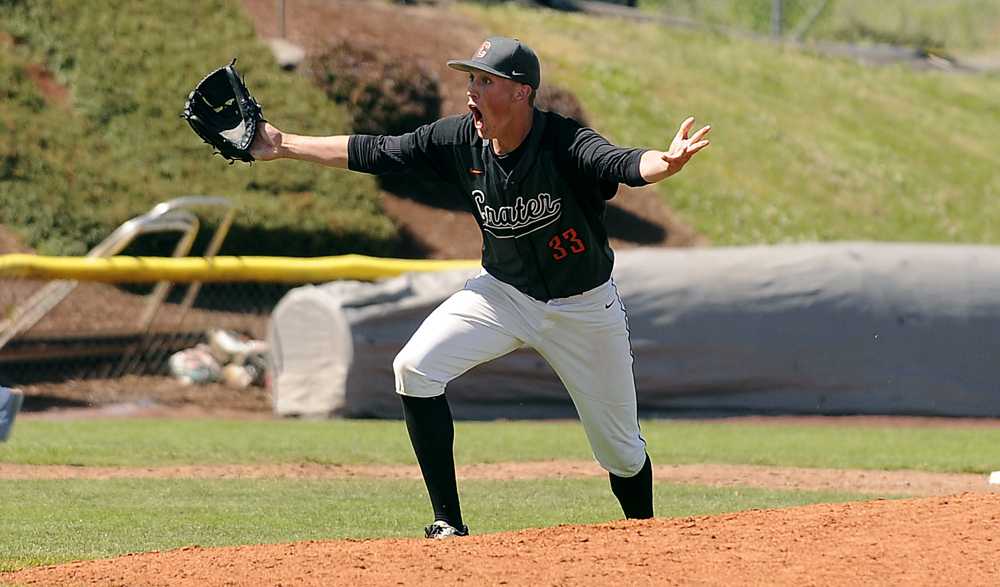 Larson Kindreich had never thrown a complete-game no-hitter in high school ball before April 24, 2018, when he tossed six hitless innings in a 15-0 mercy-rule win at North Eugene.
Kindreich, a senior at Crater, tossed another no-hitter versus Marist in his next start eight days later.
Before he was done, the lefthander would throw five consecutive no-hit games and run his no-hit streak to a state-record 37 innings. Even after the streak was snapped, Kindreich threw another 6.2 scoreless innings that year and was on the bottom of the dogpile when the Comets captured their first 5A title since 2007.
"I've never seen a pitcher as poised and in control as Larson was during his hitless (37 innings) and scoreless innings (final 43 2/3 innings) streaks, especially with it happening under the spotlight of the state playoffs," noted Kris Henry of the Mail Tribune in Medford. "Crater desperately wanted to avenge its championship game loss from the year before and Larson never flinched in making that happen."
***
Kindreich was an exceptional pitcher for Crater after transferring to the school as a junior. The 6-4 lefty led 5A in strikeouts, was named First Team All-State and was on the hill for the Comets in the 5A state championship game, a 5-1 loss in which Kindreich yielded five runs over the first three innings.
"A lot of people felt that was going to be our season," he said.
Determined to take Crater that final step to a state title, the Biola signee worked hard in the off-season lifting weights and added 10-15 pounds of muscle.
"His velocity increased 4-5 miles per hour," noted veteran Crater coach Jay Campbell. "He was always a really good pitcher and a student of the game, but his command and velocity both got so much better."
Other than two rough outings against offensive-minded Thurston, Kindreich was virtually untouchable his senior year. Before the no-hit streak began, he had yielded only 11 hits through 26 innings and no opponent other than Thurston had even scored so much as one run.
Kindreich was even more dominant during the no-hit stretch. His five consecutive no-hitters included two outings in which he fanned 20. The second, against Sandy in the playoff quarterfinals, was a 1-0 game that went eight innings and ran his hitless inning streak to 35.
"The eight-inning one against Sandy in the state quarterfinals was the most dominant performance I've ever witnessed," said Henry. "Despite off-and-on rainy conditions, Larson was in complete control. I've never seen a team so challenged to even put bat on ball, and yet Crater needed every bit of it that game. The Comets had runners on base in every inning but only had two hits of their own."
***
As amazing as Kindreich was, Crater almost didn't reach the championship game. Kindreich did not start the semifinal against Bend four days after the Sandy game. The Lava Bears took advantage and built a 4-1 lead going into the late innings. Kindreich came on to pitch with one out in the top of the sixth inning and a runner on second. Because of pitch count limitations, he was permitted to throw no more than 25 pitches that game. He got out of the inning without yielding a run or hit and was part of Crater's four-run rally to take the lead in the bottom of the frame.
When Kindreich took the mound in the seventh he had only 12 pitches left. Campbell told him so.
"He said, 'That will be plenty,'" Campbell recalled. "He struck the first kid out on five pitches. The next two batters he struck out on three pitches each. When the game was over he said, 'I had one pitch to spare.' He was pumped up and dominant."
***
How long would Kindreich's no-hit streak last against offensive-minded Crescent Valley in the state championship game?
"No hitting them was never the goal," said Campbell. "I was just hoping that the old saying of good pitching beats good hitting would stay true one more game."
The no-hit streak was something Kindreich did not focus on. He would not have thought much about the streak if his teammates weren't talking and joking about it.
"I tried to push it out of my mind," he said. "Ultimately my job is to keep my team in the game and put up zeros. The goal isn't no hits but to make sure they don't score runs."
***
The no-hit streak reached 37 innings but ended just two batters into the bottom of the first inning, when Briley Knight hit a hard ground ball through the hole between first and second.
"My first thought was, 'Dang! Did it really have to end in the first inning?'" Kindreich recalled.
In the Crater dugout, Campbell, who called all the pitches for the Comets, wasn't thinking about the end of the no-hit streak. Instead he was focused on getting the next batter out.
The Crescent Valley dugout's reaction was very different.
"I knew he hadn't allowed a hit for a while but I was just trying to win a ball game," Knight recalled. "I looked back at the dugout and my guys were pumped up. They were thinking, 'Let's go! We can hit this guy!'"
Kindreich didn't have a lot of time to lament the end of the streak. Two batters later, another Crescent Valley hit put runners on the corners and Kindreich in deep trouble. Kindreich said he started having flashbacks to last year's championship game against Churchill.
"This can't be happening again," he thought.
Kindreich gave up four more hits in the game but zero runs. Crater pushed two runs across in the top of the sixth inning and Kindreich made them stand up. He finished the game with 14 strike outs.
"It was tough," he said. "I think they had runners on and in scoring position every inning. I had to make a lot of high stress level pitches."
"I knew we were going to give up some hits no question," said Campbell. "But Larson gets better in tougher situations and bears down and becomes even tougher."
"He was definitely the best pitcher we'd seen that whole year," said Knight. "He was 85-88 with his fastball but with downward tilt at 6-foot-4 and he had a great breaking ball. We ended up getting lots of hits; we just couldn't score them. We left 11 runners on base, which was kind of brutal."
***
Campbell said that there weren't many hard-hit balls during Kindreich's no-hit streak.
"It was pretty incredible," he added. "I'd never seen anything like it before. Every once in a while, against even the best pitchers, you give up a bloop or somebody drag bunts. During the streak, if somebody put a ball in play it was shocking. That's how dominant he was."
***
Throwing 37 consecutive no-hit innings…is that an unbreakable Oregon record?
"Any record can be broken," said Douglas head coach Ron Quimby. "This one will take a lot of luck or one heck of an athlete. It is nice to get one no-hitter in a season. This is like throwing five in a row."
"Thirty-seven consecutive no-hit innings is remarkable to me, especially in an era when many players hit all year, but I think it could be done again." Noted Warrenton coach Lennie Wolfe. "It'll take a pitcher with great stuff who keeps his pitch counts down, so he doesn't have to pitch when he's too tired. He'll need to be part of a solid pitching staff in order to get enough rest between outings to rejuvenate himself. It can happen. We didn't get to see the Abel kid this spring, but the MLB Draft seems to indicate that Oregon can generate the kind of player it would take to break the record."
"I remember forecasting for a playoff run and thinking that we would eventually run into Larson at Crater," recalled Hood River Valley coach Erich Harjo. "I was talking to multiple coaches trying to gain perspective on this talented lefty and they all just kept telling me…'good luck.' We didn't get the opportunity to see him unfortunately. This record is going to stand for a long time. It's going to take something really special to break this record. I'm guessing it's not going to happen at the 5A or 6A levels."
"To go 37 consecutive innings without allowing a hit and the final 43 2/3 innings of the season without allowing a run? I'm not sure that will ever be surpassed," Said Henry. "Larson allowed only 17 hits with 154 strikeouts in 69 2/3 innings pitched as a senior at Crater, while also being one of the team's top hitters. All those figures are just staggering in this era of baseball."
*This is part of a summer series…Mondays…
Read the other articles in the series…
The day Rainier terminator Breana Edwards shattered the single-match kill record
The night Aloha back Thomas Tyner ran wild!
The Taft pitcher who knew what it was like to be perfect
The wrestler who knew when it was time to raise his hand