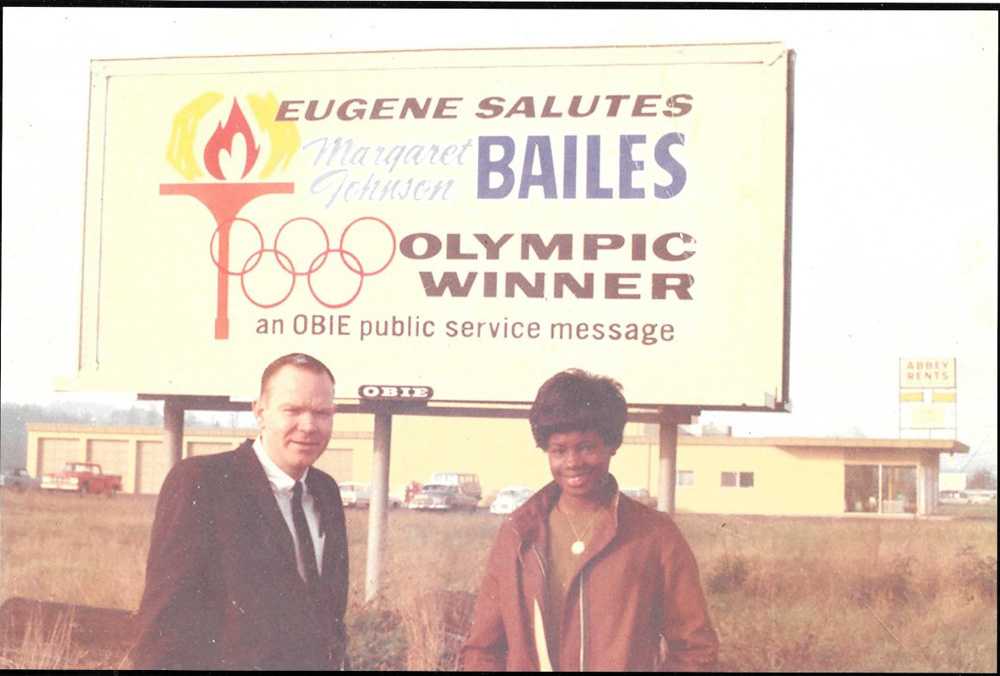 In 1968, Margaret Johnson Bailes, a 17-year-old junior at Churchill High School in Eugene, set the Oregon state record in the 100 meters with an adjusted time of 11.30 seconds.
In the 52 years since, no Oregon schoolgirl has even come close to matching that time.
Of course, Johnson Bailes was no ordinary athlete. In 1968, she was the fastest sprinter in the world, twice matching the world record in the 100 at 11.10 seconds. She won the 200 at the U.S. Olympic Trials and finished second in the 100. She was favored for Gold in both events in Mexico City later that summer.
How was she so fast?
"God-given talent," she said. "I was the chosen one, I guess."
***
Johnson Bailes was nine years old and walking to the movies with a friend when they saw an all-comers track meet going on and wandered over to see what it was all about. For fun, she did the long jump, a throwing event and ran the 100, she recalled. Racing against the boys while wearing a dress, Johnson Bailes won the sprint.
"I didn't know I was fast until somebody told me," she said.
Her father was a musician. Her mother wasn't an athlete at all. She was the only athletic one in the family, but could she ever run! By the time she was a seventh grader, she already was a national sprint sensation.
"I started running to have something to do," Johnson Bailes recalled.
***
The first girls' Oregon state track meet was conducted in May, 1968 at Springfield High School. Johnson Bailes was a high school junior and already married at the time. She won the 100-yard dash in a time of 10.6 seconds and blazed to the 220-yard title in 24.6 seconds.
Later that summer, after qualifying for three events for the Olympic Games, she went to Mexico City for high altitude training, then to Flagstaff, Arizona, and Denver, Colorado. Johnson Bailes said she caught pneumonia from the extreme temperature change and was still sick when she landed back in Mexico City for the Games.
"I had to take drugs and was in isolation for a week," she recalled. "All my training got tossed out the window."
In a weakened condition, Johnson Bailes managed to make the finals in the 100 and 200, but finished in the middle of the pack. In her final event, however, Johnson Bailes helped the U.S. women to Gold in the 4x100 relay in world record time!
When she returned to the States, Johnson Bailes discovered that she was pregnant. She never raced again.
Looking back now, Johnson Bailes sometimes has regrets about a track career that ended at age 17.
"I should have kept on training for another one," she said. "But I was married and pregnant. Back then it was like you're done if you're pregnant."
***
More than 50 years have passed since Johnson Bailes' magical junior year at Churchill. According to the National Federation of State High School Associations, a dozen schoolgirls nationwide have since eclipsed Johnson Bailes' record in the 100, including current record holder Marion Jones (11.14, set in 1992).
But no one from Oregon has even come close to her 11.30 state record time. Summit's Kellie Schueler ran 11.74 back in 2009. She and Deshae Wise of Grants Pass, who ran 11.79 in 2017, are the only two to come within half a second! That surprised Johnson Bailes.
"I don't know why," she said. "We've got the athletes. It might be coaching. It might also be barriers to entry. Back then we didn't have to pay to participate. Now you have to and most athletes are from low-income households."
***
Is 11.30 an unbreakable record? Most people think it is not, even though no one has threatened it for half a century. The NCAA winning time in 2019 was 10.75 by then-freshman Sha'Carri Richardson, one of the 12 who ran faster than Johnson Bailes while in high school.
"I see more focused and dedicated female athletes every year in my program and I think it is going to take the right level of talent, timing (right place and time) and a dedicated/supportive village supporting the student-athlete's success," said Barrett Smith, head track & field coach at Douglas High School. "It is definitely a tall order but the right kid will get it done."
*This is part of a summer series…Mondays…
Read the other articles in the series…
The day Rainier terminator Breana Edwards shattered the single-match kill record
The night Aloha back Thomas Tyner ran wild!
The Taft pitcher who knew what it was like to be perfect