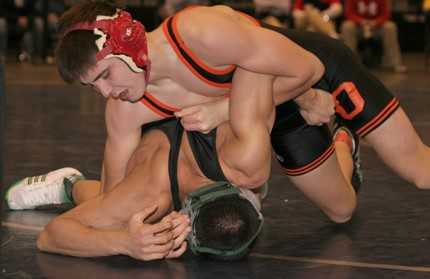 R.J. Pena was game for the challenge.
The Sprague freshman moved up a weight class to take on Newberg senior Marty Eng, a two-time defending state champion, at the prestigious Reser's Tournament of Champions in Hillsboro...and lost.
The date was January 28, 2006.
Pena never lost again for the remainder of his high school career.
A four-time state champion, one of 39 in the 72-year history of wrestling in Oregon, Pena finished on a 147-match winning streak. Eleven years later, it remains an Oregon high school record for consecutive victories.
***
Current Sprague head coach Nolan Harris was an assistant coach at the school during Pena's first two years. He said that Pena was extraordinary.
"The way he trained, he was very dedicated," Harris said. "He had fun doing the mundane things because he was so competitive. It was a lifestyle for him. He had a goal and wanted to meet that goal and do something special."
Harris added that even when Pena was an eighth grader, he probably would have won a state title had he been eligible.
"We knew he was an extreme talent and blessed at that age in ways others weren't," he observed.
Pena didn't just win; he dominated. When he graduated in 2009, he held the record for career pins with 138, 25 more than the previous record holder. Eighty percent (80%) of all of his wins ended in pins. In the decade since Pena left high school, the number of allowable matches in a season has increased. Three wrestlers have passed Pena in career pins and a fourth has tied him. But none pinned opponents at the same rate. And none came close to his consecutive wins streak.
"R.J. Pena had the nastiest chicken wing/arm bar technique in the business," said Hood River Valley head coach Trent Kroll. "When we wrestled against him we always asked the ref if we could duct tape our arms to our bodies before the match. The answer was always 'no,' and ice was always needed for the shoulder joints after."
***
Pena's best season was his senior year. He started off with 23 consecutive pins, which is the second best pinning streak in state history. He won one match on points to end the streak, then pinned his next 22 opponents, the third best pinning streak in state history. Pena stood 46-0 entering the final match of his high school career and had pinned all four state tournament opponents in 90 seconds or fewer.
An hour before his final match against Newberg's Clint Peebles, Pena learned that a knee injury would prevent Peebles from wrestling for the title.
"A few weeks before the state tournament at Reser's TOC, I pinned this very same kid in the first round in the finals there," Pena recalled. "I was pretty upset that I didn't get a chance to wrestle in my finals match and have a chance to get a pin in the first round of every match at the state tournament. I don't know if anyone has ever done that."
Pena's fourth straight state title came in a fourth separate weight class. He won at 112 pounds when he was a freshman, 125 as a sophomore, 140 as a junior and 145 as a senior, when he was ranked No. 1 in the nation at 152 pounds.
Pena said that his best memory was winning the title as a freshman.
"It was the toughest route to a championship that I had to go through in all four years," he explained. "Plus it was back when we only had three divisions. Competition started to get watered down once they went up to five divisions."
Is Pena the best wrestler in state history? Harris said he deserves to be in that conversation.
"There have been some very talented wrestlers who have come through but R.J.'s win streak came while meeting some of the country's best," he explained. "He beat a top-3 kid from California as a sophomore. He always wrestled a challenging schedule. And he didn't just win; he was really dominant."
Pena went on to star at Oregon State and finished with 116 career wins. And, in case you're wondering, he won his first 4-5 tournament matches as a freshman to continue his personal streak. That ended in Pena's first college dual meet.
"I lost to the No. 2 ranked wrestler from Wisconsin," he said.
***
Is Pena's 147-match winning streak an unbeatable Oregon record? The consensus seems to be "no."
"That record will definitely be hard to beat," said Kroll. "When RJ was wrestling, I believe the match limit per year was 35, but with wrestlers now having a 50 match limit per year, it's a good goal to have."
"I'm hearing rumblings of a lot of young kids coming up with mat time and a lot of experience," noted West Linn head coach Doug Samarron. "Because you can wrestle more matches now, I bet in the next half-decade that someone could be an undefeated four-time state champion."
Samarron did say that the record probably wouldn't be broken by a wrestler at the 6A level.
"Pena wrestled for a program at Sprague that was looking to get into all of those tough tournaments," he explained. "They were not running from competition but looking for it. Pena's 147, that wasn't the easy road for sure."
"Is there a path?" Harris asked. "Yes. With the 50-match limit now it can be done. But you can't just look at total number of wins. You have to see what the schedule looks like. Having witnessed what R.J. did, it's kind of hard to imagine someone else will come along and do it in the manner he did."
*This is part of a summer series…Mondays…
Read the other articles in the series…
The day Rainier terminator Breana Edwards shattered the single-match kill record
The night Aloha back Thomas Tyner ran wild!