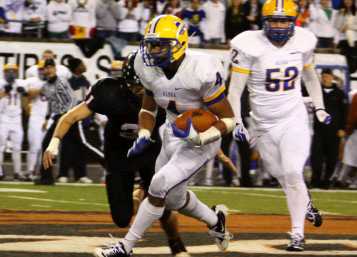 The date was Sept. 14, 2012. A huge crowd had gathered at Aloha High School to watch the 2-0 Warriors take on Lakeridge and its high-powered offense featuring sophomore quarterback Eric Dungey.
Aloha was in its football heyday. Coached by Chris Casey, the Warriors had won state for the first and only time two seasons before. Thomas Tyner, who was a sophomore that year, ran for 163 yards in the state championship game.
On this night, he would run for almost four times as many! 643 yards, an Oregon state record by 135 yards! Aloha would need every single one to win by the astounding score of 84-63.
"Thomas Tyner's game that night was nothing short of spectacular," noted Lakeridge offensive line coach Terry Moore.
"Thomas Tyner was like a lion," Casey said. "He's quick twitch and high energy but he'd get fatigued and need a blow. Not that night for some reason."
***
Casey has always been a defensive-minded coach but he suspected that Aloha/Lakeridge would be a high-scoring affair. Both teams had dynamic offenses. Through two games, Tyner was averaging almost 14 yards per carry and had scored seven touchdowns. Dungey, who would go on to star at Syracuse University, was throwing for 270 yards per game and averaging another 85 on the ground.
Aloha led, 14-7, after one quarter. The Warriors sandwiched two Tyner touchdowns, from 20 and 41 yards, around Dungey's long scoring pass.
Nothing out of the ordinary.
Then came the second quarter.
Lakeridge scored three straight touchdowns to take a 13-point lead. The Pacers benefited by having multiple possessions in succession, thanks to successful onside kicks after scores calculated to keep the ball away from Tyner.
"We knew we couldn't stop him, so we felt like we had to pull out all the tricks in the book," said Moore.
Tyner's first carry of the quarter went for a 62-yard touchdown run.
Dungey answered with a short scoring strike.
Tyner scored again, this time from 60 yards.
Dungey's third TD pass of the game restored Lakeridge's 13-point lead.
Tyner had one more carry before the half and made it pay off, going to the house from 65 yards out to pull Aloha within 41-35. Through two quarters, Tyner had scored five times. The scoring runs alone accounted for 248 yards!
"I knew Thomas was having a big game," Casey recalled. "I knew it was above normal."
A few minutes into the fourth quarter, Casey glanced at the scoreboard. The game was tied, 63-63.
"It was like I was in a dream," he said. "I'd always been a defensive guy. I told Bill Volk [an assistant coach at the time; now Aloha's head coach], 'Jiminy Christmas is this real?'"
Said Dungey, who finished with two rushing touchdowns and four through the air: "We'd kick off, then a play or two later I'd hear 'And Thomas Tyner breaks through and is off!' And I would just take a deep breath and get ready to go again. It was like a heavyweight battle offensively, just going blow for blow."
Tyner's ninth touchdown of the game, from 34 yards out, put Aloha in front for good. He scored once more, sweeping left from five yards out before bullying his way into the end zone with three minutes remaining, to cap the highest scoring game in Oregon history.
"I love how we finished the game," said Casey. "The game had been back and forth all night long, but we scored the final 21 points. Our guys showed resiliency and belief and confidence at the end of the game. They did a great job of fighting."
The stats told the tale of Tyner's big night. Thirty-eight carries. 643 yards. Ten touchdowns. The rushing yardage and touchdowns still stand today as Oregon state records.
"The Aloha line did a great job of getting Tyner to the second level," said Moore. "If he got to the second level, he was going to score a touchdown."
"Tyner was just on another level physically and looked like he was in his junior year of college playing against high school boys," Dungey said.
"Thomas has tremendous humility," said Casey. "He'd be first to tell you his success was tied to everybody else. He'd say it was all about the blocking. We had tremendous blocking from the offensive line, tight ends and full back and our offensive staff identified areas that we could exploit. Whenever he got good blocking he'd go a long way."
"The thing that was even more impressive to me was the humility and class that Tyner showed after the game during the handshakes," said Moore. "He wanted to give credit for his performance to his teammates, coaches, and opponents instead of shining the light on himself. It was an incredible night of high school football, highlighted by an incredible young man, Thomas Tyner."
It was his 18th birthday.
***
Is Tyner's 643 rushing yards an unbreakable Oregon record in 11-man football? Consider this: nationwide, only four rushing efforts in the history of high school football have surpassed it. Damir Collins, Jefferson's amazing rising senior, had the biggest rushing game in the state last year: 423 yards. That's 220 yards shy of matching Tyner's record night!
"I do not believe this will be broken anytime soon," said Cascade head coach Brandon Bennett. "The only way I believe this record can be broken would be in a game where both teams scored a ton of points (like they did the night the record was broken). With the 45-point rule it is tough for a kid to get the ball that many times or score that many points."
"I think it's unbreakable," added Franklin head coach Chris Miller. "First off, an 84-63 6A score very rarely happens. Secondly, if it did, it's more likely to be similar to the 79-67 aerial shootout that Lakeridge and Westview had 6-7 years ago. There seems to be a lot of lopsided scores and a top rusher may run for 275 or 300 yards in the first half, and then he's shut down for the second half."
"I watched a 2-minute clip of that game archived on YouTube," said current Lakeview head coach Rick Stupak, who was on the freshman staff at Central Catholic that season. "What I saw in that game was you had a special athlete and had some good guys in front of him. So, I think for something like that to happen you need a perfect storm. Remember, Lakeridge scored 63 so it's not like they were a bad football team. I do think it's more likely for a record like that to be broken at a lower level just because the larger schools are likely to have more parity with athletes across the board."
"I think that record can be broken," offered Churchill head coach AJ Robinson, who was on the West Albany staff when Jake Lacoste set the previous record of 508 yards in 2011. "Limitations placed on defenses and how to tackle have resulted in higher scoring games for the most part. We will continue to see higher offensive numbers."
"At the 11-man level, I think it can be broken," added Forest Grove coach Perry Herbst. "I think the running back at Jefferson has a shot at it, if they give him the ball enough times. Tyner is probably one of the top three running backs of all time in Oregon HS history, but when the next great RB comes on a team with a coach willing to run the ball, it will get broken. I just hope I get that running back!"
"No record is unbreakable," said Wilsonville coach Adam Guenther. "It might take a while but the possibility is always there. What's it going to take to break the 643 yard rushing record? Simple...644 yards."
*This is part of a summer series…Mondays…
**Photos of state championship events are available online from Northwest Sports Photography at 4nsp.com