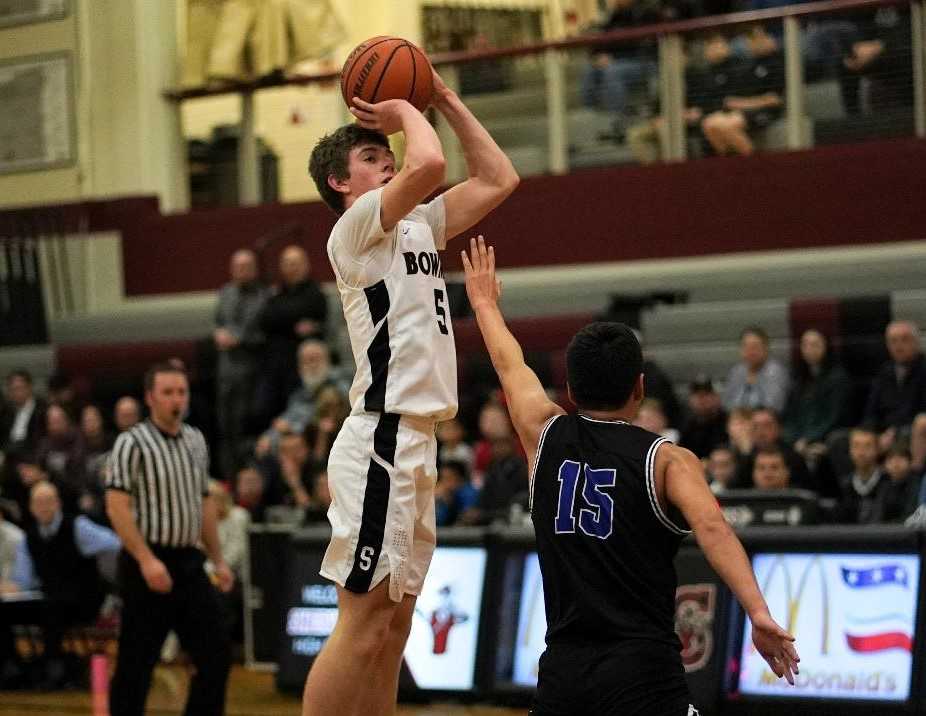 Asher Krauel and the Sherwood boys basketball team shot their way into the state record books Wednesday night with a 112-27 win over visiting McMinnville in a 6A Pacific Conference game.
Krauel scored 30 points in the first quarter, breaking the previous record of 29, set by Eugene's Mike Moran in 1955. The Bowmen (14-6, 8-0) finished with 23 three-pointers, eclipsing the old mark of 21, which was established by Sprague in 2001.
"We played really well and shared the ball, and just shot amazing from the field," Sherwood coach Rahim Tufts said. "What stood out to me was just our effort."
Krauel, a 6-foot-2 junior guard who entered averaging 12 points per game, caught fire in the first quarter against the Grizzlies (2-17, 0-8). He made 8 of 10 shots from three-point range and three two-point baskets.
"He has put in a ton of time over the past three years and it is paying off," Tufts said. "He has shot it extremely well over the last month and tonight is a representation of all his hard work. Proud of him."
Krauel finished with 42 points, three shy of the school record. He made 14 of 22 shots from the field, including 11 of 15 from behind the arc, and 3 of 6 free throws.
The state record for three-pointers made in a game is 13, owned by Lowell's Brenson Parks (1997).
Sherwood made 23 of its 45 three-point attempts, getting triples from eight players: Krauel (11), Bjorn Bergstrom (four), Caden Davis (two), Baydon Kullowatz (two), Jamison Guerra (one), Nate Merrill (one), Clay Peden (one) and Zack Ariza (one).
"Our team is really unselfish, but they take what the defense is giving them," Tufts said. "Tonight, McMinnville played a lot of zone, so we were able to share it and move the ball crisply and get guys open shots."
Bergstrom finished with 12 points and Ariza and Kullowatz added 11 points apiece. The Bowmen led 38-4 after the first quarter, 64-10 at half and 92-18 after three quarters.
Tufts said the Bowmen had "kind of a mixed feeling" as they pulled away. They took out their top two players – Guerra and Jensen – early in the third quarter. Krauel exited early in the fourth quarter.
"We want our kids to play as hard as possible," said Tufts, whose team won at McMinnville 103-47 in the teams' first meeting Jan. 21. "The bench guys, it's their opportunity to play, so they're going to play hard."