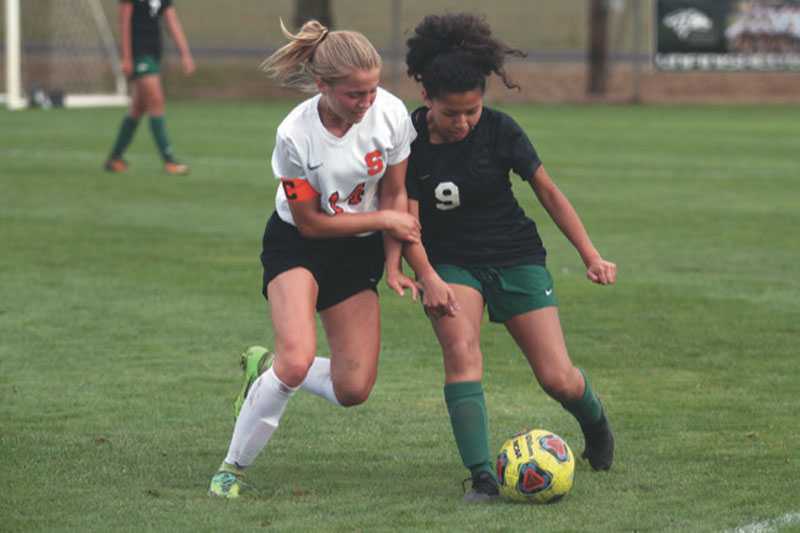 [Editor's note: "Take Five" is a recurring feature designed to offer a quick look at some of Oregon's most interesting high school sports standouts. Senior Emma Jones is a three-time First Team All-League centerback and center mid for the Scappoose girls soccer team, but she is so much more than that. She also is a phenomenal wrestler and top state finisher in both hurdle races in track and excels in the classroom. Soccer coach Summer Jark calls Jones "a true servant leader to her team." We asked Jones to answer five questions from the 25 we sent her way. Her answers follow]
OSAAtoday: What was your first big success as an athlete and how did it impact you?
Emma Jones: My first big success as an athlete was making the Westside club soccer team at the end of fifth grade. The coach, Cory Hand, took me on the team because of my athleticism and work ethic, and I was so happy! That was the first time that I played with other girls outside of Scappoose, and on a more competitive level. I learned a lot about the game and about myself as a player during those early years, and I think my soccer career would have been a lot different if I had not made that team. I am so thankful for all of my coaches and teammates who helped me grow my skills and knowledge of the game.
OSAAtoday: What Olympic sport do you think you'd be the worst at and why?
Jones: I think I would be the worst at sailing. I have never done any sailing, and it seems like a very technical sport that would be hard to pick up quickly. Also, when my family went on a vacation to Mexico a few summers ago, I nearly drifted away in the ocean. What happened was we were on a one-day cruise visiting some of the islands, and there was an opportunity to do paddle boarding, canoeing, and other activities. I decided that I wanted to try the paddle boarding, but I ended up going too far from the main boat and I couldn't paddle hard enough (I was going against the current) to get back! My brother, Jimmy, noticed me having a hard time, and so he and my mom got in a canoe and pulled me back in. For a few minutes I didn't know if I was going to be lost at sea, and since then I haven't been very eager to be too far away from the shore!
OSAAtoday: You can blink and be transported to any place in Oregon for a day. Where do you go and why?
Jones: I would go back to Pacific City! I went there once with my mom, grandparents, and a few of my aunts, uncles, and younger cousins. We walked around the town, got some lunch, and bought drinks to take to the beach. At the beach, we played in the sand and looked at the tide pools. We even saw a few starfish! I had the best time there with my family, and would love to go back with more family or friends.
OSAAtoday: What kind of coach gets the best out of you as a player?
Jones: One that is encouraging, but also can be tough and honest about what I and the team need to work on. I like constant feedback on what I should do to improve my game so that I can keep getting better and better. However, I really appreciate when a coach knows that I'm getting frustrated, or will need more time with a concept, and will give me the support that is also necessary for growth. I feel more comfortable around coaches when they have told us about their own lives. Also, I feel close to them when coaches are concerned not only about my sport, but about the other areas of my life, like school and family. This is because they are not only concerned about my performance, but also about my general well-being. Finally, I am more successful as a player when my team has chemistry, so I like when coaches have us do team bonding activities.
OSAAtoday: If you could have one superpower, what would it be and why?
Jones: I would choose teleportation. I think it would be so cool to get to travel the world and see all of the different places! To be able to, in an instant, be at the Eiffel Tower, and in the next be at the Great Wall of China would be so cool! There would be so many pretty views, and I would love to see all of the sunsets, waterfalls, flowers and trees. Even more exciting than that would be the opportunity to experience so many cultures. I would be able to see all of the different ways of life firsthand, try all of the food, and really be able to soak it in. I think it is really interesting how people in each part of the world have a varying perspective, and to be able to get a glimpse at so many of these ways of life would be incredible. Also, most people do not get the chance to travel because it is so expensive, and I would be able to do it at a much lower cost, or no cost if I went somewhere just for a day.
Read other Take Five articles published in connection with the fall season:
South Umpqua outside hitter Shalyn Gray
Lincoln distance runner Mia Kane
Madras football player Treyvon Easterling
Gladstone soccer player and cross country runner Derek Johnson