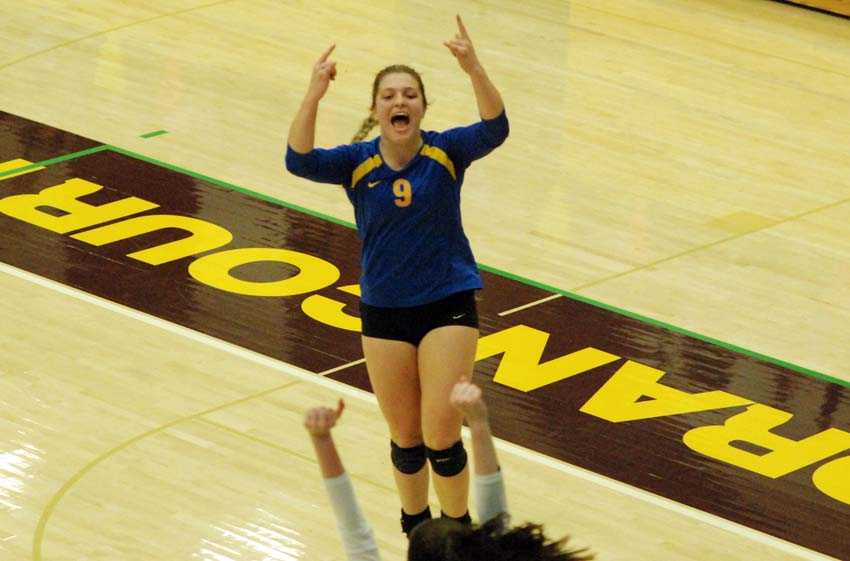 Second-seeded Sweet Home and third-seeded Cottage Grove joined Valley Catholic and Sisters in the OSAA 4A volleyball semifinals, prevailing in tense matches Friday afternoon at Forest Grove High School.
Sweet Home, getting brilliant play from OH Bailee Hartsook and MB Shelbey Nichol, raced to a two-set lead on Cinderella Junction City, which came in as the 10th overall seed. Junction City showed life in the third set thanks to its defense, as libero Brilee Buck was fantastic controlling the ball and got help from Taylor Jobe and Courtney Silbernagel. The fourth set was tight from start to finish. A 4-0 run late, served by Hartsook, gave Sweet Home a 23-18 lead, two points from victory. But Junction City was determined not to go down without a fight. The Tigers got within 24-21 before a service error ended their comeback aspirations.
On the adjacent court, Cottage Grove was having a grand time in the first set, as Cassidy Herbert flummoxed sixth-seeded Tillamook with her serve. She had four aces and a back row kill as part of a long run that put the first set out of reach. A slide attack from Avery Hutchins ended the 25-10 win.
Tillamook turned the tables in the second and third sets. A 6-1 run in the second, served by Shea Pruliere, put the Cheesemakers up 13-11 and gave them the momentum they needed. Cottage Grove battled and pulled even at 19-19, but Pruliere and MaKinley Johnson both scored as part of a 5-0 run and Krista Knutsen served an ace for Tillamook, which held off one late Lion charge to knot the match at a set apiece.
Game 3 was all Tillamook. With Sage Veek-Petersen setting and Isabel Hurliman hitting, the Cheesemakers led virtually start to finish and won comfortably, 25-19.
With its backs firmly to the wall, Cottage Grove responded, again using its serve as a catalyst. OH Reilly Kelty had a massive stuff block then served consecutive aces as part of a Lion run that established their control of the set. The lead eventually grew to 11 in the 25-15 win that forced a deciding fifth set.
In the final stanza, Herbert got Cottage Grove off fast with not one, not two, but three top-spin ace serves. Tillamook answered with its own three-spot, two on Hurliman kills, but Cottage Grove responded with seven in a row of its own, the long run sparked by the serving of libero Sam May. Tillamook got no closer than six. When Herbert tipped over the block at 14-9, Cottage Grove was through to the semis.