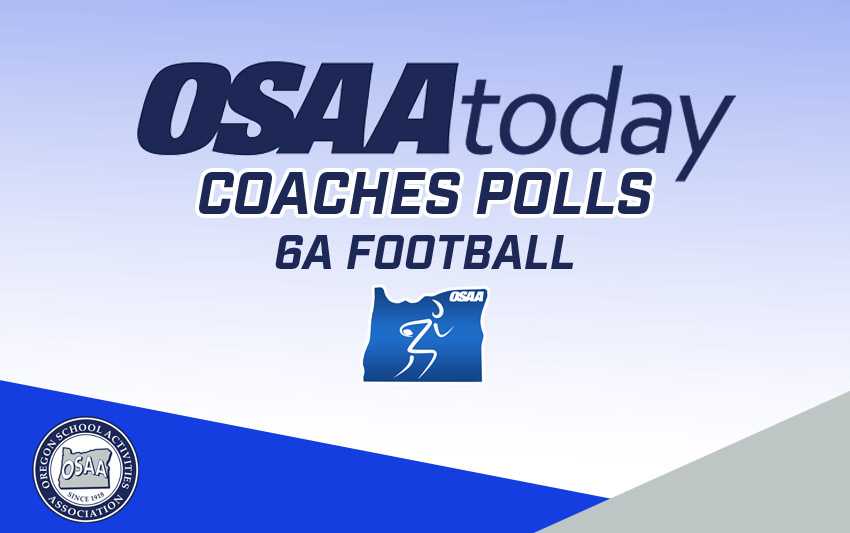 Sept. 10 Statewide 6A Football Coaches Poll
OSAAtoday presents its weekly 6A Football Coaches Poll. Thanks to all the coaches who took the time and had the expertise to contribute their opinions to this endeavor.
Look for the 6A football poll every Tuesday during the fall season.
If you are a varsity boys 6A football coach and would like to vote, please contact John Tawa at [email protected].
Please note: these polls are for generating interest and discussion only and have no impact on the OSAA's RPI and Colley ratings that form the basis of the OSAA's rankings for playoff purposes.
1.Lake Oswego (10) [1] 1-0 148
2.Central Catholic (4) [3] 1-0 142
3.Jesuit (1) [2] 1-0 118
4.Tualatin (1) [6] 1-0 107
5.Sheldon [4] 0-1 86
6.West Linn [5] 0-1 74
7.Tigard [6] 1-0 72
8.Clackamas [8] 0-0 52
9.Sherwood [nr] 1-0 33
10.West Salem [9] 0-1 17
First-place votes in parentheses
Last ranking in brackets
Record listed is what's posted on www.osaa.org.
Others receiving significant votes: Liberty (12); Barlow (11); Oregon City (10)
Notes: Cal-bound Casey Filkins ran for 210 yards and three touchdowns on 17 carries as reigning state champion Lake Oswego won 42-21 at West Salem. … Jesuit rushed for 263 yards – getting 115 from Kade Wisher and 106 from Ted Atkinson – in a 28-3 rout of Mountainside. … Cade Knighton threw two fourth-quarter touchdown passes to Silas Starr as Central Catholic overtook West Linn 35-27. … Sherwood rushed for 384 yards and six touchdowns, three by Lucas Voss, to thump Sandy 52-9. … Hunter Gilbert had 188 of Tigard's 371 rushing yards in a 45-22 win at Sunset. … Tualatin's Kainoa Sayre returned after missing his junior season with an ankle injury to rush for five touchdowns in a 53-7 win over Lakeridge.