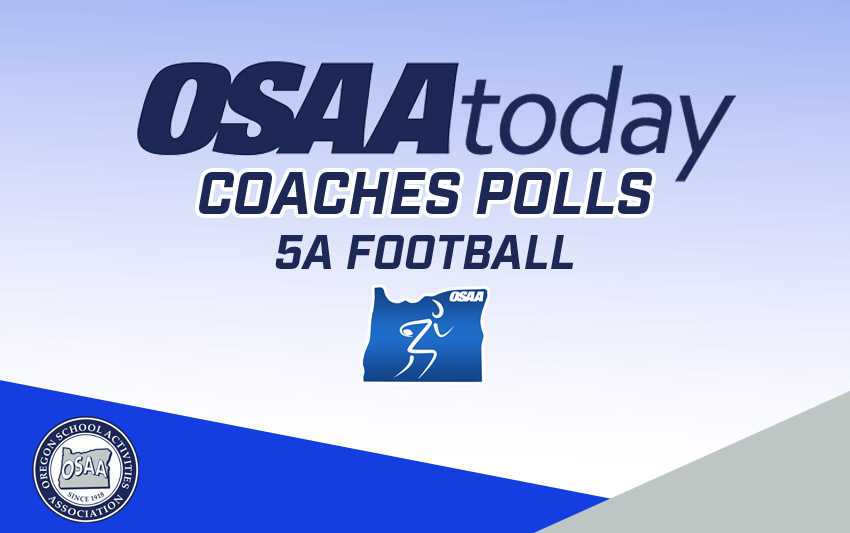 Sept. 10 Statewide 5A Football Coaches Poll
OSAAtoday presents its weekly 5A Football Coaches Poll. Thanks to all the coaches who took the time and had the expertise to contribute their opinions to this endeavor.
Look for the 5A football poll every Tuesday during the fall season.
If you are a varsity boys 5A football coach and would like to vote, please contact John Tawa at [email protected].
Please note: these polls are for generating interest and discussion only and have no impact on the OSAA's RPI and Colley ratings that form the basis of the OSAA's rankings for playoff purposes.
1. Thurston (15) [1] 1-0 159
2. Crater (1) [7] 1-0 121
3. West Albany [5] 1-0 106
4. Silverton [4] 1-0 102
5. Lebanon [6] 1-0 96
6. Wilsonville [2] 0-1 57
7. North Bend / Powers [10] 1-0 50
8. Scappoose [9] 1-0 49
9. Churchill [3] 0-1 24
10. Dallas [nr] 1-0 23
First-place votes in parentheses
Last ranking in brackets
Record listed is what's posted on www.osaa.org.
Others receiving significant votes: Crescent Valley (19); Redmond (18); South Eugene (15)
Notes: Reigning champion Thurston blasted rival Churchill 55-0. Cade Crist threw for 198 yards and two touchdowns and Wesley Kommer ran for two touchdowns and caught a scoring pass. … Brock Barrett rushed for 207 yards and three touchdowns and Keith Brown added 154 yards and three scores to lead Lebanon past Corvallis 62-28. … Carson Van Dyke passed for 237 yards and four touchdowns in West Albany's 40-7 win over McKay. Connor Wolfe had four catches for 143 yards and three scores for the Bulldogs. … Dallas rushed for 403 yards and returned two interceptions for touchdowns to defeat South Albany 58-13. ... Josh Rice ran for 170 yards and two touchdowns on 12 carries and Thomas Greiner had two interceptions in Scappoose's 41-13 win over Astoria.