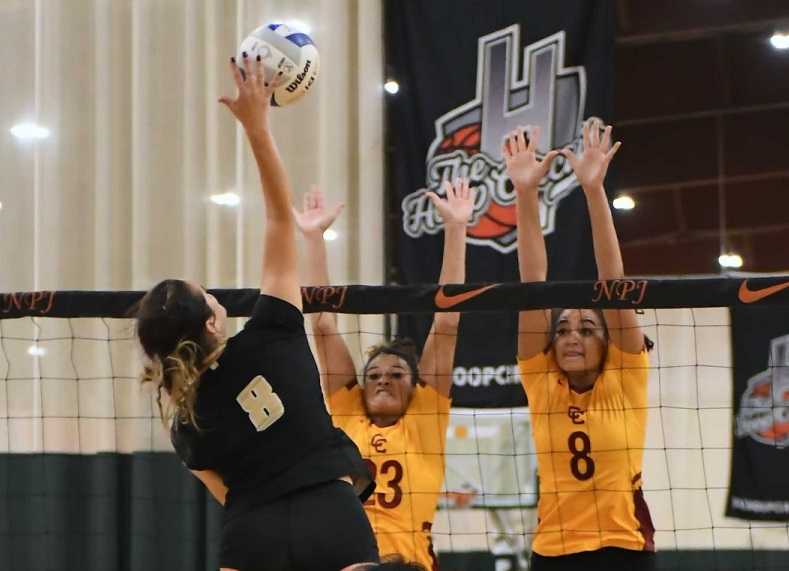 Reigning 6A volleyball champion Jesuit showed that its rebuilt lineup will be a formidable force by sweeping through the Central Catholic Tournament on Saturday at The Hoop in Salem.
The top-ranked Crusaders won all four of their matches to improve to 6-0 for the season. They won two-set matches over co-No. 3 West Linn and No. 9 Sandy and needed three sets to turn back co-No. 3 Sprague and No. 2 Central Catholic.
"Those teams are going to be tough all year long, and it's nice to start this way," Jesuit coach Teresa Zimmerlee said. "But we all know that every team gets tougher as we go."
The Crusaders' closest match was against Central Catholic, winning 17-25, 26-24, 19-17. They fought off six match points to pull out the victory.
"The kids just kept their calm," Zimmerlee said. "I just told them, 'We have to play in matches like this to get better. So don't stress about it, just play one point at a time.' There was some pretty good leadership on the floor. They're a pretty calm group, actually."
"They never gave up. They just kept right on going. They didn't get stressed or worried about being back a few points. I was really pleased with that because we have some fairly young players on the floor."
Tess Masingale, a 6-foot-3 sophomore middle blocker, had 14 kills in the win over Central Catholic. The Crusaders also got nine kills from junior Maddy Dowdall, 11 digs from junior Ava Valentine and 32 assists from junior Alison Buchholz.
Central Catholic was led by seniors Mia Jordan (11 kills, four blocks), Marianna Payne (nine kills, five blocks) and Ava Bruins (16 digs) in the loss.
"The last two games versus Jesuit could've gone either way," Rams coach Rick Lorenz said.
Jesuit defeated Sprague 25-18, 19-25, 15-8 in a rematch of last year's 6A final. Dowdall had 11 kills and Buchholz and sophomore Maisie Alexander had four aces each.
The Crusaders defeated West Linn 25-12, 25-22 and Sandy 25-15, 25-17.
"The potential is what I saw," Zimmerlee said. "It's different this year, but it's fun. It's challenging. The kids, I feel they are rising to the challenge. It'll be a battle all year with a few of those teams."
Dowdall has a team-high 51 kills in the team's 16 sets this season. Masingale has 45 kills, Buchholz 144 assists and Alexander 13 aces and 45 digs.
Central Catholic won its other three matches Saturday, defeating Sprague in three sets and No. 5 Mountainside and co-No. 6 Sheldon in two sets. Jordan had nine kills and six blocks and sophomore Lauren Stemple had 18 assists in the 26-24, 17-25, 15-9 win over Sprague.
"I would give us a seven on a scale of 10," Lorenz said of the Rams' play at the tournament, which opened the team's season. "Our serve-receive was good, our serving fair, blocking fair. Too many hitting errors."
In 10 sets at the tournament, Jordan had 34 kills and 14 blocks, Payne had 22 kills and 10 blocks and Stemple had 70 assists.