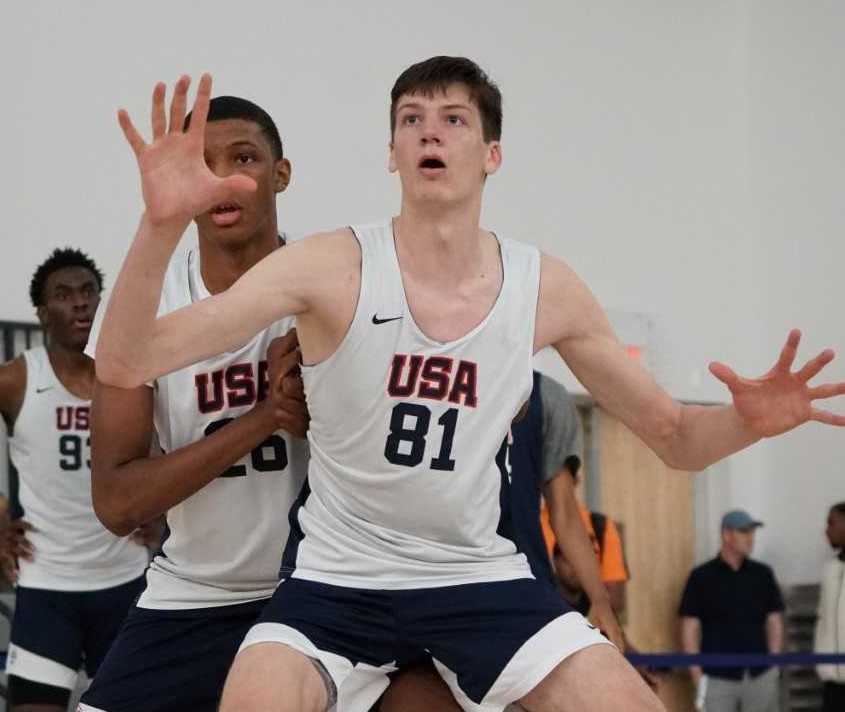 Nate Bittle's dramatic rise as an elite high school basketball prospect has been punctuated with successes.
So when the 6-foot-11, 185-pound Bittle – who is heading into his junior year at Crater – was the final cut at the USA U16 team tryouts in Florida late last month, it represented one of the few bumps he has encountered.
"It was a little bit frustrating, but in the end, I got better," Bittle said. "Next year, when I come back, I'm hoping to make the team. I was just frustrated a lot. I wanted to be on that team going to Brazil. Next year, having been cut the first year, I'm going to have more energy to make the team."
Comets coach Chris Schmerbach believes Bittle will use it as fuel to improve.
"Just missing the cut, he wasn't devastated, but he was pretty bummed out," Schmerbach said. "It's kind of nice to have that little chip on your shoulder moving forward. It's a good time for him to reflect."
Bittle, ranked as the No. 13 prospect in the Class of 2021 by ESPN, continues to rack up scholarship offers. Last month he added Georgia Tech and Wake Forest to a list that includes Arizona, Gonzaga, Oregon, Oregon State, UCLA, USC, Washington, California, Portland, Cincinnati and Tulane.
He missed out on showcasing his talents with the USA U16 team, which won a gold medal at the FIBA Americas tournament in Brazil this month.
"It's kind of bittersweet," Schmerbach said. "I know Nate really wanted to make that team, but the experience he was able to get for a week, training twice a day with those coaches and players, it's really going to help his development."
A major focus for Bittle is adding strength and bulk to his thin frame. He is up about 10 pounds from the end of the season.
"That's a big step," Bittle said. "If I get stronger, I'm going to be unstoppable."
The stronger he gets, the more it helps him hold his ground inside, where he is developing a deadly jump-hook.
"Just being able to post up, score really whenever I want to when I catch the ball in the post," Bittle said.
Schmerbach said that Bittle has grown at least a half-inch since the end of his sophomore season. Bittle averaged 20.3 points, 11.1 rebounds and 4.5 blocks during the regular season and was a terror in the 5A tournament, putting up 28.3 points, 14.3 rebounds and 7.0 blocks in three games.
Bittle has deep shooting range, but his ability to score inside "has gone to another level" in recent months, according to his coach.
"His ability to shoot the three and attack off the dribble is really good, but now he's starting to be way more consistent about catching the ball in the post and taking his time," Schmerbach said. "He can catch and face and attack the paint."
Bittle will have plenty more opportunities to raise his profile this summer, which will be a whirlwind of activity for him.
Last week, Bittle was among 100 prospects from 2021 and 2022 invited to appear before college coaches at a camp run by the National Basketball Players Association in Virginia.
"It was cool, just being able to compete with the best players, and to have the best players in the county on my team," Bittle said. "It was a fun experience."
This weekend, he will join Crater in the Section 7 Team Camp in Phoenix. The Comets were the only Oregon team invited to the tournament, an NCAA live event.
After playing with his club team – Los Angeles-based West Coast Elite – in the Under Armor circuit in Chicago, Missouri and New Jersey during the spring, he will rejoin the team for a tournament in Atlanta in July.
In addition to summer-league play with Crater, Bittle also took part in a team camp at Oregon State in early June and will participate in a team camp at Oregon at the end of the month.
"Energy is a big thing for him," Schmerbach said. "Being able to manage that is a big step for him. I can't imagine. He's flying all over the place, and then he's coming home and playing. He's been going nonstop since the state tournament ended."