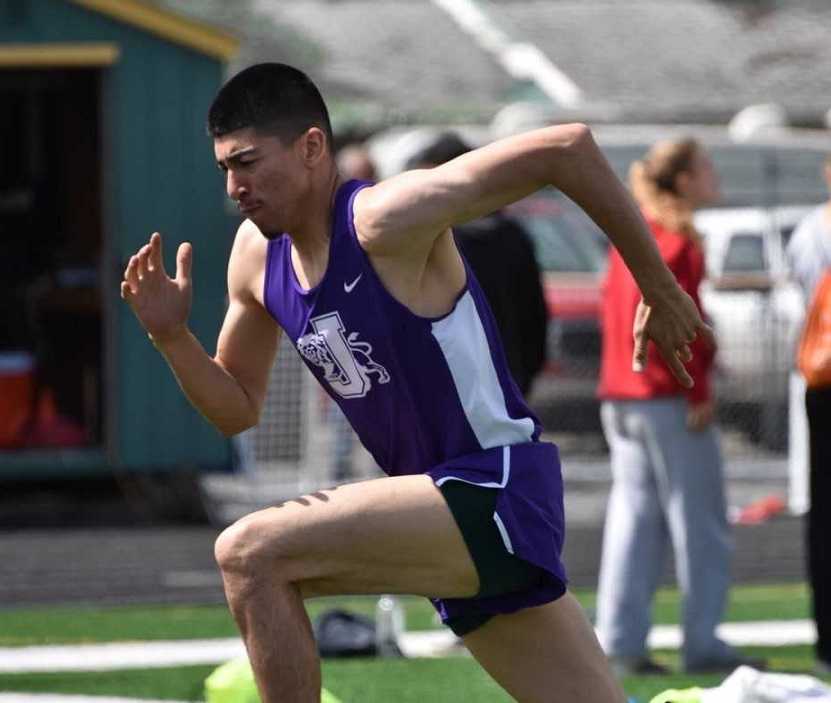 Cesar Sepulveda's pursuit of seven feet in the high jump began four years ago when he came out for the track team at Jefferson, a small town south of Salem in the Willamette Valley.
Coach Greg Wickett set a high jump bar a nine feet and instructed Sepulveda to jump as high as he could underneath it.
Sepulveda, even then, could knock the bar off with his head.
"Oh my gosh, I thought, 'He's going to go seven foot some day.' So I've known that for a while," Wickett said. "I put the bar up high and had him jump up and hit it with his head, just to try to get him to jump straight up. A lot of times high jumpers go through the motion but they forget they have to jump up."
Sepulveda, who stands about 6-foot-3 1/2, made a personal-best clearance at 6-9 1/4 at the Meet of Champions in Sweet Home on April 27. After making that bar, he had it raised to seven feet. On his best try at that height, Sepulveda's body got over the bar but he brushed it with his leg and it fell.
Sepulveda, already the reigning 2A champion in the triple jump and high jump, has a real shot to get over seven feet this weekend at the 2A/1A championships at Western Oregon.
He seeks to become the 10th boy in Oregon history to clear seven feet. It has never been done by someone from a 1A or 2A school. And in the past 20 years only two jumpers have gone that high -- Billy Butler of Hillsboro in 2007 and Ben Milligan of Sherwood in 2015.
"I hope he can do it, but he has such a busy schedule with four events," Wickett said.
Sepulveda has the triple jump on Friday. On Saturday he'll start with the long jump and then move to high jump. At the conclusion of the meet he'll run on Jefferson's 4x400 relay.
Coming so close at the Meet of Champions has gotten Sepulveda excited about making some history this weekend.
"After I tried (7 feet) and got so close, I'm really trying to get 7 feet now," he said. "A kid from Jefferson? That's crazy. But it shows that anyone from anywhere can do it."
Last year, Sepulveda cleared a season-best 6-5 at the state championships at Hayward Field.
Another year to mature and get stronger has him on the cusp of his goal.
"The mental reps, having the confidence, the workouts," he said. "And just wanting it."
Sepulveda has participated in football and basketball at Jefferson, but his natural leaping ability could provide his opportunity to go to college.
"If high jump is going to get me out of Jefferson, I'm going to take that card," he said.
Sepulveda is looking at Lane Community College with the hopes of establishing himself for two years and possibly going to the University of Oregon after that.
"We'll see what happens," he said. "There's a lot I can work on to make (my jump) better. Leaning in more. Arching my back. My speed is OK. My (approach) is OK. But I definitely have room to improve for sure."
Doug Binder is the editor of DyeStat.com