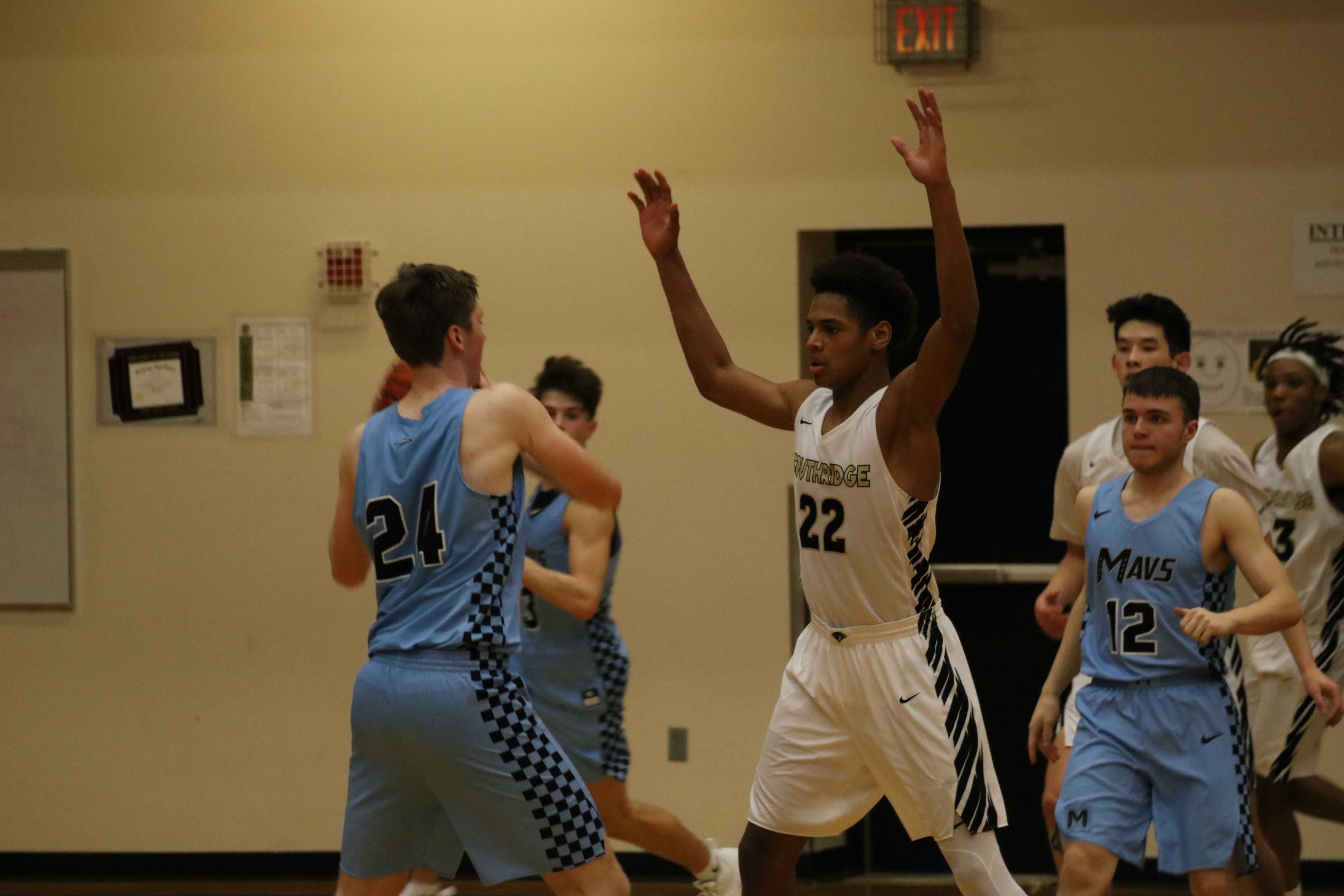 BEAVERTON -- Tuesday night was a strange one at Southridge High School.
For the first time, the Mountainside boys basketball team traveled to Southridge to take on the Skyhawks in a 6A Metro League game. For some of the Mavericks, it was their first time playing a high school contest on a court where they grew up learning the game.
However, Tuesday night was not a night that many of the returners will want to remember. Coming off of three consecutive league defeats, the Skyhawks (11-9, 5-4) finally clawed their way back into the win column as they defeated the Mavericks 74-46, their highest point total since putting up 76 against South Eugene in mid-December.
Southridge seniors Ben Pak and Ross Davis Jr. led the Hawks with 14 points apiece. Mountainside sophomore Sammy Cohen led all scorers with 15.
To say that there was a high level of familiarity between the two sides is an understatement. The schools are separated by about three miles, and many of the players who suited up for Mountainside grew up playing in the Southridge Junior Metro Program and attending the annual summer camps run by Southridge head coach Philip Vesel.
"It's tough because watching them warm up, a lot of those kids went to my youth camp, and a lot of them played for the freshman team," Vesel said. "I know a lot of the families and they're great people and great kids."
And for two teams coming into the night on multiple-game losing streaks, the vibe out on the court was a lot less intense then it could have been.
"It was a lot of fun," Southridge junior Connor McClean said about getting to share the court with some of his old teammates again. "There's no bad blood between us. We were able to joke, but still be serious out there on the court. So it was nice to see all of them again."
Added Mountainside junior Andrew Ingalls: "It was definitely fun. It was different, and it felt cool to be back in the gym since I've pretty much grown up here."
Still, it was a rough night for the Mavericks.
"I thought we've been playing really, really well the past two weeks, and today was just a major step backwards," Mountainside head coach Dustin Hewitt said. "It was probably one of the worst games we've had all year."
As a team, the Mavericks (6-15, 1-9) turned the ball over 33 times and couldn't generate a lot of good looks throughout the night as the Skyhawks worked to clog the passing lanes and prevent penetrations.
"We just couldn't make a shot," Ingalls said. "We just kept on giving them wide open layups and shots and we just can't have that in a varsity game."
Added Hewitt: "It was a game of turnovers. We turned it over 33 times, which is completely unacceptable, and a lot of them led to fast-break layups. As far as getting in passing lanes, we weren't quick enough to read it and they picked off a lot of passes. They got their hands on way too many balls. They played a lot faster than we did."
Whereas the Mavericks know that they haven't turned in their best performance, they still acknowledged some of the positives. Coach Hewitt cited offensive execution and defense as things to be proud of. In fact, they held Southridge senior Brock Henry to just eight points, one of his lowest outputs of the season.
And Mountainside managed to keep the game relatively close as the momentum swung back and forth before the Skyhawks used a 25-point fourth quarter to pull away for good.
With the Metro season winding down, both teams have a similar goal: to finish the year off strong. For the Skyhawks, that means gearing up for the playoffs, while the Mavericks want to take positive momentum into their second year.
"I want to see us forget this one," Hewitt said. "We've been playing well, so forget this game and the last two and play like how we've been playing the last couple of weeks."
So, could Southridge versus Mountainside turn into a rivalry game in the future? It has all the ingredients, but if Tuesday night was any indication, it won't be for a while. For now, the result certainly gives the Skyhawks a boost as they head down the stretch and vie for a playoff berth.
"To be able to get a win at home and lick your wounds a little bit, it was needed for this group for sure," Vesel said.
Added McClean: "It's a big confidence booster, especially going into Sunset this Friday at Sunset. It's a big road game and having this confidence booster is really nice for us."