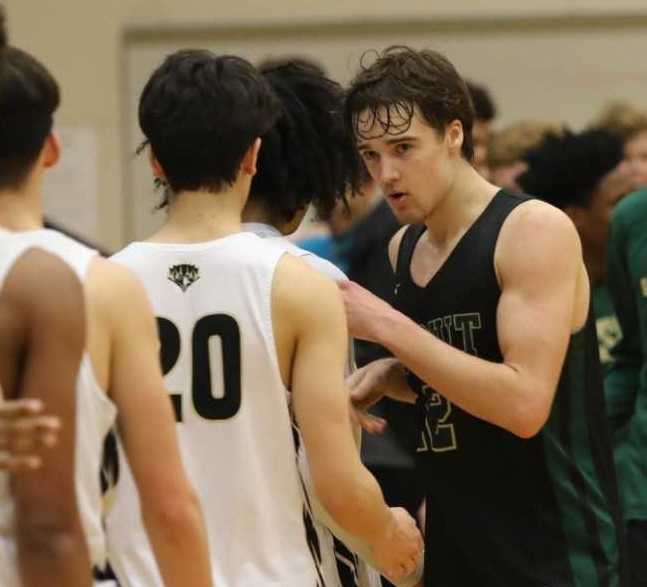 BEAVERTON -- It only takes a moment.
On Friday night, only one thing could have quieted the raucous Southridge crowd in the dying seconds of a tie game. And it was Jesuit senior Justin Bieker who provided that moment for the visiting Crusaders (14-5, 6-1) as his late basket helped Jesuit escape with a 52-50 victory.
With the Skyhawks (11-8, 4-3) and fourth-ranked Crusaders knotted at 50-50, Bieker dribbled out the clock while waiting for the perfect time to strike. As the clock ticked down to 10 seconds, he made up his mind: he was going to call his own number.
He walked the ball down to the free throw line and took a dribble to the right before rising up and burying a tough jumper, giving the Crusaders a two-point lead with three seconds remaining.
The Skyhawks were able to get the ball to Brock Henry for a final half-court heave, but the attempt fell just short as the Crusaders celebrated a huge Metro League win that keeps them neck-and-neck with the Sunset Apollos (14-5, 6-1).
"I was just trying to stay in the moment," Bieker said. "It's one of those things that is right out of a dream. You grow up preparing for a shot like that, so when the moment was there, I knew I was going to hit that shot."
According to Jesuit coach Gene Potter, Bieker had the option to either go for the easy attack or back-cut on the final possession if it was there. But if it wasn't, he was to back it out and go one-on-one, with senior Aiden Williams stationed in the corner.
On the defensive end, the Jesuit possession left Southridge coach Philip Vesel with some regrets.
"I didn't want to get that switch," he said. "I was screaming and I was trying to get Connor (McClean) to go double that. I was kicking myself for not talking about that a little bit more."
What kept the Crusaders in the game until Bieker was able to win it was some clutch shot-making. The Crusaders found themselves behind by three twice in the final minute but hit two deep threes to tie the game up each time, including a Will Spitznagel triple that he banked in from deep to tie 50-50.
"It just speaks to our heart," Bieker said about his team's clutch performance. "I don't think anybody on our team would say that we played our best game both offensively or defensively, but we stayed in there the whole game, and when things started to go right for us, we were ready for it."
The Crusaders were led by Spitznagel's 17 points. However, Henry led all scorers with 20 points and was a handful for the Jesuit defense all night.
"Brock hit shots all over the place," Potter said. "He is such a tough matchup with his ability to elevate and finish over the top of people. I thought we defended him pretty well, but you can only do so much."
The Southridge crowd was as electric as it has been all season, creating a hostile environment for the visiting Crusaders while lifting up the home team. The energy in the gym was palpable and it motivated both teams, making for a very energetic and exciting game.
"It's a lifetime memory for kids," Vesel said. "That kind of stuff gives me goosebumps because very few kids get to experience an atmosphere like that."
The energy and adrenaline spurred the Skyhawks on early on as they built their lead up to double-digits. However, the Crusaders went on a 9-0 run to bring the game to within a point at halftime, and neither team pulled away again.
"I knew they'd come out with a lot of energy, and I was hoping that they wouldn't make a lot of shots with the big crowd," Potter said. "I told our kids to play even-keeled, to keep doing our stuff, and hopefully something good will happen."
And despite having to wait a while, something good did happen for the Crusaders as both teams traded the lead throughout the second half.
Last season, it was at Southridge on "Cram the Cage" night that the Skyhawks won their first Metro title thanks to a victory over Jesuit. This season, it was the Crusaders who got a massive win at Southridge to keep their own title hopes alive.
And like a year ago, the real winner was the neutral observer at Southridge who witnessed two top Metro teams go back and forth.
"I thought Southridge played really hard. We just were fortunate to come out with the win," Potter said. "Both teams competed, and that's what I said. Even if you're not playing what you think is your best, if you play hard you at least give yourselves a chance."
Kyle Pinnell is a junior at Southridge